May Day 2004
May 2004: May Day.
09-05-2004 23:00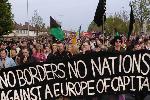 Mayday 2004: A weekend of protests around the world. In Europe the focal points of protest and mobilisation have been three main cities of three different countries. Here in the UK there were innovative protests in many cities on Saturday 1st.

Update Wed 12 May - Read an Evaluation of IMC Facilities in Dublin (EU Mayday Mobilisation) by some IMC-UK volunteers.

Update Wed 5 May - Twelve people have been remanded in custody for another week in Dublin on public order charges following Saturday evening's MayDay protests.
Read a text by participants of the 'Anarchist Confrontational Bloc' in the demonstration to Farmleigh: "Why we pushed through police lines". [pics].

Update Mon 3 May - The weekend of protests against the EU Summit in Dublin continued with prisoner solidarity demonstrations outside the prisons and with a Reclaim the Streets party. Timeline of events, [pics]
Around Europe
In Dublin as the EU 'enlargement' summit got underway a weekend of protests started with the largest Critical Mass the city had ever seen. There were solidarity protests outside the prison where uk nationals are being held.
On Saturday there was a 'No Borders Protests' against fortress europe, a march for Another Europe [Photos|Video]. A private park was opened to the public [1]. The day finished with Bring the Noise demonstration towards the EU summit where police attacked the marchers with water cannon and battons. IMC-IE Timeline and Reports | IMC-IE Feature.
Barcelona and Milano were the focus points for this year's Euromayday against 'precariousness and social exclusion.' Berlin saw clashes between left and neo-nazis, and with the police protecting them.
.
Local UK reports
Actions seen in cities around the country.
London hosted the most successful Critical Mass, as a 10th anniversary ride. There were protests, actions and demonstrations including the TUC traditional demonstration, a Disarm DSEI Mayday Action, an Anarchist Mayday Cricket and a Mayday Picnic in Hyde Park.
Security guards in Cambridge shopping centre over reacted to a mayday picnic. This excellent video shows it all.
In Glasgow, a Mayday Carnival [1 | 2 | 3 ] has been called, as well as a march and rally in Edinburgh, whilst in Bradford there are plans for "Mayday Mayhem." In Lancaster, Preston and Burnley, the 'Mayday Mayhem Roadshow' reclaimed the weekend with gigs and info displays, a rally and a picnic [pix 1/2].
More report roundup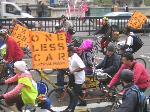 Friday April 30 - This year's Mayday celebrations started with Critical Mass cycle rides in Dublin and London. Dublin saw the biggest ever Critical Mass in the city when over 500 people defied over two months of media hysteria and took to the streets in a festive atmosphere [Report | Photos: 1 | 2 | 3 | Videos: 1, 2 and 3]. In London up to 1,500 people participated in the 10th Anniversary of London's Critical Mass. [Reports and Photos 1 | 2 | 3 | 4 | 5 | Pic Gallery ] Also, the offices of Spearhead Exhibitions, organisers of DSEi, Europe's largest arms fair, and Reed Exhibitons, their parent company were visited by protestors.
Saturday May 1 - actions and celebrations in the UK started early in the morning. In Oxford crowds gathered to see the Mayday dawn for a Wake Up! Wake Up! It's Yer Samba breakfast!!. Later in the morning a demonstration took place in Nottingham. In London the annual TUC Mayday march ended in Trafalgar Sq [Photos: 1 | 2 | 3 | 4 | 5], Also, London Animal Action supporters demonstrated in the Soho area [Photos: 1 | 2] In Cambridge activists set up a non-commercial space within a shopping centre and were dragged out by security guards [Action's leaflet][report][video]. In Sheffield the Social Forum organised a protest against debt and poverty [photos] In Manchester there was a mad picnic and a critical mass. In Nottingham there was a march from Robin Hood Statue to Market Square. In Lancaster, Preston and Burnley Mayday Mayhem was celebrated with several events, including a picnic (pix1/2, gigs, rallies and film showings.

In Dublin, a private park in the centre of the city was opened and occupied; around 100 people participated in a No Borders demonstration [reports 1|2]. Video footage of the march in Dublin, called by mainstream left wing groups.
At 6pm a crowd of about 3000 people gathered for the Bring The Noise March to the EU Summit. At around 8.30pm tension increased when riot police brought in water cannons trying to disperse the crowd. Clashes between demonstrators and riot police occurred, with the result of 25 people arrested and several injured [Statement: "Why we pushed through police lines",First hand account]. At around 11.30pm the crowd finally dispersed. Photos: 1 | 2 | 3 | 4 | 5 | 6 | 7 | 8 | 9. Videos: 1 | 2. Reports: 1 | 2. Irish tabloid coverage 1| 2.
In Barcelona, the Euromayday Parade started at 6.00 in the afternoon with a 10 to 15,000 strong crowd marching towards the city centre Photos: 1 | 2 | 3 | 4 | 5 | 6 | 7 | 8 and Video.
At the end of the demo and around 11pm, the old police station of Via Layetana was temporarily occupied by a large crowd [Video]. Riot police eventually moved in and charged those around the area whilst evicting the squatted building. People did then reagroup in Portal del Angel where heavy police charges also took place, with the result of several people being injured and taken to hospital. At around midnight, the organisers of the Parade decided to call off the mobilisations for the day. Read a report and first hand account of the day.
In Milano, the Parade was joined by between 80 and 100,000 people marching through the city centre, dancing to the sounds of several sound-systems, and doing some actions along the way. Photos: 1 | 2 | 3 | 4 | 5 | 6 | 7 | 8 | 9 | 10 | 11 | 12 | 13 | 14 | 15. Photo Galleries: 1 | 2
Monday May 3 - The Mayday weekend of actions against the EU 'enlargement' Summit continued in Dublin. A Reclaim the Streets was joined by around 600 people in the city centre. The party started at 3 pm and went on untill well into the evening. As the street party was winding down at around 9.30pm, reports came in of police activity in the surrounding area.
Timeline of Events | First hand report | Photos | Video.
And last but not least Mayday 2004 marks the 4th anniversary of Indymedia UK. Happy birthday IMC-UK!
25-04-2004 23:00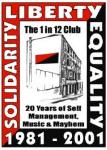 Since 1997, the 1in12 Club in Bradford has been reclaiming May Day in solidarity with and in celebration of International Workers Day on May 1st. In solidarity with celebrations & protests around the world & inspired by a visit to Barcelona, the 1in12 Club has brought the spirit of May Day to Bradford through theatre, film, football, debate, dancing, music, marches and more.
This year with May 1st falling on a Saturday, a weekend of events is in the planning stretching from Thursday 29th April to Monday 3rd May. The May Day Collective hope the focal point of the weekend will be events on May Day itself, with a DIY picnic & party for workers solidarity on Infirmary Fields. There'll be more than just humous sarnies on the menu - bring your own entertainment, games, noise, flags, kids…….etc. Once you've had your fill of butties, there'll be cabaret, cocktails & dancing at the club from about 8pm till very late.
Other May Day events are:
Thursday 29th April: 1in12 Club Library launch party – drink wine and feast on nibbles in the clubs renovated and expanded Anarchist Library.
Friday 30th April: Hardcore crust/punk/metal TRAGEDY & more tbc.
Saturday 1st May: MAY DAY MAY DAY MAYHEM
-infirmary fields from 1pm
-1in12 club from 8pm, cabaret featuring comedy from Rob Newman, Duncan Millard, Steve Bobcat &more tbc.
Sunday 2nd May: Eclectic music & Film Screenings
Monday 3rd May: Peasants Collective wind down & dig in @ the allotment – BBQ & Bonfire(more details tbc nearer time)
Any other ideas & comments for events would be welcome and much appreciated. We still need more people, entertainment & action ideas for the picnic & cabaret, performers & ideas for Sunday (any workshop ideas anyone?) & general support for the whole weekend. The next May Day Collective meetings at the 1in12 Club are on 7th April & 23rd April at 8.30pm, everyone welcome. Email library@1in12.com or Tel: 01274 734160 for info/support.
01-04-2004 01:21
April 1st: Several spoof stories appeared across the Indymedia network on April Fools Day. Here the story was "Mayday Cancelled! Tony Blair's government has decided to ban the 1st of May..."
Other April Fools spoof stories included George W. Bush and Richard Cheney resigning, Corsica becoming a huge EU Deportation Centre, a global coalition of anti-GE activists preparing a hostile take-over of Monsanto under the slogan "Don't hate the corporations, buy them!", and reports that Indymedia.org ltd was in merger talks with the CBS/Viacom News Network.
01-04-2004 00:05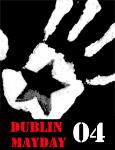 Press hysteria and propaganda around this years Mayday has been mounting over in Ireland, where the latest headline to hit the streets revealing that troops will be drafted in to "Put Down" EU protests!
All of the media reporting so far about Mayday in Dublin has concentrated almost exclusively on "violent" protesters, while no evidence has been presented of a real risk of violence, and barely a mention has been made of the reasons that people will be protesting.
Indymedia Ireland comments:

"The corporate media is creating the climate for repression. They are trying to drive people away from protests and creating the climate where the police can smash the protests with force."
See Indymedia Features, Analysis, and Reports:
Irish Independent Piles On The Mayday Hysteria Mar 27
Demonstrators Challenge Anonymous Smear Campaign Mar 26
What to do about 'Anarchist Menace' Corporate Journalists? Mar 23
Pre-EU Mayday Press Propaganda! Oh YES! - Associated Newspapers in Ireland
Requiring Army Deployment? Was her Editor Drunk Too?
The media madness will be familiar to those who have followed the sad excuse for journalism rolled out every year, for the last four years, ahead of Mayday protests in London, which has been riddled with factual mistakes, bare faced lies, so called intelligence from so called "intgelligence sources", and quite ridiculous claims.
So far this years coverage from this side of the Irish Sea has focussed on the "Mayday Cancelled" statement from some members of the Mayday Collective, which says that the usual large autonomous protest in London is not being planned this year by the Mayday Collective, and explains some of the reasons for that, citing increasing levels of police repression, and calls for a more open dicsussion of politics and goals. Thus far coverage from the BBC and the Evening Standard has failed to mention the Mayday EU events in Dublin (see reports 1, 2).
Events in Dublin framed as "Say no to Fortress Europe - A Mayday No Borders weekend", include a week of cultural events, exhibitions, screenings, workshops, and much street theatre and visual actions focussing on asylum seekers and refugees, housing, recycling, anti-war and public/private space. There's also a Critical Mass Bicycle protest, a Noise protest at the EU Ministers Dinner, a No Borders Camp, and a Reclaim The Streets Party (see Audio/Video).
The usual Dublin Mayday march by Trade Unions has been cancelled, making way for the official EU enlargement celebrations, however the Another Europe is Possible Coalition will still be demonstrating on May 1st with a carnival parade in central Dublin. Meanwhile the BBC/RTE 10,000+ "Beautiful Night" concert has been cancelled after the Irish Cabinet decided the closure of O'Connell Street and adjoining areas for five days before the event would be unacceptable.

Indymedia Ireland will be reporting the protests, as well as holding a series of events entitled "Another View of Europe" (April 23rd - May 3rd), including screenings, exhibitions and workshops from the European Independent Media network, with a major theme being Independent media from the countries joining the EU, as well as events at the Sustainable Living Convergence Festival.

In London plans for the traditional TUC backed Trade Union march are going ahead, assembling at Clerkenwell Green at 12 noon and marching to Trafalgar Square where there will be speakers from the Stop the War Coalition, Globalise Resistance and Ken Livingstone, the Mayor of London. There has also been a Disarm DSEi Mayday Action call in London for April 30th [Flyer]. There are also plans for Mayday events in other towns and cities across the UK, including Lancaster.

See: Mayday No Borders weekend in Dublin (main site)
Indymedia Ireland EU / Mayday Section | Indymedia UK Mayday 2004 Section
Wombles Mayday Section | TUC March in London
31-03-2004 15:05
Following a meeting held in mid-January the London Mayday Collective decided not to proceed with plans for an anti-capitalist event this year. This will be the first time in 5 years that there has not been an event of its kind in London [See IMC-UK coverage of Mayday 2000 and Mayday 2003].
Some participants in this year's collective have produced a statement which is now online and also available to download as a pdf. The text intends to explain the reasoning behind the decision, and perhaps begin some discussion into the prospects for planning future Mayday events, keeping in mind what has gone before. It starts stating:

"The decision to postpone London Mayday 2004 was taken only after several disappointing and poorly attended meetings that had produced little in the way of either a concrete proposal for gathering around or a strong unifying theme that could lead to ideas worth developing .../... In these circumstances we feel not calling an event this year is the right thing to do. Whatever the feeling for Mayday activities, we now have the opportunity of at least a year's breathing space to review where we are as a movement, to discuss some of the problems associated with the event in its current form and to look to what opportunities lie ahead" . Read full statement
In place of this year's event the collective have invited anti-capitalists to join them for a MAYDAY PICNIC on Saturday 1st May from 3pm in St James's Park). They stress that the event is genuinely a picnic and nothing else. Meanwhile, and similarly to the past few years , corporate media have started their own campaign of (mis)information and Mayday scaremongering with articles such as the London's Evening Standard "Police wear down May Day anarchists" and the BBC's "Apathy kills off May Day protest ".
OurMayday website | Comments on IMc-UK | Subscribe to discussion list | Discussion Forum