March 18 Anti War Protest
Day of global action against occupation of Iraq held on 18th March 2006.
22-03-2006 10:19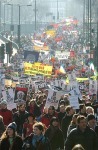 Saturday 18th March was an International Day of Mobilisation against the war and occupation in Iraq, marking the three year anniversary of the war (see call from WSF Assembly of the Movements). Over the weekend of the 18th hundreds of demonstrations took place throughout the world demanding to end to the occupation of Iraq, and protesting against a possible attack on Iran.
In London, the Stop The War coalition said 80 - 100,000 people marched through the streets, however as usual there was disagreement over numbers with the police saying the turnout was as low as 15,000 (a figure which was then printed in mainstream media across the world). See reports and pictures from London [1 | 2 | 3 | 4]. The march sparked some personal commentary about the day and the tactics [ Brian B | riot act | Jo Wilding ]. Locally protests also took place in Glasgow, Newcastle and Dublin.
In the US tens of thousands took part in protests across the country (500 demonstrations were scheduled). For news, pictures and video see the following Indymedia reports: Rallies & Marches: Akron, OH 1 2 | Albuquerque | Arlington, TX | Ashland, OR | Binghamton | Boston 1 2 | Chicago | Colorado Springs | Columbus 1 2 | Concord, NH | Connecticut | DC | Eugene | Fayetteville, AK | Fresno | Houston | Kansas City | Los Angeles | Milwaukee | Minneapolis/St.Paul | Nashville | New Hampshire | New York | Olympia | Orange County 1 2 | Pittsburgh | Phoenix | Philadelphia | Portland | Rochester | San Diego | San Francisco Bay Area | Santa Barbara | Santa Cruz | Seattle | Springfield, Mass | Tuscon, AZ | Vancouver, WA | Vermont | Worcester
Civil Disobedience: Boston, MA: Demonstrators visit several ROTC Offices | Eugene, OR: Civil Resistance activists arrested after sit-ins | Lakewood, OH: Arrests at Lakewood Military Recruitment Center | Lansing, MI: Five Arrested at Lansing Military Recruitment Center | Los Angeles, CA: Eight Arrests at Senator Feinstein's Office -1 -2 | Portland, OR: 19 Arrested while Delivering Anti-War Petitions to Senator Wyden's Office | Washington, DC protesters target Halliburton, Bechtel, and Carslyle
Indymedia Centres around the world collected reports of demonstrations from hundreds, to thousands of people. In Germany the demands were often broadened to include protests against repression and or the liberty of political prisoners.

Worldwide IMC reports: Estrecho: Sevilla, Córdoba | Maritimes: Halifax feature and photos, Fredericton | Ontario: London, Toronto, Windsor | Ottawa Video | BC Vancouver | Winnipeg Victoria | Alacant | Barcelona: 1 2 | Bruxelles: 1 2 3 4 | West-Vlaanderen | Bulgaria | Cyprus: Greek English | Euskal Herria: Ermua | Ireland: Dublin | Germany: Berlin, Duisburg, Trier, Tübingen | Italia: Roma, Palermo, Saronno and Gorizia | Nederland: Amsterdam | Norge | Polska: Warszawa English report and photos, Wrocław, Wa-wa, Poznań | Portugal: Lisboa | Scotland: Glasgow | Switzerland: Feature, Ginevra | Brasil: 1 2 3 | Peru: Lima | Puerto Rico | Aotearoa: Wellington, Hamilton and Auckland | Perth
In the Arab world, demonstrations took place in Basra and the Syrian capital Damascus. Smaller ones took place in Beirut, Cairo and other Arab cities. In the Tunisian city of Sfax, police stormed into a crowd of about 3,000 people and beat them with batons and truncheons, injuring at least 20.
See also: [Infoshop] Global Protests Mark Iraq War Anniversary | [A.N.S.W.E.R. Coalition] Initial Reports on March 18 Antiwar Actions | corporate media coverage [ 1 | 2 ] | Indymedia UK March 18th Section