IMC-UK (gdm, maqui, ionnek & others) | 02.12.2003 19:00 | Saloniki Prisoner Support | Thessaloniki EU | Repression
"Our Passion For Freedom Is Stronger Than Your Prisons"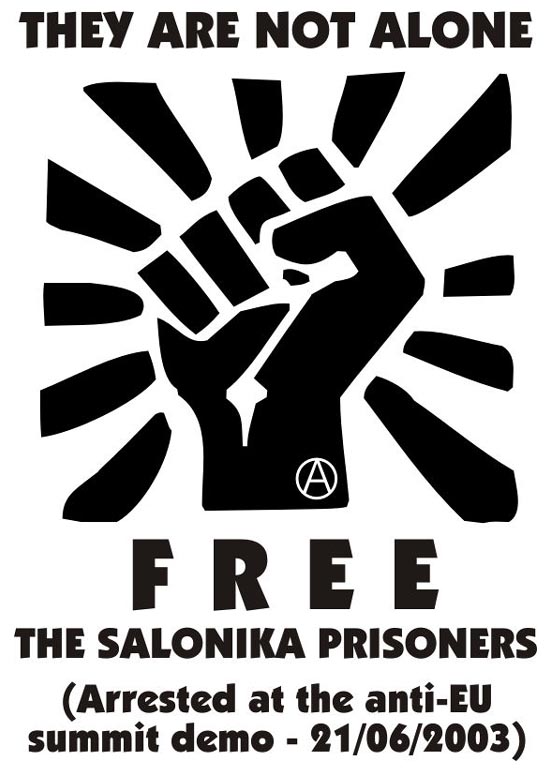 BREAKING NEWS! - 13 Feb. 04: Legal Team: Simon Chapman has been acquitted and the charges against another 12 protestors have been dropped! [Reports on IMC-UK 1 | 2 | feature] [Report in Infoshop News] [Report in IMC-Athens] [Report in IMC-Nice(fr)]
Update - 12 Feb. 04: Simon has written a letter to update on events in Greece.
Update - 1 Jan. 04: Simon Chapman is allowed to return to the UK for 2 weeks to attend his fathers' funeral (See the corporate media reports section).
Update - 17 Dec. 03: Latest report from Athens states the investigation against the allegations of planting [of molotov cocktails] against Simon Chapman has been closed as the evidence was "made up"!
Update 12 Dec. 03: The most recent news, however, is that the police are still trying to produce evidence linking Simon Chapman to the molotov cocktails.
On November 26th, the "Thessaloniki 7" won a five months struggle against the Greek prison system and various Greek authorities. Souleiman "Kastro" Dakduk from Syria, Simon Chapman from the UK, Fernando Perez Gorraiz and Carlos Martin Martinez from Spain and Spyros Tsitsas from Greece were on hungerstrike between 49 and 66 days in protest against the conditions of their arrest and imprisonment. Michalis Traikapis and Dimitris Friouras were also incarcerated in another, juvenile prison. The determination and dignity of their struggle for justice finally proved to be stronger than the Greek anti-terrorist legislation that framed, imprisoned and almost killed them. Their dedication and passion for freedom spoke louder than the judges, police chiefs and Greek ministers that hoped they would be forgotten. They weren't, and people in many parts of the world showed solidarity to their defiance whilst making clear that "They are inside for us, we are outside for them."
The seven were amongst 29 protesters arrested during the protests against the EU summit in Thessaloniki. While the others have been released, the seven were held on remand on charges of rioting, possession of explosives and resisting authorities. All 7 say that these charges are false. In Simon Chapman's case, video and photographic evidence confirm that he was framed.
Reports | Letters | Evidence | Support | Solidarity Actions | Mainstream Media Reports | Links | Banners
The judges repeatedly refused to look at this evidence for months, and several appeals for release on bail were refused. It was the turn of the Greek state to use their 'anti-terrorist' legislation against political prisoners, and it soon became obvious that the 'Saloniki 7' were going to be kept in prison unlawfully. This situation should be understood within the framework of 'security' and 'anti-terrorist' measures introduced by the Greek government in preparation for the Olympic games - due to take place in Greece next summer. It was in this context that the 'Saloniki 7' found themselves on the receiving end of the current - and seemingly permanent - so-called "Global War on Terror".
The attitude of the judicial authorities in this case has consistently been that of regarding the accused as already guilty, hence grossly violating the principle of "assumed innocence". Therefore, on September 21st, Kastro went on hungerstrike, demanding immediate release on bail. Although the artist has been living in Greece for 18 years, he has no papers to stay and could be transferred to a detention centre for deportation to Syria, where he faces life imprisonment because of political activity.
The other four joined the hungerstrike on October 5th, and 8th. By the end of the month, their physical condition started to deteriorate. At the same time, the Greek authorities (legal, prison, medical, government) not only refused to listen to the strikers' demands but, moreover, started to move the hungerstrikers around to various hospitals and back to prison, often without informing the prisoners' own medical and legal support teams. Needless to say, this caused a great deal of distress and confusion to the prisoners and to their supporters, whilst further endangering the physical condition of the hungerstrikers.
At this point it seemed that the Greek authorities had abandoned any pretension to show the world its 'democratic' and 'human' face. They had their very own 'terrorists' behind bars, why should they listen to any of the demands of these 'evil' and 'dangerous' men? Meanwhile, international support for the Thessaloniki 7 swept across Europe and beyond. Since October, IMC UK has listed more than 70 solidarity actions from Athens, Paris and Barcelona to Colchester and Turkey, including 20 actions in smaller Greek places. Greek embassies, consulates, travel agents and cultural events were visited, banners unfurled, demos held, petitions signed, universities and media outlets occupied.
In November, the medical condition of the hungerstrikers became increasingly critical. The authorities' practice of moving them around didn't help. More appeals for release on medical grounds were refused, although backed up by extensive and alarming medical reports. Only after a 2 day thirst strike, the hungerstrikers were allowed to make phone calls, see their lawyers and go to the toilet privately.
On Nov 21, the prosecutor in Greece's Supreme Court ordered an investigation into the circumstances of Simon's arrest to decide whether to accept their demand for bail. This was subsequently turned down by the prosecutor, leaving the final decision with the Thessaloniki Magistrate's Council. The showing on television of the original footage which shows the charges to be groundless has increased the pressure on Greek authorities to allow the hunger strikers bail.
IMC-UK Corporate Media Archive | IMC-Thessaloniki
At this point, the corporate media started to take notice, as did Members of the European Parliament and Amnesty International. Mainstream media could now also draw on a number of medical statements from the hungerstrikers' physicians. On Sunday, 23rd Nov, three specialists examined Carlos Martin, Fernado Perez and Spiros Tsitsas in the General Public Hospital of Nikaia and had a hard time finding someone in charge. They concluded: "In Greece, civil rights have a chance of being relatively protected only if their infringement happens to take place during week days and not during Sundays or Holidays." [doctor's statement]
Finally, on November 26th, a dramatic climax: the Athens district attorney issued a statement that the 5 hunger strikers would be force-fed and doctors who refused to comply with this order would be "charged with homicide" [Reuters | IMC UK]. The situation was now getting trully critical; the brutal and extreme authoritarian attitudes of the Greek administration toward these political prisoners was reaching unprecedented levels. The real face of Greece's democracy was proving to be uglier than many expected. Supporters and solidarity campaigns were already calling for protests in case any of the hungertstrikers' "fell into a coma or died". But, later that afternoon, after more demos and a lot of media attention in Greece, the indymedia irc channels became crowded with the unexpected news that a special Council had ruled that the Thessaloniki 7 were to be set free, but not allowed to leave the country until their trial takes place. The five hunger strikers will need to spend about 10 days in hospital. We are hoping that they will recover as much as possible, as it is known of other hungerstrikers having suffered permanent physical damage, like digestive tract problems, muscle wastage, brittle bones and weakened hearts.
Despite this tremendous news, it should be remembered that the trial may still be postponed for up to another year and the charges have not been dropped. The 'Thessaloniki 7' struggle continues until justice is done, but hospital and lawyers fees have still to be paid, court cases prepared, and friends to be supported, not only in Greece, but also in Miami and anywhere else where governments' apology of the "Global War on Terrorism" is used to criminalise and repress legitimate dissent. It is still unclear what the final outcome of the 'Saloniki 7 trial will be but, as Indymedia Athens states, what Souleiman, Simon, Fernando, Carlos, Spyros, Michalis and Dimitris have already achieved is: "a victory of the struggle for dignity and freedom by the 5 hunger strikers, of the other 2 prisoners, but as well the thousands of people that stood up for them all over the world!!!! It is an outright defeat for the greek state-repression complex, and for the global "anti-terror" mechanisms."
Hungerstrikers Latest News | Reports | Letters | Evidence | Support | Solidarity Actions | Mainstream Media Reports | Links | Banners
[Francais | Deutsch: At Ch De]
---
Note: the original text from this page has been updated (30 Nov. O3). The original "introduction" section has been preserved, along with all the other sections. See relevant text for links.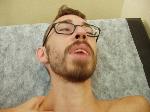 The hungerstrikers went without food for between 49 and 66 days. Kastro was the first to start, on 21st September, in protest against the refusal of bail and the likelihood that he would be deported when he was released (he faces life imprisonment - or worse - at home in Syria). He was joined by Simon Chapman, Spiros Tsatsis and Carlos Martin Martinez on the 5th October, and Fernando Perez Gorraiz a few days after that.
During part of the strike, the prisoners refused even to drink water when the authorities did not allow them access to their lawyers. Later on in the strike, the two juvenile prisoners - Michalis Traikapis and Dimitris Friouras - joined in for a weeks solidarity fast. There were also solidarity fasts around the world.
---
Note: the original text from this page has been updated (30 Nov. O3). The original "Hungerstrikers Latest News" section has been preserved, along with all the other sections. See relevant text for links.
On 13 February 2004 Simon Chapman was suddenly aquitted by a court order from Thessaloniki. Another 12 Saloniki prisoners also had their charges dropped. Reports appeared immediately in alternative media:
13 Feb 04: IMC-Atehns reports "Great news! All charges dropped for Simon Chapman and another 12 protestors!"
13 Feb 04: IMC-UK report and first reactions.
13 Feb 04: IMC-Nice report (fr)
13 Feb 04: Report in Infoshop News.
On 25th November, the Greek authorities finally released the Thessaloniki 7 on remand:
26 Nov 03: Press Release TPSG - 2 Hungerstrikers moved to hospital in critical condition
25 Nov 03 New photo by Reuters photographer Yannis Behrakis clearly proves that Simon has been framed by the greek police!
25 Nov 03 Amnesty International Press Release calls for independent investigation into ill-treatment of demonstrators
24 Nov 03: The hunger-strikers' doctors issue a public call due to Simon and Kastros "extremely dangerous" condition
---
Note: the original text from this page has been updated (30 Nov. O3). The original "Reports" section has been preserved, along with all the other sections. See relevant text for links.
There is convincing evidence which clearly demonstrates police brutality and the planting of evidence on Simon Chapman. This includes photos and TV footage from the Greek national news channel ET3. On 25 Nov 03, a photo by Reuters photographer Yannis Behrakis was publicised. The TV footage has been compiled into a video, which can be downloaded in different versions:
All seven of the prisoners who were imprisoned have been charged together with the same offences - even though they were arrested at different times in different places and had never before met!
More discussion and relevant links, as well as screen shots from the video, can be found on the original - and expanded - evidence page.

---
Note: the original text from this page has been updated (30 Nov. O3). The original "Evidence" section has been preserved, along with all the other sections. See relevant text for links.
Despite the fact that the prisoners have now been freed, there is an ongoing need for money for Simon and the others. They need to save money in case they are offered a financial bail (as at present the non-Greeks are not allowed to leave the country) and there are still legal fees to be paid. Cheques should be made payable to "ABC" and sent to:

ABC,
BM Automatic,
London WC1N 3XX

Alternatively, get involved in the Thessaloniki Prisoner Support Group: contact ThessalonikiPrisoners [AT] yahoo.co.uk to join the email group.
You can also still send letters of protest to the Greek Ambassador in the UK protesting the treatment of the prisoners whilst they were inside and the fact that the charges still stand:

Greek Ambassador to the UK
Embassy of Greece
1A Holland Park
London, W11 3TP

Email:
political@greekembassy.org.uk
commercial@greekembassy.org.uk
pressoffice@greekembassy.org.uk

Or phone and fax:
Tel: 020 7229 3850
Fax: 020 7229 7221
Another way that you can support the Thessaloniki Prisoners is to have a banner on your website, linking back to the IMC-UK Thessaloniki Solidarity pages.
---
Note: the original text from this page has been updated (30 Nov. O3). The original "Support" section has been preserved, along with all the other sections. See relevant text for links.
The full list of Solidarity Actions details events that happened around the world in solidarity with the Thessaloniki Prisoners. Some of these were particularly striking, like the hunger strike in Dublin whose end resonated in time with the hunger strikers in Thessaloniki, and the 5th October (London) protest that coincided with the start of three of the hunger strikers - and kickstarted the UK corporate media coverage.
However, solidarity actions are still required as the 7 have not yet got their complete freedom. In Spain, protesters held a bridge protest in order to highlight their demands for the non-Greeks to be allowed back to their original countries.

---
Note: the original text from this page has been updated (30 Nov. O3). The original "Solidarity Actions" section has been preserved, along with all the other sections. See relevant text for links.
14 Feb 04 - The Guardian: Protester released after eight months in Greek jail.
13 Feb 04 - BBC News World Edition: Greece frees 'framed' protester.
13 Feb 04 - News Scotsman: Anti-Capitalism Briton Released in Greece.
13 Feb 04 - EU Business: Greece releases British national held after EU summit.
13 Feb 04 - Ananova: Anti-capitalism Briton released in Greece.
1 Jan. 04 - Greece protester home for funeral
1 Jan. 04 - EU Business: Greece allows British protester to attend father's funeral
1 Jan. 04 - Guardian: British protester to fly home for funeral
17 Dec. 03 - Kathimerini: [scroll down through column until you get to: "No foul play?"]
9 Dec. 03 - BBC: Indecent assault charge dropped
1 Dec. 03 - Ananova: Police accused of planting petrol bombs on Briton
1 Dec. 03 - Scotsman: Greece Probes Whether Petrol Bombs Were Planted on Briton
1 Dec. 03 - This Is London: Woman in court for 'groping Pc's bottom'
1 Dec. 03 - Sun: Bum rap over sex charge
1 Dec. 03 - Scotsman: Woman Accused of Indecently Assaulting Policeman
28 Nov. 03 - Five men, freed...
27 Nov. 03 - Telegraph: British hunger striker to be freed
27 Nov. 03 - Kathimerini: Thessaloniki 7 released
27 Nov. 03 - Guardian: Athens judges free hunger-strike Briton
27 Nov. 03 - Telegraph: Hunger striker to be freed
26 Nov. 03 - Herald: Family fears for life of hunger striker
26 Nov 03 - BBC (Simon Chapman will be allowed to leave the prison hospital when he is well enough, a Greek court announced)
26 Nov 03 - Reuters (Greece to free hungerstrikers)
26 Nov 03 - Reuters (Greeks Authorise Force feeding of Hunger Strikers)

The full Corporate Media Archive contains reports up to the 25th Nov. 03 from media sources around the world.
---
Note: the original text from this page has been updated (30 Nov. O3). The original "Corporate Media reports" section has been preserved, along with all the other sections. See relevant text for links.
Spanish Solidarity sites:
IMC-UK (gdm, maqui, ionnek & others)