imc-uk features | 19.02.2006 15:09 | Rossport Solidarity | Ecology | Globalisation | Social Struggles
Stop the Shell Pipeline! Protests have taken place in Ireland, England, Scotland and Sweden to publicise the campaign ahead of the re-opening of Rossport Solidarity Camp, a protest camp supporting a community based struggle against Shell in the West of Ireland. On Friday 17th there was a Rossport Solidarity Demo in Liverpool, a critical mass style bike ride and occupation of Shell garages happened on Saturday in Nottingham [picture reports 1 | 2] and in north London London Rising Tide organised a blockade of a Shell garage which was closed for four hours [reports 1, 2] [ Video]. Listen to an audio report recorded at the Rising Tide Solidarity action 1]. All this coincided with a Rossport Solidarity Camp speaking tour of Scotland and England. Meanwhile in Ireland, the doors to Shell's main offices in Dublin were D locked shut, there was also a blockade of a Statoil garage in Cork and two solidarity meetings.
In Rossport Irish residents & supporters continue to obstruct the building of a dangerous gas pipeline. Last year five men from Rossport were jailed for contempt of court for refusing to obey the High Court order not to interfere with the construction of the Corrib gas pipeline. They were expected to be back at the High Court also on Friday 17th, potentially facing more time in jail. In November '05 the Rossport Five were released after 94 days in jail.
Click the
'Full Article'
link for more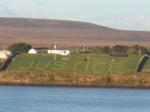 In Mayo Shell and Statoil, with the approval of the Irish government, are planning to:

***Take land from local residents and build a high pressure gas pipeline that will go past their houses: the pressure inside the pipeline will be up to four times greater than that of the biggest Bord Gais pipelines. The pipeline will be going through boggy land with a history of landslides.

***Construct a gas refinery on unstable bog: This construction will be using previously untried methods to stabilise the bog surface and involve a massive amount of traffic. Emissions from the refinery will affect the nearby Carrowmore Lake, source of the regional water supply.

***Pump toxic waste into Broadhaven Bay: A U.C.C. research team found that Broadhaven Bay was an important breading and rearing area for dolphins and whales. They recorded over 220 sightings of seven whale and dolphin species, plus sightings of two seal species, in Broadhaven Bay and north-west Mayo waters.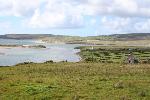 Rossport Solidarity Camp was born in June 2005. It is the first protest camp around an ecological theme to take place in Ireland for several years. The camp began after local opponents of Shell's plan to build an unprecedented high pressure gas pipeline through the hamlet of Rossport invited activists there to support their struggle. A large marquee was erected with a kitchen for cooking and eating, sleeping and meeting, notice boards and an info point. Compost toilets and standard compost heaps were built to deal with organic waste and the rest was recycled. A tipi and a large bender provided more space when needed, as well as smaller tents too. Water in barrels was carried in daily from Vincent Mc Grath's house and locals offered showers and laundry. A wind turbine system was set up to harness wind energy giving electricity to power lights, mobile phones and computers.

The camps role as part of the campaign was:
To block and protect the land in Rossport from any encroachment by Shell.
To guard, picket and blockade the Shell compound in Rossport, as do the local people at the proposed refinery site 10km inland at Bellanaboy.
To be a focus, an info point and a venue for visitors who come to find out more about what's going on and/or to stay.
To support the families of The Rossport Five.

From June 18th last year there were no deliveries of construction materials to the compound at Rossport. From June 30th pickets closed the Rossport compound and the refinery construction site at Ballinaboy. In August Shell was forced to cancel the arrival of the Solitaire, one of the world's largest pipelaying ships, due to a planned blockade by fishermen. On September 30th the Rossport Five were released, because of popular pressure.

In March, Rossport Solidarity Camp will be re-launched for the 2006 'construction season' - running late Spring, through Summer, and early Autumn. From March onwards they are looking for more people to come to the camp, be it for 3 days, 3 weeks, or 3 months. See selected reports from the Rossport Solidarity meetings: Glasgow, Nottingham 1 | 2, Manchester, Oxford, also RampArts social center held a benefit for the '05 speaking tour.
Shell are also facing dificulties within Nigeria with Gunboat attacks on oil rigs and kidnappings of employees in the Ogoni delta. Whilst in September last there were protest hangings outside the Shell Centre on the South Bank for Ogoni Day [pictures 1 | 2 and video]. IMC London had a feature on it and an environmental protest comprising sand dump and banner drop with megaphone and samba band went without hitch [pics and report | videos].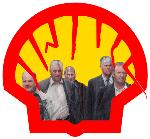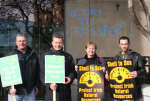 Other related indymedia articles:
Shell defeated in Ireland
| Call for International
Solidarity
| Anti-shell action in
Edinburgh
| BP and Shell garages closed by
direct action
in Edinburgh | Irish Citizens
imprisoned
on Behalf of Shell Oil. | Shell - a neighbour from Hell? Public meeting,
LSE
, Public Eye Awards for
irresponsible corporate behaviour
.
Other links
from IMC Ireland, demos in Dublin [report and pictures] SHELL TO SEA | Rossport Solidarity Camp | Indymedia Ireland | London Rising Tide.
imc-uk features