On Saturday the 14th of November, the EDL return to City of Sanctuary, Bradford, inviting their Hitler-loving NEI neo-nazi friends to make up the numbers. The NEI are the Hitler-loving scum who stood alongside SS and Blood & Honour flags in Preston. Overall numbers might be smaller on EDL marches, but the danger of fascists visiting Bradford must never be underestimated. Fascists see every visit to Northern England's most multicultural city as a potential to harass Asian, black, Eastern European, LGBT and other minorities. Complacency must not happen! THEY MUST BE OPPOSED!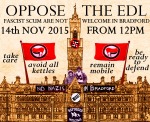 ANTIFA book your transport now!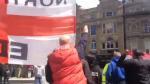 EDL Nazis - They love their Hitler!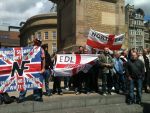 EDL, NEI and NF The Best of Mates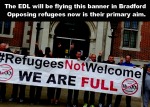 EDL Nonces Opposing Child Abuse??? This is their real reason for visiting!
Whether or not the nazi thugs of the NEI attend, Alan Spence's North-Eastern EDL Division contains a great deal of Hitler-lickers of their own, as shown by the photographs, who pretend to be patriots, but see no problem pulling a Hitler salute at a war memorial. This date was chosen especially for fascist football hooligans to maximise attendance, because of international fixtures, there are no Premier League fixtures this weekend. Newcastle, Sunderland and other top flight clubs have no fixture on either the Saturday or the Sunday. Bradford City have a home match organised with Crewe Alexandra, which the EDL's visit will cause serious disruption to, not that the EDL care less about fixture disruption caused to our local football club.

http://www.skysports.com/football/fixtures-results/14-november-2015
The last time the morons from the far right visited Bradford, they were protected from anti-fascists by a wall of steel erected by the authorities outside Bradford Interchange. Since their last visit, the Queen public house on Bridge Street has changed owners two times, and has been tarted up with new signage. If that pub once again hosts the EDL, and pumps them full of Stella, antifascists should organise a further boycott of this boozer.
Last time's flashpoint occurred when fascists managed to exit up the upper concourse next to the train station and attack local Asian youths using the Leisure Exchange cinema and bowling alley. There was sadly no police roadblock at the top of the Interchange allowing this to happen. ANTIFA need to be vigilant in defending all such locations from nazi assault. Coked-up, drunken and looking for fights, the Northern divisions of the EDL and their splinters are far more dangerous than their Southern counterparts who have fizzed out recently. Antifascists must not underestimate potential fascist turn-out from smaller turn-outs elsewhere, as Bradford, like Birmingham, is always a primary target for organised racists.
REMEMBER: - Back in 2001, all it took was a small handful of far right extremists to trigger a full-scale riot. Don't be penned into the UAF protest in Centenary Square. Protect Bradford from fascist incursion, and do your bit to ensure the fash leave empty handed.
NO PASARAN!