State funeral for the friend and ally of mass-murderer, torturer and war-criminal Margaret Thatcher?
Should tax-payers be forced to pay for such an insult?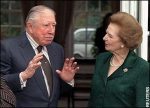 Margaret Thatcher + serial-killer General Pinochet
According to various reports and investigations 1,200–3,200 people were killed, up to 80,000 were interned, and up to 30,000 were tortured by his regime including women and children.

https://en.wikipedia.org/wiki/General_Pinochet