The horrific practice of live hare coursing in Ireland is kept alive by THREE main financial sponsors:
One of them is County Louth-based betting company, Boylesports, which also has an office in the Isle Of Man.


A hare tumbles after being struck at an Irish coursing event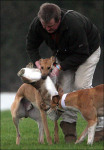 Hare Coursing: the "sport" that Boylesports keeps alive through sponsorship
On its website, Boylesports refers very briefly and tactfully to the fact that it sponsors "coursing", without elaborating or explaining that it is LIVE hare coursing, as distinct from drag coursing as practiced in some countries in which no hares are used.
Boylesports offers massive financial backing to the National Coursing Event, the three day fixture which is the culmination or "finals" of the whole barbaric season of this appalling blood sport in Ireland.
By persuading sponsors to withdraw support from hare coursing, you can help to bring it to an end even before our slow-moving politicians get around to accepting that it should be banned. Without funding, hare coursing cannot survive.
Here are the contact details for Boylesports. Please request the company, by email, letter, phone call (or any method that is convenient for you) to cease all funding of this despicable form of animal cruelty:
John Boyle
Managing Director
Boylesports
Finnabair Industrial Park
Dundalk, Co. Louth.
Tel: +353 42 939 3000
Tel (ROI): 1800 22 00 66
Tel (UK): 0800 22 00 66
Tel (International): +353 42 9393168
Fax: +353 42 939 3051
Email:

care@boylesports.com
CC:

media@boylesports.com
;

marketing@boylesports.com
;

lblanche@boylesports.com
;

nmcgeady@boylesports.com
Boylesports Ltd,
First Floor,
Millennium House,
Victoria Road,
Douglas,
IM2 4RW,
Isle of Man
Here is a video clip from the major national live hare coursing event SPONSORED by Boylesports in 2011…
If you forward to the 20 second mark you will see a hare being violently hit into the ground by greyhounds and sent tumbling head over heals…
Watch on Youtube
Here is a brief film showing exactly what happens in hare coursing as practiced in Ireland:

http://www.youtube.com/watch?v=D58qbzC-GI4&feature=player_embedded
Footage of the "Irish Cup" hare coursing event; held on Limerick racecourse in the last weekend of February 2012:

http://www.youtube.com/playlist?list=PL741E0B6DA3CBB057