This morning (Tuesday 31/01/2012) a small demonstration took place outside of Cambridge Shire Hall, but it was about something very big indeed.
In fact, decisions made today in that building will change many peoples' lives forever, as there was a meeting by county councillors to decide which rural bus services are to have their funding cut.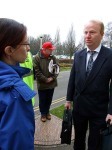 Activist trying to persuade local councillor not to make cuts.
This will have a devastating effect on local lives, as many people rely on these buses to get to work, school, college, do their shopping, go to the library and claim their benefits.
I shall take a direct quote from the Cambridgeshire Against The Cuts website (link below) about this, as they say it very eloquently.
"It is vital that we keep up the pressure on the Council, otherwise basically we will lose all subsidised bus servives.
What will this mean? Well, it will mean that thousands will be isolated in their own villages, unable to visit family or friends, or go shopping.
It will also mean that many hospital and other important appointments will be lost, costing a large amount of money in itself.
It will put a stop to socialising, it will put the vulnerable and the elderly at risk, no way of travelling is bad for morale and will mean that people will have to give up work, including the disabled that are part of the 'care in the community' scheme."
According to a Gaurdian article (link below), up to 57 bus services in Cambridgeshire could have their funds cut today, making it the biggest and most brutal of cuts to buses anywhere in the country.
Once again it would seem that the Tories only care about the Bottom Line and not the lives of those beyond their own narrow frame of reference.
Cue very slow, loud claps.
Well done old beans, hope you sleep well tonight.
Despite the small number in attendance, the freezing weather and some slightly silly choreography by a TV crew, the collective mood was upbeat, with some activists talking to councillors on their way in to the meeting, trying to persuade them of the arguments against further cuts.
Nobody from the demo went into Shire Hall to witness the meeting from the viewing gallery, due to many in attendance having jobs to go to afterwards.
We shall find out soon enough what decisions were made today.
More links/resources about this story:

http://www.cambridgeshireagainstthecuts.org.uk/

http://www.guardian.co.uk/uk/2011/feb/03/bus-services-under-threat

http://www.cambridge-news.co.uk/Home/50-bus-routes-facing-the-axe-as-cuts-bite.htm

http://www.wereallneighbours.co.uk/idlechat/message.php?id=43304&page=1
There is an online petition here:

http://epetition.cambridgeshire.public-i.tv/epetition_core/community/petition/1420