Page 1 of 1
28-10-2010 22:49
The six defendants in the second SHAC trial were hammered with vicious sentences this week. The harshest sentence was the six years handed down to 53 year old Sarah Whitehead. Sentences for the other defendants Tom Harris. Nicole Vosper, Jason Mullan, Nicola Tapping and Alfie Fitzpatrick ranged from a two year suspended sentence for the youngest, Alfie, to three and a half years for Nicole Vosper. All the defendants also copped lengthy ASBOs, which will prevent them from any further participation in animal rights activism.
On the Newswire:
In SchNEWS: 581 | 586 | 616 | 630 | 652 | 660 | 663 | 666 | 667 | 688 | 738
Links: www.shac.net | www.schac7.com |
[Full Story ]
---
04-11-2009 08:26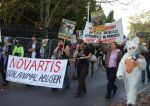 As part of the SHAC campaign 70 people turned out for a demonstration and march against Novartis' headquarters (an animal research centre and top HLS target) in Horsham on Saturday 31st October.
Up until 2pm the day before Sussex Action For Animals (SAFA) were not even sure that the demonstration would be able to take place. Earlier in the month Novartis had attempted to get an interim injunction using the notoriously repressive solicitor Timothy Lawson-Cruttenden, known for numerous HLS injunctions and failing to seize a protestor's assets amongst other civil liberties issues.
Novartis were seeking to prevent banners on the demonstration from bearing the words "Novartis", or carry posters showing images of animal suffering. They didn't want protesters to be able to wear masks or costumes; in particular blood stained lab coats. They did also mention something about fireworks! However, despite the best efforts to dredge up any dirt they could to support their application, the judge found in favour of the campaigners.
Related Newswire: March and Protest against Novartis in Horsham | Horsham march in tussle over freedom to protest | Novartis threaten the right to protest banners and costumes | More articles
Recent features: March against Novartis on Saturday | Newcastle March & Demo Against Sanofi-Aventis | Direct Action Withdraws HLS Loan Facilities | Largest HLS Investor Dumps All Shares As Buyout Approaches | Operation Liberation Demo at Highgate Rabbit Farm | Novartis CEO's hunting lodge destroyed | Highgate Farm Protest Camp | Largest Shareholder Barclays and Top Investors Dump HLS | More features
[Full Story | 1 comment ]
---
25-02-2009 22:11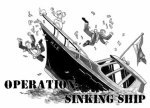 Just days before the SHAC global week of action kicked off and two weeks after Huntingdon Life Sciences' vivisection laboratories were exposed for the seventh time in ten years, revealing shocking undercover footage, HLS shareholders have sold 15% of the company (ticker symbol LSR). As a result the percentage of LSR stock held by institutions fell further from 20.1% to 17.7%, leaving them below the minimum listing standards of the New York Stock Exchange, a major target in the campaign to close down HLS.
Wells Fargo, who were one of LSR's top five institutional investors has sold all their 147,511 shares and the Bank of New York Mellon, previously third largest investor, sold most of their LSR stock dumping 149,157 shares. BNY Mellon now only have 26,634 remaining of the original 175,791 shares, with Turner Investment Partners Inc also selling their 56,880 stock.
The announcement was made the day before Animal Liberation Front (ALF) activists reported they had slashed car tryes at the home of BNY's Business Analyst in Hampshire, whilst other covert cells targeted HLS associates in solidarity with political prisoners, including the UK SHAC 7. Protests also took place at BNY and Wells Fargo's offices and executive's homes, as part of a three-month campaign based primarily in London [ 1 | 2 | 3 | 4 | 5 ] (England) and New York City (USA) [ 1 | 2 ].
HLS have been suffering from a serious lack of investment since December 2007, with over a dozen corporations selling all their shares in LSR. Their share price as of February 25th is $5.78, the lowest since their high of nearly $40 in September 2008. With an unstable share price, activists continue to increase the pressure against HLS shareholders, particularly largest investor Barclays.
Videos: 1 | 2 | 3 | 4 | 5 | More: 1 | 2 | 3
SHAC 7 Letters from Prison: 1 | 2 | 3 | More
[Full Story | 7 comments ]
---