SHAC | 25.02.2009 17:49 | SHAC | Animal Liberation | Health | Social Struggles | World
24th: FINANCIAL FRENZY WEEK STARTS IN LONDON
23rd: DAY THREE OF DUTCH PROTEST TOUR
23rd: ITALY WEEK OF ACTION AGAINST HLS SPEEDS AWAY!
23rd: DAY ONE OF CHILEAN ACTION DAYS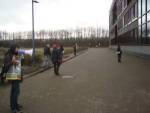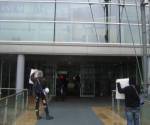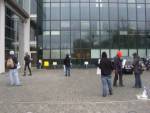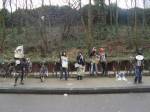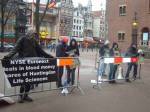 DAY THREE OF DUTCH PROTEST TOUR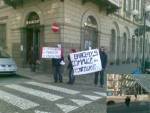 ITALY WEEK OF ACTION AGAINST HLS SPEEDS AWAY!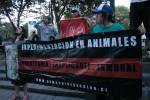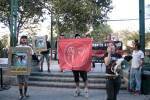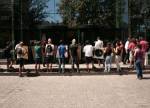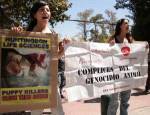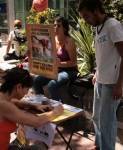 FINANCIAL FRENZY WEEK STARTS IN LONDON
Tuesday, 24th February
Another busy day targeting the companies who assist HLS financially was spent in London.
Barclays Wealth, 38 Hans Cresent, Knightsbridge, London, SW1X.
Another great demo at this superb location, as all Barclays' rather better off customers entered and left we got a chance to tell them of Barclays' dirty investments, and to say they where unimpressed would be an understatement! Barclays security would not stop moaning, trying to get us to stand further away and then getting in our faces and filming us with mobile phones, surely you can afford a decent video camera Barclays? Unforunately for Barclays their bully boy tactics carry no weight against a group of compassionate people standing up against the attrocities that take place in HLS. We don't think much of banks like you period, while making the rest of the world bankrupt! Don't really think you deserve all those bonuses and hand-outs from the tax-payers?
AIG, 48 Berkeley Square, Mayfair, London, W1J 5AX
It was the first time we had visited this site, their "Private finance" office, AIG currently own over 41,000 shares in HLS and we soon let everyone know what they were investing in. We gave out hundreds of leaflets and talked to dozens of local workers and bankers. Many asking why AIG had decided to sink so low, especially as HLS LSR only seem to lose money, and lets be honest AIG don't seem to have any problem doing that by themselves even without HLS helping their abject collapse. One local banker was so supportive he even offered us some of his finish cigars, a demo first first for us. A great site, right in the heart of the city, AIG we will be back if you still give us a reason to.
TIAA-CRAF (Teachers Insurance Annunity Association - College Retirement Equities Fund) 4th Floor, 33 Cavendish Square
(they want to keep their London address secret so don't tell your friends).
We arrived at Teachers Insurance Annunity Association - College Retirement Equities Fund to start our demo, security where polite but not too happy to see us and at first they where completely unaware that Teachers Insurance Annunity Association - College Retirement Equities Fund where even in the building (they kept on saying - the 4th floor is rented out privately - nothing to do with them), they shortly confirmed they where there. Many of the staff from other companies in the building decided to drop our leaflets into them so they were quite aware why we were there. Teachers Insurance Annunity Association - College Retirement Equities Fund own over 78,000 share in HLS, which currently makes them are third biggest UK Financial target - lucky them. It was a great spot letting the public know about Teachers Insurance Annunity Association - College Retirement Equities Fund's dirty investments and all of the public agreed that they should not only choose more ethical investments but also get a shorter name as Teachers Insurance Annunity Association - College Retirement Equities Fund is rather ridiculous. We our also aware that Teachers Insurance Annunity Association - College Retirement Equities Fund have many dirty dealings with other campaigns across the world targeting them. Today was just a taster and we will be back time and time again until you sell your shares Teachers Insurance Annunity Association - College Retirement Equities Fund. You really need to get a 'real' social responsibilty policy as yours isn't much cop!
A day out in West London wouldn't be the same without a quick visit to Astra Zeneca, who were recently shown to still be dealing with HLS in pointless, painful primate experiments at HLS in Huntingdon.
Astrazeneca, 15 Stanhope Gate, London, W1Y 6LN.
These guys were exposed a couple of weeks back paying HLS only last year to abuse and murder wild caught primates. This sick company is firmly in the sights of the SHAC campaign. The are never happy to see us but today they where extra annoyed swearing as they realised we had arrived, looks like lucks on our side Astrazeneca after all how would we know about the meeting you where having. It's called karma, you pay for experiments in HLS and we make sure you don't get a moments peace until you stop dealing with them.
See you all very soon.
SHAC London
-----------------------------------------------------------------------------------------
DAY THREE OF DUTCH PROTEST TOUR
DAY ONE & TWO:

http://www.indymedia.org.uk/en/2009/02/422663.html
Monday, 23rd February
Five HLS financial collaborators are demoed in Amsterdam
Demo 1: State Street Corp
This filthy company has 128,610 shares in LSR and is the 4th biggest shareholder. It disgusting State Street to invest in animal cruelty. We showed State Street our disgust in their investments with our megaphones and placard boards. Every shareholder of LSR can expect a visit at their office by SHAC if they don't make the right decision to sell all their shares in HLS.
Demo 2: Bank of New York Mellon
We were happy to hear BNY Mellon had sold 149,157 shares in LSR, but there are still some shares left BNY Mellon! I think you misunderstood SHAC, we told you to sell ALL your shares. Having a few shares or being one of the biggest shareholders makes no difference how guilty you are. We had a fantastic spot just in front of the office of BNY Mellon which is right above the entrance of the tower they are located in, at the World Trade Center in Amsterdam. Loads of people working there passed in and out wondering why we were there. We explained to them and they showed their disgust. One of the people working inside the WTC who called himself an animal lover went directly inside to find out if this was all true about HLS. After a little while he came out and showed us his full support in our campaign. He even brought us the latest details of the share price of LSR and a report on their financials showing they are just a financial disaster.
Demo 3: Vanguard Group
When we arrived at the office of Vanguard Group it was totally empty without any lights on. These people working for Vanguard Group definitely are a group of cowards. You can walk away from facing the truth Vanguard but the truth will always be there and that's that you are helping the animals suffer in HLS. We will come back again and again until you sell all your shares in LSR!
Demo 4: Barclays
Barclays is the biggest shareholder in LSR with nearly 400,000 shares. Their office is located high up in the big tower of the WTC in Amsterdam. We were sure you heard us though with all our megaphones. And not only Barclays heard us, windows on every floor where covered with people looking at us. It was maybe hard to understand in the beginning, but as companies in the Netherlands are told not to contact us or come outside to talk to us. We are not that scary! We are caring people who take up the fight for animals trapped inside cruel places like HLS. But one thing is sure and that is that we are determined to close down HLS and we will take on every company that dares to invest in LSR/HLS. Sell you shares in LSR Barclays! We don't want any more animals to die inside this cruel place. They are liars and murderers.
Demo 5: NYSE Euronext
We finished our 3 day tour in the Netherlands and the financial day of action against HLS at NYSE Euronext. They are the only stock exchange in the world accepting LSR to trade their shares. As you have seen we will never give in NYSE Euronext and we will continue confronting and shaming you. You are responsible for allowing HLS to continue. It was a load and angry demo as always!
NYSE Euronext and all LSR shareholders, just go inside HLS and look at the beagle puppies, look into their eyes and tell them with your greedy smile on your face that ...you don't care!... Where's your compassion and morals NYSE Euronext and all LSR shareholders. Look in their eyes and you will see a beautiful life imprisoned in a cage, with no escape from their painful short lives have to endure. Those beautiful lives and many others will die without ever having known what it is to be loved, to have companionship and enjoying life. No they will just die and end up in a rubbish bin after being poisoned and cut up and all for profit!
We will only fight harder and carry on putting pressure on HLS. This is what is happening every single day at this hell for animals, HLS and we will not fail them.
SHAC Netherlands

info@shacnederland.net
-----------------------------------------------------------------------------------------
ITALY WEEK OF ACTION AGAINST HLS SPEEDS AWAY!
Monday, 23rd February
Various protests were planned against Barclays this week in Italy
Italian demo report:

http://www.stophls.net/24-02-09.htm
The week of action in Italy started up in Turin from 9am, for almost two hours, around ten activists made a really good demo against offices of Barclays located in the center of the city. Lots of leaflets were given away and many people informed of the blood money Barclays is making with the help of cowards inside HLS!
Workers and managers were really surprised and bothered of the real face of Barclays' business finally being exposed to people, during all of the demo, megaphones reminded Barclays of their unethical ways and their responsibility in this bloody business carried out just for profits!
Police, obviously, were present with lots of officers, probably more than
the activists! They tried to push the activists far from the right place for the demo but the position was kept with no problems! At least the result was a really good important demo for Turin and for the struggle against vivisection and against HLS!
During this week other demos are planned in various Italian cities, we dedicate this week of action to the shac activists actually imprisoned and we'll fight for them and for all the thousands of animals imprisoned inside HLS!
More info:

http://www.stophls.net
-----------------------------------------------------------------------------------------
DAY ONE OF CHILEAN ACTION DAYS
Monday, 23rd February
Santiago Action Day - Day 1
Some weeks ago an undercover investigation carried out by ADI revealed the cruel and evil business of vivisection on primates, that led to the animal hell in HLS in the UK. Some of the experiments exposed were financed by Glaxo SmithKline and AstraZeneca, so they were chosen as targets for two days of action in Santiago, Chile.
Activists arrived early in the morning outside the building where their offices are. A demonstration was done and also an information stall was held there to make a better point of conversation with people who want more information about vivisection, the campaign and the involvement of GSK with HLS. Also people from Juvan, an animal rights organization from Concepción, came to Santiago and protested.
As usual people showed their support and horror when learning what happens with animals inside HLS, especially when realising this is done just for money, not life or health. Even policemen who were waiting for us in front of the building, after some hours listening to what was said by us and seeing the banners and placards, spoke with some activists and were shocked when they were explained what vivisection and HLS is.
GSK, here nobody likes what you are funding and supporting, your image gets as dirty as the perversions you pay for inside HLS!
Dedicated to the UK and US SHAC prisoners, your dedication and commitment give us more motivation to keep fighting.
CDA:

http://www.nomasviviseccion.cl
SHAC


e-mail: info@shac.net


Homepage: http://www.shac.net
26.02.2009 00:42
SHAC


e-mail: info@shac.net


Homepage: http://www.shac.net
---