riotact | 25.04.2009 11:50 | Education | Social Struggles
The spirit of the Glasgow school occupation and the Visteon workers has spread and parents in a primary school in Lewisham have occupied the school roof in protest at it's closure.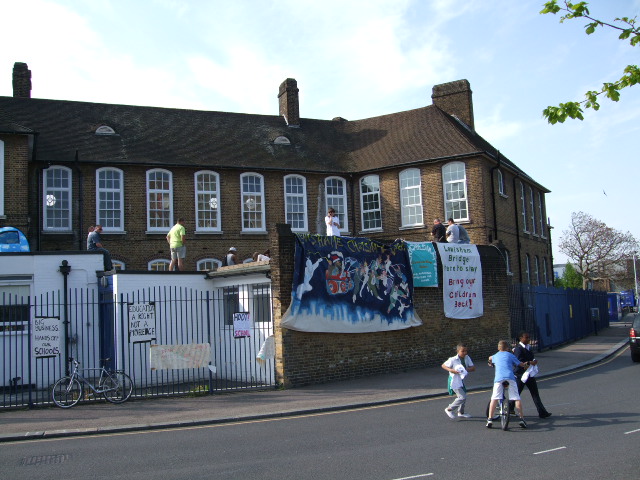 Lewisham Bridge Primary School is a thriving community school, recently given a Grade II listing by English Heritage who have described it as having "special architectural and historic interest".
City based livery company Leathersellers wish to knock down the school and convert it into a Foundation School, something long objected to by many residents, but strongly supported by Lewisham Council.
Leathersellers have already stated that they have no wish to have a Travellers Education Service at the school, despite a large Traveller site nearby and also have no plans to incorporate a Special Needs Unit into the school.
Anger spilled over when parents began being forced to bus their children to another school over one and a half miles away whilst this historic building stands empty.
The occupiers have stated they will remain as long as is necessary and a public meeting yesterday attracted much support. Workers involved with the recent Visteon Factory Occupation in Enfield have also been down and spent time on the roof in solidarity.
Parents have asked anyone in support to come down and show solidarity and if possible to do a shift on the roof. A further meeting is due to be held outside the school on Monday 27th April at 3pm.
The details are on this facebook group:

http://www.facebook.com/group.php?gid=94554226367
and the background is on this blog:

http://defendeducationlewisham.wordp...ore-july-16th/
Messages of support can be put on the facebook group or sent to

handsofflewishambridge@yahoo.co.uk
riotact


Homepage: http://freelondonlistings.co.uk