imcista | 20.11.2008 20:43 | Climate Chaos | Energy Crisis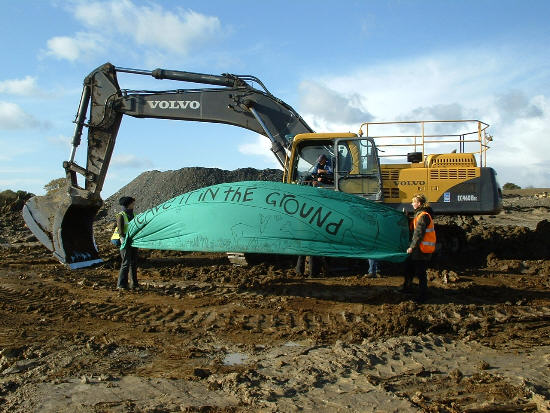 On Saturday the 25th October 2008, trespassers made their way onto UK Coal's Lodge House site in Derbyshire to have a
picnic
. The police & security were out in force, taking many snaps of the happy occasion, and trying to intimidate people with a fancy but empty legal blag! There was a little tussle with the Veggies trailer, just for old time's sake, and fun was had by all.
On Monday 27th October 2008, protestors from Earth First! stopped work for over two hours – they ran onto the site and clambered on diggers & dumpers and held out banners stopping the work safely. Just a couple of handfuls of people were involved, so you can plan a fun day out yourselves in similar fashion. The same day, one of the cases resulting from the eviction of the squatted farm house was thrown out of court.
And the following Saturday over 40 local residents braved rain and cold winds to protest at the main entrance to the site.
Some background:
Lodge House site, which is east of the village of the Derbyshire village of Smalley, is one of seven sites that UK Coal is to open-cast. The area is rich with wildlife and backs onto Shipley Country Park. It is being devastated, despite objections from local councils, residents and local environmental groups. The Secretary of State granted planning permission in 2007 and work has commenced.
More destruction to come?
The 122 hectare site will have one million tonnes of coal ripped out over five years and 'returned back to its natural state' according to UK Coal. However, they will not be able to replace ancient edges and mature trees, and they will be able to expand beyond the 122 hectares without needing further permission. Residents were excluded from parts of the planning meeting on grounds of commercial confidentiality, which suggests that the plans may be bigger than UK Coal is letting on.
A dirty fuel, a changing climate
Coal is not clean energy, and with the new onslaught of proposed power stations, UK Coal are looking to cash in on climate devastation and destruction unless we stop them. Burning coal to produce electricity is threatening the global environment and all our futures..
To combat open-cast mining, a new action group "Leave it in the Ground" has formed, supported by Earth First! and other environmental groups.
If you can't make the demo then you could contact UK Coal directly to let them know what you think: UK Coal Tel: 01302 751751 Fax: 01302 752420.
imcista