UK G8 2013 Newswire Archive
10-01-2014 00:28
The Red and Black Umbrella (57 Clifton Street, Cardiff CF24 1LS) is preparing to host a two-day meeting of the Stop G8 network. The first day will be a meeting of all involved to discuss and reach decisions on where next for the Stop G8 network.
13-10-2013 13:22
On 20th October 2013 the Stop G8 Network are meeting to discuss taking forward new ideas for anti-capitalist and anarchist projects. Some of the ideas on the agenda are an anarchist news website, a temporary anti-capitalist squatted space and an anarchist festival.
18-06-2013 19:41
Meetings behind closed doors have no place in a 21st century society.
Statement by the Socialist Labour Party - East of England Region
17-06-2013 11:32
On Sunday June 9 I was calmly discussing anarchism and spirituality with a group of comrades at the Stop G8 convergence centre at 40 Beak Street, London.
Two days later the place was being invaded by a brutal army of uniformed state thugs, determined to extinguish any small glimmer of resistance in the heart of Babylon.
17-06-2013 10:50
Starts 9pm, 3 pounds or donation
17-06-2013 00:51
Letter to all the prison guards, other prison workers and all the cops. Partly written in a London police cell during the Stop G8 week, where police repression was at its highest.
16-06-2013 18:51
Report from the June 12 demonstration against militarism and capitalist violence
The anti-militarist demonstration on June 12 had been called by Smash EDO, Disarm DSEi and Sussex Stop G8 and was part of the Stop G8 week of action in London.
16-06-2013 12:31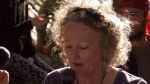 a small protest specifically against asda and more generally against global food policies, corporations, monsanto, GMOs, G8 and austerity, was characterised again by massive overpolicing in a week of repressive crackdown on anti-G8 protests in london.
Full article | 1 addition | 4 comments
15-06-2013 23:26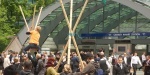 on friday, as part of the london week of action prior to the G8 in northern ireland, a few hundred people protested in the belly of the capitalist beast, canary wharf. in some ways a victory, in many ways a disappointment.
14-06-2013 14:57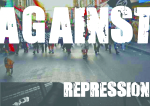 A night of talk, film and music to round off the StopG8 week.
Info-evening 6PM bringing together comrades from Italy and UK involved in struggles against state repression. Screening of Riots Reframed film at 7PM. Followed by gig at 9PM with militant hip hop from London and Italy.