UK Dale Farm Feature Archive
09-11-2011 13:50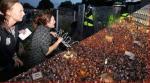 Several empty buildings in Oxford have recently been opened as squatted social centres. In August an empty industrial workshop on Randolph Street was squatted. After several "Free Uni" events (sharing skills and ideas), community meals, film and info-nights the court process provided only a short delay and then eviction. The building now remains unused.
Undeterred, the social centre, known as "Plebs' College" due to the focus on free education, has re-opened on Union Street, with a multitude of weekly events. Again they are under threat of eviction from a landlord keen to demolish the place and build student flats. This space where people can gather, meet, organise and learn, as equals, free of the usual commercial or bureaucratic pressures, may be a glimpse of another society.
Meanwhile, the public occupations spreading in many countries are starting to challenge the economic system and may also evoke a freer and more equal society (though with much work still to do!).
For hints of a more brutal future, we can look at the recent eviction of Dale Farm: an entire community made homeless, while those who resist are kicked, tasered, batoned, pressured-pointed, or beaten, and the media continue their lies.
Which path we take could depend on the actions we all take in the next few years.
Full article | 2 additions | 1 comment
24-09-2011 18:23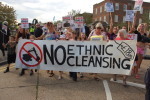 LATEST: Monday 3 October: Basildon Council concedes that full clearance of Dale Farm as originally proposed would be illegal. Council ordered to pay one third of Dale Farm's legal costs. Awaiting outcome of applications for judicial reviews, due Tuesday. More in full article.
The legality of the eviction notices served by Basildon Council on Dale Farm residents was challenged by the Travellers in the High Court on Friday. Once the arguments had been heard, including an application by Basildon Council for the scaffolding at the entrance to the site to be removed, the Judge Mr Justice Edwards-Stuart said that there would not be a ruling before Monday 26 September (now extended to Tuesday 4 October). Late in the day it was reported that the injunction to restrain bailiffs from starting any clearance or eviction of the site would stand in its current form until at least 4pm Monday. A later report indicated that the judge may further extend the injunction into the middle of next week or beyond if necessary. In the meantime, applications are being prepared for judicial review of the eviction, which could lead to further delay of a final decision. Basildon Council has already set aside £18 million to evict the Dale Farm residents. However, with the current stalemate reported to be costing the council over £1 million per day, the total cost is likely to have increased by some £8 million by Monday and will continue to rise during any further delay. With a bit of luck they'll run out of money before the eviction is allowed to go ahead.
Supporters are needed both at the High Court now and at Dale Farm now and for the duration. Contact savedalefarm@gmail.com for more information or see Save Dale Farm.
Recent newswire articles: Injunction extended to Monday | NET climbers at Dale Farm | Experiences of a legal observer | Travellers and Supporters open up Dale Farm | High Court 23 September | Re Dispatches: The Fight for Dale Farm | Keep stinging them in the pocket | Dale Farm wins reprieve | Last minute injunction | BBC censorship shame | Call out to activists | Bailiff's dirty tricks | Photos from Dale Farm march and demo 1 | 2 | Eviction Update
Features: Dale Farm locks on against eviction | Resist the Dale Farm Eviction
Other links: Save Dale Farm | The Advocacy Project: Dale Farm | Andy Worthington on Dale Farm
27-07-2011 07:40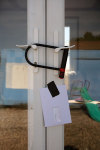 On 4 July 2011, some 90 families at Dale Farm, the UK's largest Traveller community, were hand-delivered a final notice of eviction giving families until midnight on 31 August to abandon their homes, or face their entire community being bulldozed. The central government and Basildon Council have set aside over £18m for the eviction battle that could last three weeks. It will be the biggest clearance of its kind, involving the ploughing up of 54 separate plots created on a former scrap-yard purchased by the Travellers ten years ago.
Urgent Call-out for Support: Supporters are urgently needed to help the community resist the eviction. Come to the camp for one of the activity weekends any Saturday between now and the end of August, and join Camp Constant from 27 August.
On the newswires: Solidarity Bulletin 4 August | Colchester Council Hates Gypsies | Solidarity Bulletin 27 July | Dale Farm Info Night, 2 Aug, Bristol | Resist Ethnic Cleansing | Eviction notice served | Previous feature
Elsewhere: Dale Farm Travellers | The University of Esssex Human Rights Clinic | Susan Craig-Green, Advocacy Project
25-01-2011 22:25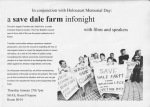 They are the most politically marginalized people in this country and across Europe; marginalized in the UK in every other way too, having no legal place to live, unable to send children to school because of police move-ons, and even refused service in pubs and restuarants.
But Travellers today are standing up for themselves and nowhere more so than at Dale Farm, in Essex. Here a hundred families have been under siege for ten years, refused planning consent to live on their own land; though it's only an old scrap-yard converted into a mobile-home park.
Dale Farm Travellers are making a final stand against what they see as an act of ethnic-cleansing equal in its brutality to the clearances of Roma camps in Italy and France. They are asking for your help.
Newswire Links:
Defend Dale Farm! Help resist Ethnic Cleansing | Defence Planing | Imminent Eviction | Constant & Co. to make £2m | Evictions of traveler families at Hovefields site
External Links:
Dale Farm Blog | Essex University Human Rights Clinic