@... | 03.12.2014 22:15
Athens Warzone - Front line video of the fierce riots last night in Greece, in solidarity to anarchist Nikos Romanos on hunger strike since November 10.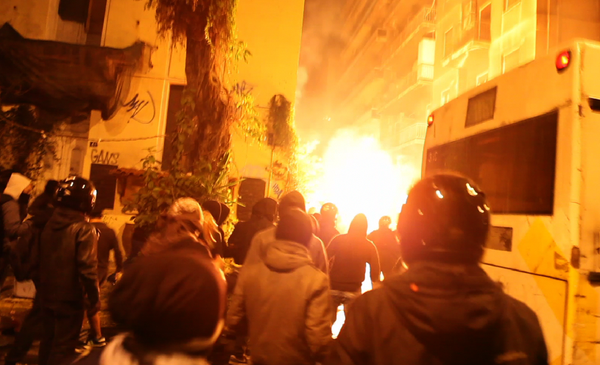 2 December 2014 ~ Following a big solidarity protest to anarchist Nikos Romanos, where 8.000-10.000 people took part in Athens last night, fierce riots broke out in the "Exarchia" area of Athens, while Romano's health is in a critical condition (22 days on hunger strike) and the greek government pretends he does not exist.
VIDEO:

https://www.youtube.com/watch?v=5j-WC5ETnqI
3 other anarchists are also on hunger strike in solidarity to Nikos Romanos.
Nikos Romanos is demanding to be able to make use of educational leaves to attend university classes, while by studying in prison he has succeeded in the admission exams. Any other prison inmate is entitled to university prison leaves that Romanos is denied, because of his anarchist political beliefs. The greek State also punishes him because of his defiant stance in denying to attend an award ceremony, where the greek Minister of Justice handed awards to prison inmates that succeeded in the university entrance exams.
Nikos is currently in Athens general hospital Gennimatas, under a strong custody of the police. Physician Pantelia (Lina) Vergopoulou, who visited him on 28/11, reports that the comrade remains in a critical condition with life-threatening complications.
Anarchist prisoner Yannis Michailidis is also on hunger strike since November 17, 2014, as a form of solidarity to the struggle of Nikos Romanos. Several days ago, Yannis Michailidis also needed to be hospitalized, after he was diagnosed with bradycardia. Yannis is currently in Piraeus general hospital Tzaneio, also under the strong custody of the police.
Politis and Mpourzoukos are also on hunger strike since December 1.
@...