No Borderer | 17.07.2012 21:55 | Migration | Policing | Repression | World
Today over 20 people held a demo outside the French embassy in London to call for an immediate investigation into the death of Noureddin Mohamed.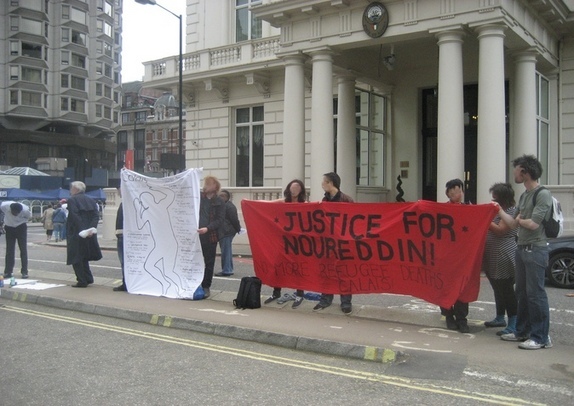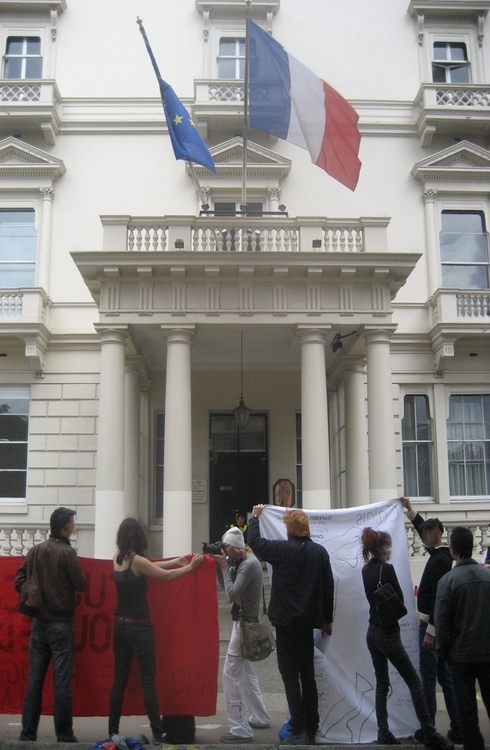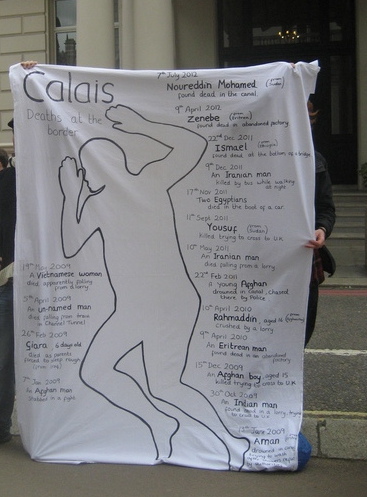 Three years of deaths in Calais
Noureddin was a Sudanese refugee who was found dead in a Calais canal on Saturday 7th July. He died moments after a confrontation with the police, which occur on a daily basis in Calais as part of control of the Franco-British border. The police failed to investigate, closed the case, and Noureddin has since been buried. His uncle however, has filed an official complaint. This theoretically compels the authorities to investigate, though we have yet to see the results of this.
See background here:

http://www.indymedia.org.uk/en/2012/07/497887.html
The protest began when some individuals gained access to the building, and managed to speak to a group of officials about the case. They claimed they would pass the message on to the Ambassador. Unable to get beyond the lobby, the activists soon left to join the noisy group outside who were shouting slogans in French, English and Arabic.
Slogans chanted included:
"Solidarite avec les sans-papiers!" - Solidarity with sans-papiers!
"Police partout, justice nullepart!" - Police everywhere, justice nullepart!
"Assha'b yurid isqat alhudud!" - The people want to bring down the borders!
"Petain, reviens! T'as oublie tes chiens!" - Petain, come back, you forgot your dogs!
"CRS = SS!"
Members of various Sudanese groups were present. Representatives of two groups - Darfur Union UK & Ireland, and Nuba Mountains Solidarity Abroad - submitted a letter they had co-written to the Ambassador. Twitchy, the embassy only allowed us to pass things to them under the door.
Plenty of leaflets were also handed out to passers-by informing them of France's appalling treatment of migrants in Calais.
Today's protest was done in solidarity with migrants and supporters in Calais who last week protested every day, demanding - at the minimum - an investigation into Noureddin's death. We will continue to embarrass the embassy until a proper investigation is carried out for Noureddin.
His is the eighteenth reported death of a migrant in Calais in the past three years. Others go unnamed, without vigils and protests, without families to advocate on their behalf:
- 2012:
7th July: 28 year-old Noureddin Mohamed, from Sudan, was found dead in canal
9th April: Zenebe, an Eritrean man was found dead in an abandoned lace factory
- 2011:
22nd December: Ismael, an Ethiopian man, was found dead at the foot of a bridge
9th December: Iranian man killed after being hit by a bus walking along the road at night
17th November: Two Egyptians being transported in the boot of a car are killed during a crash. The other passengers survived.
11th September: Yousuf, aged 28, Sudan, is killed whilst trying to cross
10th May: Iranian man is killed whilst trying to cross, apparently falling from a lorry
22nd February: Afghan man, aged 24, drowns in the canal whilst being chased by the PAF
- 2010:
10th April: Rahmaddin, a 16-year old Afghan, is crushed by a lorry during an attempted crossing
9th April: Eritrean migrant found dead in an abandoned building
- 2009:
15th December: A 15-year old Afghan boy, is killed trying to cross
30th October: 25-year old Indian man found dead in lorry during attempted crossing
13th June: Aman, a 35-year old Eritrean man died trying to wash in the canal, showers being refused by the authorities
19th May: Vietnamese woman is found dead on the road after apparently falling from a lorry
5th April: An unnamed man is killed after falling off a train in the channel tunnel
25th February: Glara, a six-day old Iraqi Kurdish baby dies as parents were forced to sleep in the cold
7th January 2009: A 30-year old Afghan stabbed in a fight
No Borderer


e-mail: calaisolidarity [at] gmail.com


Homepage: http://calaismigrantsolidarity.wordpress.com/