Smashy | 08.05.2012 17:06 | Smash EDO | Afghanistan | Anti-militarism | Palestine | South Coast
Smash EDO have called for three months of direct action to close down EDO MBM - From 1st May to 1st August 2012.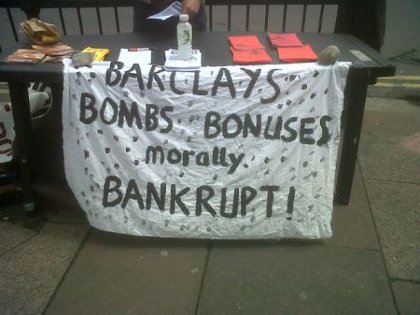 Brighton Target Barclays picket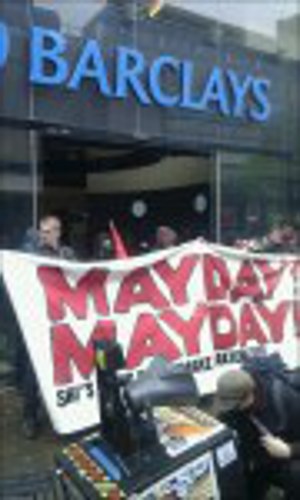 Barclays demo in Manchester
We're already in the second week of Smash EDO's Summer of Resistance. We kicked off the week with a surprise demo at the factory with punk music blaring from a sound system. No sign of the Old Bill though, who seem determined to maintain a hands off approach. Paul Hills, EDO MBM's MD seemed none too pleased.
Later in the afternoon activists held a picket and stall outside Barclays Bank on Preston Circus calling for Barclays to divest from the arms trade and to stop providing financial services to ITT, EDO's parent company.
Plenty of people seem angry at Barclays at the moment, local people were keen to get information from the stall and over the weekend activists in Manchester held a demo outside Barclays (see photo). Barclays AGM a few weeks ago was attended by a variety of groups including Occupy LSX and the World Development Movement - its time for anti-militarists to step up the campaign against Barclays - Come and join us at our picket of Barclays in North Street, Brighton, on Saturday at 1 pm (see

http://smashedo.org.uk/events/event/target-barclays-2
)
Tomorrow we're holding a Bikes Not Bombs critical mass finishing at the EDO factory (

http://smashedo.org.uk/events/event/bikes-not-bombs-critical-mass-to-edo
) - see you there...
Smashy


e-mail: smashedo@riseup.net


Homepage: www.smashedo.org.uk