Smashy | 27.04.2012 21:24 | Afghanistan | Anti-militarism | Palestine | South Coast
As "counter-terrorist experts"— better known as armament companies—gathered at the Royal Garden Hotel to guzzle champagne followed by four course dinner. Pausing only to gaze over Kensington Gardens. (At a mere £156 a ticket—guess who isn't suffering from "austerity"?) – Smash EDO, Disarm DSEi and Campaign against the arms trade held a noise demonstration.
In a surreal twist the protest was joined by 300 Justin Bieber fans, who had heard rumours that Bieber was staying at the hotel.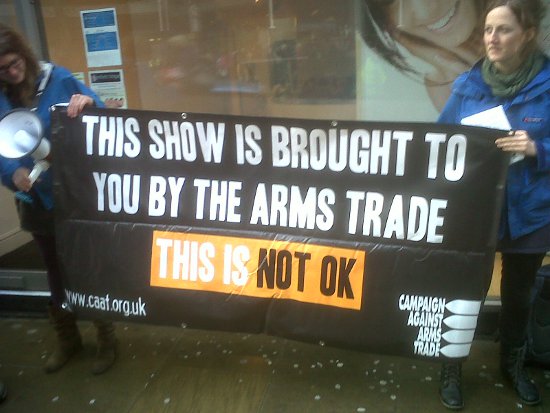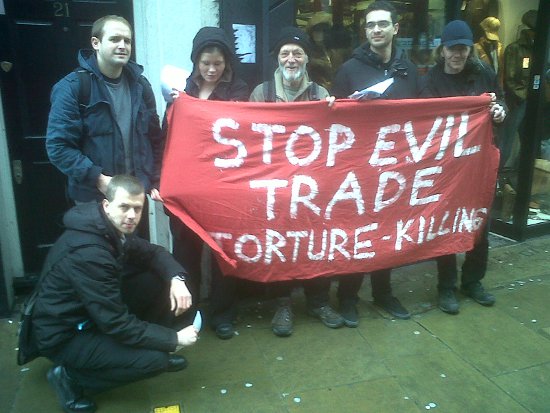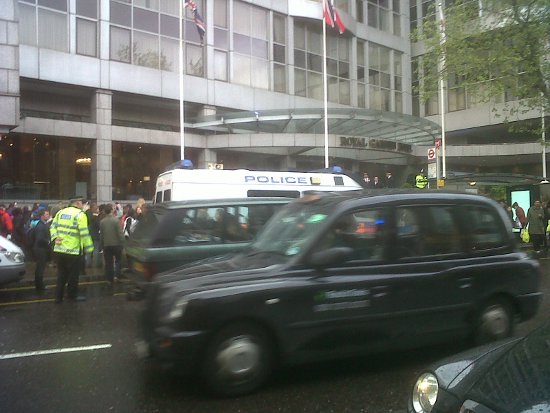 Dinner guests included:
General Dynamics
British arm of US-based firm agreed deal to upgrade military equipment for an elite Libyan government security brigade.
Chemring Defence
British contractor produced CS gas canisters fired at civilians by Egyptian security forces in Tahir Square.
L-3 Security & Detection Systems
A division of $15bn surveillance and communications giant L-3 Communications.
Thales
French aerospace and defence company paid fine of €630m in 2010 over bribes to win contract for 1991 sale of frigates to Taiwan.
Northrop Grumman
US global aerospace company, world's fourth largest defence contractor.
(Check out the full list of exhibitors)
Across North Africa and the Middle East, dictatorships have, and still are using equipment supplied by UK companies to spy on and attack demonstrators, and yet some of these countries will be shopping for more equipment at the Counter Terror Expo, along with other repressive regimes from around the world.
The UK is a major market, where police are widening their surveillance and repression to even the mildest dissidents. As the government relentlessly destroys the welfare state and drags our wages to rock bottom, it continues to subsidise and promote the arms and "security" industries
The event hosts hundreds of exhibitors, not only leading arms companies, who make huge profits from conflict and repression. It is officially supported by a vast range of military, police and private security organisations, and is endorsed by state agencies such as the MoD and NATO.
Surveillance systems were a major focus, with companies again promoting biometric and data gathering/mining technologies; promoting "freedom" through ever greater control and documentation of our daily lives, not to mention drones (coming to a demo near you shortly!)
Smashy


e-mail: smashedo@riseup.net


Homepage: www.smashedo.org.uk