vg | 28.03.2011 06:32 | Anti-militarism | Repression | Terror War
On Saturday, supporters of Bradley Manning handed out flyers to the crowds, encouraging solidarity with Manning, who is being tortured in a US military prison and faces life imprisonment or even the death penalty if found guilty of whistle-blowing on US war crimes and other shameful state 'secrets'. If you missed the demo or missed picking up a flyer from us on the day, here's the information again.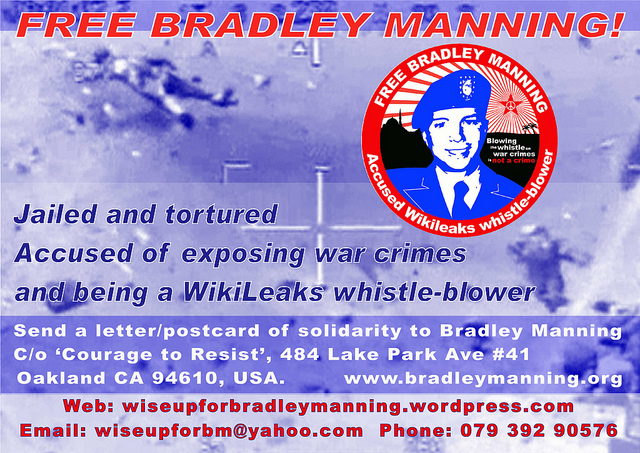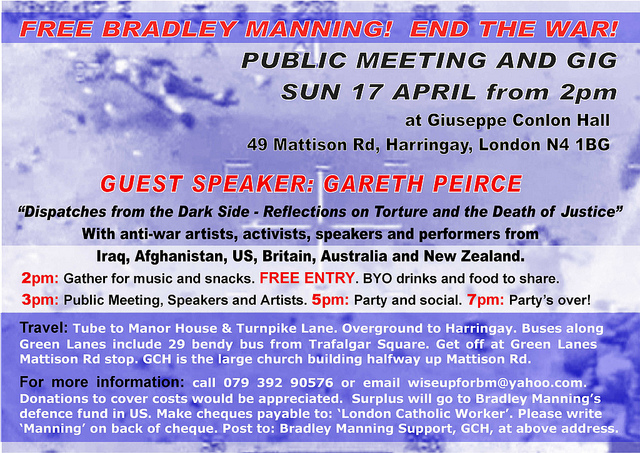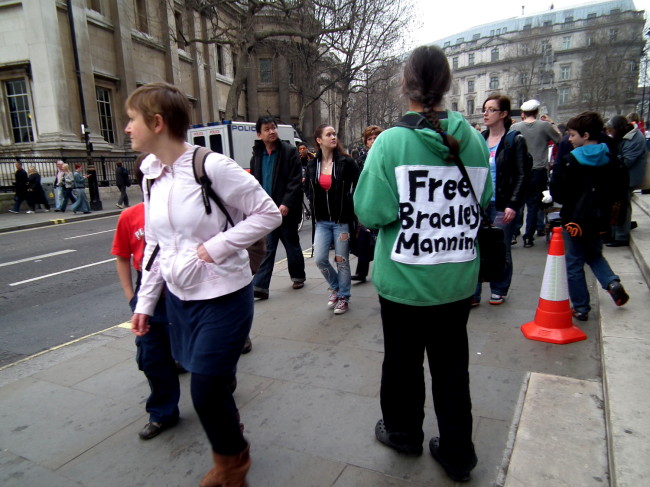 WHAT YOU CAN DO
How about getting together with whatever group/s you're involved in to send solidarity cards and letters to Bradley Manning to let him know he's not forgotten? This young lad has been held in conditions which amount to torture for 10 months: in solitary confinement, deprived of proper sleep, of clothes, exercise and fresh air and with the minimum of contact with the outside world. The least we can do is let him know we're thinking about him.
Cards and letters can be sent to Bradley Manning, c/o Courage to Resist, 484 Lake Park Avenue, Oakland #41, Oakland CA 94610, USA.
To make a donation to Bradley Manning's defence fund, see:

http://www.bradleymanning.org
.
Come along to a solidarity public meeting in London on 17 April, with Gareth Peirce speaking on: "Dispatches from the Dark Side: Reflections on Torture and the Death of Justice", and with anti-war artists, activists, speakers and performers from Iraq, Afghanistan, US, Britain, Australia and New Zealand. See flyer above for details.
If you've got the capacity and potential supporters, how about organising your own benefit gig?
REPORT FROM SATURDAY
On the basis that anyone concerned about government cuts is likely to have at least a passing concern for other injustices, a few people spent the morning Saturday handing out 1500+ flyers encouraging solidarity with Bradley Manning, the 23 year old US army intelligence analyst with Welsh connections who's been held at the mercy of the US for the last ten months, untried and tortured, accused of revealing to the world no more than the truth about the wars in Iraq and Afghanistan (including the 'Collateral Murder' video) [

http://www.collateralmurder.com/
] and of leaking hundreds of thousands of diplomatic cables which expose the dark underside of international relations between the US and the rest of the world.
As we started to leaflet from the steps of St Martin in the Fields soon after 10 am, the vicar took exception to our presence, claiming that we 'really should have asked permission first' and that - shock, horror! - people would think we were associated with St Martins... just like anyone eating their lunch on the steps is obviously part of an organised church picnic, presumably. It must be inconvenient having to constantly repel undesirables, but as it's a Grade I listed building maybe they're not allowed to fence it off with razor wire. She went off with a couple of flyers and I carried on leafleting from the pavement next to the steps, helpfully informing the public that the Free Bradley Manning campaign was in no way connected with or supported by St Martin in the Fields. A homeless guy stopped to talk, explaining how the cuts were affecting services at St Martin's (partly funded by Westminster Council). Some of the facilities he currently uses on a walk-in basis will in future only be available via 'professional' referral, for instance. He pointed out that the church was hardly poor, having spent £30 million on refurbishment a couple of years back and would do well to get its priorities right - people before property. Just then, another church representative appeared to say that we did, after all, have their blessing to leaflet from the steps.
St Martin in the Fields supports Bradley Manning! We expect a generous donation to his defence campaign to follow.
Leafleting elsewhere on the march a bit later on, most people seemed to have at least heard of Bradley Manning, which is an improvement on a couple of months back. Quite a few people saw the signs and actively came over to ask for flyers; many expressed concern for Manning's health and over his mistreatment, the charges he's facing and possible outcome; lots said they would take the information back to their communities and rally support, particularly groups from Wales, where Bradley Manning's mother lives and where he spent some of his teenage years.
Unfortunately, the anti-war contingent was setting out from the very furthest point of the march and progress along Embankment was so slow that they still hadn't appeared when I'd almost run out of flyers. So, if you're reading this, anti-war people, Bradley Manning looks like being one of his generation's key prisoners of the movement. We know that he was well aware as a teenager in Wales in 2003 that the war on Iraq was all about oil and it seems likely that the anti-war movement in Britain influenced his opinions, at least to some extent. If the movement can't support a prisoner like Manning, we can hardly expect any British soldiers to speak out against war crimes, expose the truth about warfare and refuse to fight in illegal wars, can we?
SOLIDARITY WITH OTHERS
Then find some other prisoners to support perhaps - the 200+ arrestees from Saturday and the others that will be arrested over the coming weeks will probably appreciate some solidarity too from those of us who got home safely. See

http://greenandblackcross.org/node/7
vg


e-mail: wiseupforbm@yahoo.com