Rossport Solidarity camp | 25.02.2011 18:04 | Rossport Solidarity | Ecology | Gender | Ocean Defence | World
Today, 12 people from the Rossport Solidarity Camp walked onto the land where Shell intend to build their compound to disrupt survey work. No one was arrested.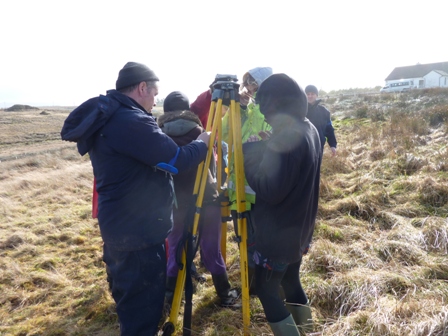 Stopping surveying
The protesters calmly walked onto the land and stood in front of the survey equipment. After 20 minutes two gardai arrived and said that people would be arrested for trespass if they did not leave. The protesters decided not to leave straight away and continued to disrupt work.
At one point one of the gardai thought it was necessary to close a farm gate on a protester who was sitting in the way claiming that reasonable force could be used by security to remove them. Although the protester was not injured it is an example of how the gardai here will do anything they can do to allow Shell to continue their work.
In order to continue disrupting this work we need more people to come up to the camp. Although it does not seem the like the most important work to stop, they still need to complete their survey work before they can build anything and its very easy to stop. We need people to come up to the camp and continue supporting and taking part in these actions.
For anyone thinking about visiting the area, get in touch with the camp at

rossportsolidaritycamp@gmail.com
if you would like to get involved or have any questions
Rossport Solidarity camp


Homepage: http://www.rossportsolidaritycamp.org/