claimantsfightback | 26.01.2011 18:07 | Public sector cuts | Social Struggles | Workers' Movements | World
First prize for Troll A Tory Day goes to:

http://www.youtube.com/watch?v=49sMJQVuqPA
You win a Crisis Loan, just pop down to the DSS to claim it and say we sent you.*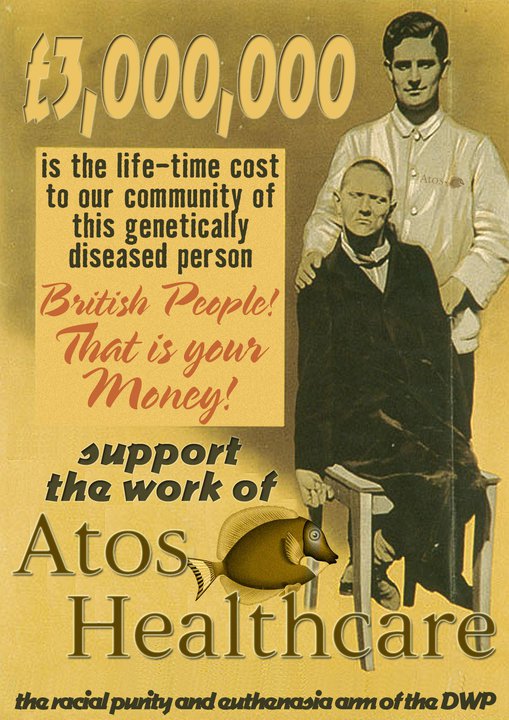 Tories were trolled across the UK on the Second National Day of Protest Againt Benefit Cuts, as were Atos Origin, the poverty pimps making millions off the back of tormenting people who are sick or have disabilities.
So we hereby declare everyday to be a Troll Atos Day. Let's keep up the pressure and remind them, just a little bit every day, what their company is doing to the sick and disabled.
You can even ring one of the secret numbers for Atos handily published by the DWP:

http://benefitclaimantsfightback.wordpress.com/2011/01/23/dwp-publish-secret-atos-origin-advice-lines/
Alternatively Atos press office can be reached on: Tel : +44 20 7830 4233 or the UK Press Officer is at:

caroline.crouch@atosorigin.com
- keep them busy.
Atos have at least two facebook pages linked to their US operations:

http://www.facebook.com/AtosOriginSAP

http://www.facebook.com/AtosOriginNorthAmerica
They can be found on twitter at: @AtosOriginBlog, @Atos_Origin, @AtosOrigin_News
They even have a blog up at:

http://blog.atosorigin.com/
And there are more contact details at:

http://www.atosorigin.com/en-us/about_us/contact_us/
Have fun!
*disclaimer, we are not really able to offer Crisis Loans as prizes. Sorry about that.
Above pic from:

http://www.gimphag.com/
claimantsfightback