... | 04.12.2010 18:11
Activists in Detmold/Essen (Germany) attacked Fortress' vice-president (loaner of HLS) and Nomura's manager.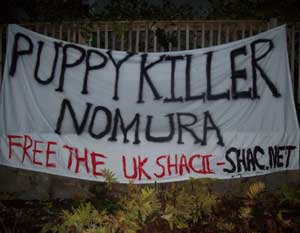 On 29th of November, Dr. Hanno Kühn's car (manager of Nomura) was completely burnt down by activists. At the same time Karim Bohn's house (one of the important persons of HLS' loaner Fortress) was redesigned with colour and political graffiti. One day later, 30th of November, Christian Stiewe's house (vice-president of Fortress) was attacked and redesigned with colour as well. In Sweden activists also attacked Nomura. Doors and windows were destroyed. Animal liberation activists claim responsibility for the attacks.
Source

http://de.indymedia.org/2010/12/295691.shtml
...