krakengaatdoor | 15.10.2009 22:47 | Free Spaces | Repression | World
A blend of right wingers and christian democrats have managed to push through a ban on squatting, instead of a ban on emptiness. How fuckt up is that?
Squatting has been banned in the Netherlands. Fuck know what this means in practise for the thousands of established squats.
The vote passed today in the Tweede Kamer (House of Commons) and will no doubt be ratified by the Eerste Kamer (House of Lords equivalent).
80-100 squatters have been arrested already in Den Haag outside the Parliament.
It could get a lot more heavy.
Dutch info -

http://indymedia.nl/nl/2009/10/62290.shtml
krakengaatdoor

16.10.2009 07:57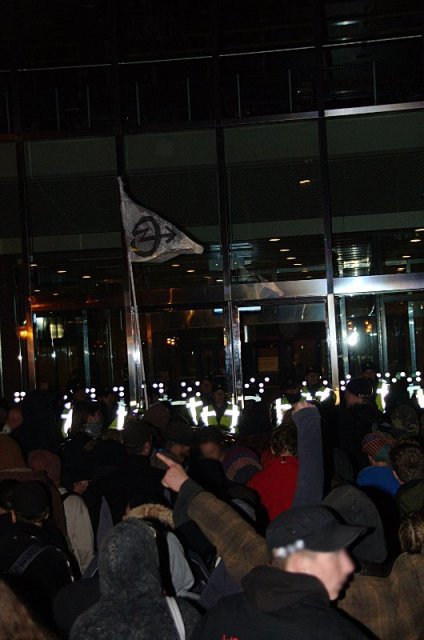 Protesters in front of the Dutch parliament building 16.10.2009
While the Parliament of The Netherlands was voting, outside there was a protest of many hundreds of squatters and symphatizers.
They set up a camp of tents at the square in front of Parliament, but after 9 PM they were all removed with much police violence. Around 80 to 100 people were arrested.
More images of thursday:

http://indymedia.nl/en/2009/10/62290.shtml
The Kraker


Homepage: http://indymedia.nl/en/2009/10/62229.shtml
---
16.10.2009 09:16
Sorry, the date of the picture above must be 15 10 2009
More in english:
" On the night of October 15th the Chai Militia put their tea cups down and went onto the streets of Leiden! Two police stations and the City Hall were targeted."

http://indymedia.nl/en/2009/10/62340.shtml
The Kraker


Homepage: http://squat.net
---