Liberationists | 26.09.2009 17:22 | SHAC | Animal Liberation | Ecology | Social Struggles | South Coast | World
24th-26th September
"SET US FREE" (USA)
MESSAGE FOR GEOFF DOUGLAS (UK)
LEATHER SHOPS GLUED, WINDOWS CRACKED (UK)
BURGER VAN IN ARSON ATTACK (UK)
BOMB THREAT AT MAXMARA (Italy)
PHONE CALLS AT ALL HOURS FOR PERVERTS (UK)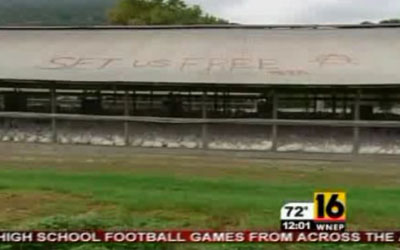 "SET US FREE" (USA)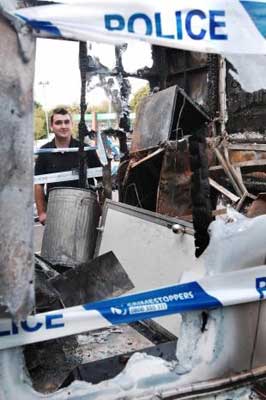 BURGER VAN IN ARSON ATTACK (UK)
According to local media, late on September 23, "Set us Free" was spray-painted on the roof of the Pallman Farms turkey farm (1511 Summit Lake Road) in Clarks Summit, Pennsylvania. The barn houses approx. 2,500 turkeys. (Photo from WNEP Ch. 16 news report:

http://www.wnep.com/wnep-lacka-graffiti-pallman-turkey-farm,0,1791707.story
)
>>
MESSAGE FOR GEOFF DOUGLAS (UK)
received anonymously:
"A stark warning has been sent by post to the pervert that owns highgate rabbit farm. It is a clear message of what is to come. WE WILL CLOSE YOU DOWN!
BREEDERS ATTACK UNIT"
*Geoff Douglas is the owner of Highgate Farm, in Lincolnshire, which breeds rabbits and ferrets for Huntingdon Life Sciences.
>>
LEATHER SHOPS GLUED, WINDOWS CRACKED (UK)
received anonymously:
"Avoiding police patrols two leather shops had locks glued, one of which had windows cracked.
If you oppress and exploit animals expect a visit.
Somerset ALF"
>>
BURGER VAN IN ARSON ATTACK (UK)
Local media has reported that the Classix Catering burger van was destroyed in a suspected arson attack around 1:00am on September 20 in Taunton (Somerset). The owners did not have insurance.
Photo: Steve Richardson/Somerset County Gazette
>>
BOMB THREAT AT MAXMARA (Italy)
reported on Acción Vegana (translation):

http://www.accionvegana.org/
"On Wednesday Max Mara Madrid received an anonymous call that claimed that an explosive device had been placed in the shop.
The warning was false, but an action as simple and with so few risks can disrupt the normal operation of a business, causing them to lose money and creating a climate of suspicion.
We explore and experiment with techniques for fighting using what is within our reach.
For the animals."
>>
PHONE CALLS AT ALL HOURS FOR PERVERTS (UK)
anonymous report:
"Workers of HLS customers have been experiencing some strange phone calls at all hours. This will continue until all your companies ties to HLS are severed. NOVARTIS WE WILL NOT LET UP UNTIL YOU ISSUE A STATEMENT STATING YOU'RE NOT, AND WILL NEVER AGAIN, USE HLS.
OH AND G. DOUGLAS YOUR WIFE SOUNDS LIKE A DOG, BUT THAT MIGHT BE DOWN TO THE TIME OF THE NIGHT."
>>
Related articles
Global

http://www.indymedia.org.uk/en/2009/09/438569.html
(23rd)

http://www.indymedia.org.uk/en/2009/09/438371.html
(22nd)

http://www.indymedia.org.uk/en/2009/09/438098.html
(17th)

http://www.indymedia.org.uk/en/2009/09/437762.html
(10th)

http://www.indymedia.org.uk/en/2009/09/437389.html
(5th)
UK: Construction site sabotaged

http://www.indymedia.org.uk/en/2009/09/437988.html
(14th)
More information

http://www.animalliberationfront.com
Liberationists


Homepage: http://DirectAction.info