Liberationists | 02.07.2009 18:45 | SHAC | Animal Liberation | Ecology | Social Struggles | World
25th June - 2nd July
FOXES LIBERATED FROM HUNTING COMPOUND (Germany)
HOME VISIT FOR PFIZER EXECUTIVE (France)
HUNTING TOWER TOPPLED (France)
TRUCK TORCHED AT SLAUGHTERHOUSE (Mexico)
FUR SHOP PAINTED, CIRCUS SIGNS DESTROYED (Sweden)
65 HENS FREED (Czech Republic)
LOCKS GLUED AT CHICKEN RESTAURANTS, FEED SUPPLIER (USA)
12 MINK FREED FROM FUR FARM (Sweden)
SLAUGHTERHOUSE, TELMEX TARGETED (Mexico)
INFAMOUS RESTAURANT TO CLOSE (Sweden)
ONE LESS FUR STORE IN GOTHENBURG (Sweden)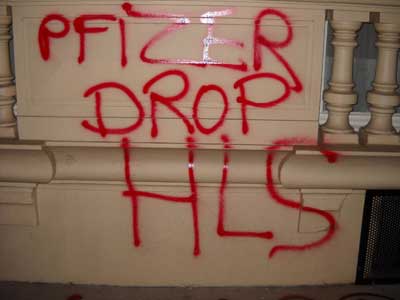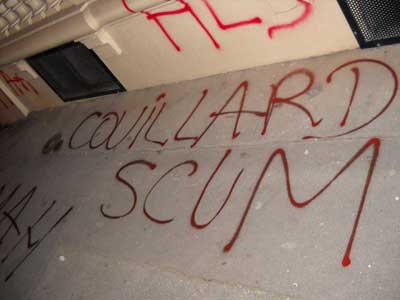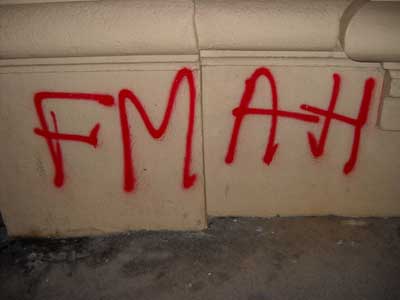 HOME VISIT FOR PFIZER EXECUTIVE (France)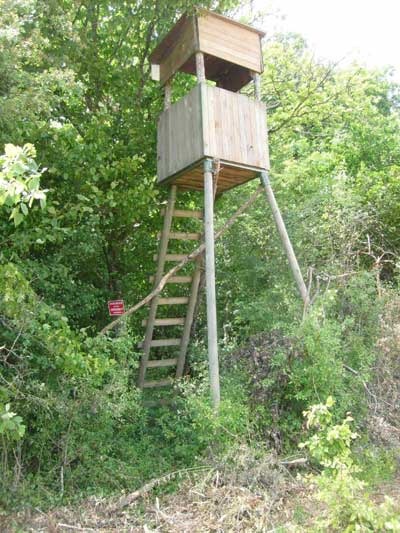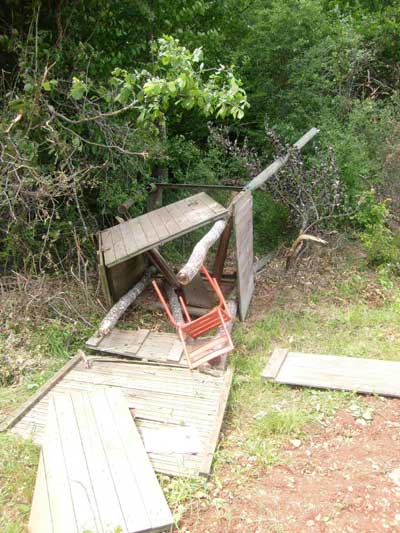 HUNTING TOWER TOPPLED (France)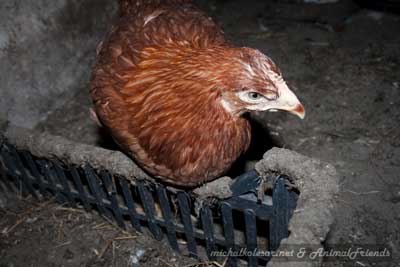 65 HENS FREED (Czech Republic)
FOXES LIBERATED FROM HUNTING COMPOUND (Germany)
anonymous report:
"kasendorf - germany
foxes liberated, hut spray-painted
on june 27 2009 we liberated two foxes from a dachshund training
compound. these compounds are spread all across germany (and other
european countries). they encompass a fenced area with a system of
concrete or wooden tubes dug into the ground through which the
dachshund chases the fox. usually, there is an enclosure nearby
where one or more foxes are kept. this is where they spend their
miserable lives between each training session.
the purpose of these compounds is to train dachshunds and similar
small hunting dogs (jack russel, parson russel terrier etc.) for
the real thing: lair hunting. the hunters let their dogs into the
lair, waiting for them to drive the foxes out of it where they are
shot by the murderer scum.
the night of justice:
first we cut two padlocks on the fox enclosure with a boltcutter
and opened all doors. we could see one fox staring at us, his eyes
reflecting the light of our headlamps. then we spray-painted 'fox
murderers' and 'alf' on the outer wall of a hut nearby. finally we
stole 8 tube partitions and a transport box, spray-painted
'murderers' on the entrance gate for everyone to see and left.
we chose this date because there is lots of food and prey for foxes
at this time which increases the chances for them to adjust quickly
to their natural life. good luck, fellows!
FOX LIBERATION FRONT
GERMANY"
>>
HOME VISIT FOR PFIZER EXECUTIVE (France)
received anonymously:
"NAME: Louis COUILLARD
CRIME: France Pfizer CEO
LOCATION: [...], 75016 Paris, France
*********************
'PFIZER DROP HLS', 'COUILLARD SCUM' and 'FMAH' was painted with red paint on your house and sidewalk.
How do you like the messages we left over your fancy house?
Shame neither cops near your street or your job could protect your house. You're just lucky it wasn't worse for you Pfizer scum!
We wonder if you will have spent the morning desperately scrubbing your walls, trying to hide the truth that we painted over your sidewalk and house. What will the neighbors think?
You bastards can expect the Militant Forces outside your houses any night until you drop HLS..
MFAH France
PS : Hey friends, call this scum: [...]"
[...] Personal details removed as per:

http://www.indymedia.org.uk/en/static/privacy.html#Personal_Information
>>
HUNTING TOWER TOPPLED (France)
received anonymously:
"hunting watch tower destroyed in Burgundy (France).
see the two pictures (before....after)!!"
>>
TRUCK TORCHED AT SLAUGHTERHOUSE (Mexico)
anonymous report (translation):
"Incendiary attack on an animal exploitation truck by the F.L.A. in Guadalajara, Mexico
In the early morning hours of June 30 our cell returned to show its aggression against all dominators of animals and the earth, and our rage toward institutions, when we entered deep inside the back portion of our city's slaughterhouse and headed toward one of their trucks of exploitation. Spraying gasoline on the tires, we gave rise to the liberating fire of radical abolitionists and the message left was: ANIMAL LIBERATION. The attack worked perfectly because the truck was reduced to ashes; the exploiters had not been expecting these attacks; we will continue to make war against all those who profit from the animals and the earth
Light the flame!
Greetings to the compañeros in other cities, the struggle will never stop!!!"
>>
FUR SHOP PAINTED, CIRCUS SIGNS DESTROYED (Sweden)
anonymous report:
"2009-06-06 - Umeå: A lone shadow warrior ripped apart 25 triangle billboards belonging to Circus Maximum just before their visit to Umeå. The struggle continues until these mobile death and slave camps no longer exist. - ALF Norrland
2009-06-12 - Malmo: During Thursday night to Friday the storefront of havgårds fur shop in downtown Malmö was spray-painted. We will continue our actions until the fur industry is but a sad memory of the past. - DBF"
>>
65 HENS FREED (Czech Republic)
Open rescue in memory of Gari Allen;
click here for additional photos from the rescue:

http://michalkolesar.net/cpg/displayimage.php?album=42&pos=0
"In June 2009, 65 hens were freed from unnecessary suffering and misery of battery cages. They were transffered to new, safe homes.
Animals are not gifts, neither is their rescue. Therefore not even this rescue is meant as a gift and is not dedicated to anyone. It is only related to the memory of a man who could do more than just saying nothing, moaning and crying.
On 16th of June 2006, after a short illness, Gari Allen died.
Gari Allen was an anarchist. He believed in direct action and the Animal Liberation Front. He took part in many sabotages and rescues from farms and laboratories, he also worked in shelters and sanctuaries. In the eighties and nineties he was imprisoned twice.
I remember. We remember."
>>
LOCKS GLUED AT CHICKEN RESTAURANTS, FEED SUPPLIER (USA)
anonymous communique:
"Last night, we glued shut the locks of Ralco Nutrition (W Main Street, downtown), Kentucky Fried Chicken (1109 East Main), and Chicken Connection (600 E Main) of Marshall, MN. The dollars and cents they will have to pay to fix what we've done is nothing compared to the abuse of non-human animals these targets support.
The practice of packing thousands upon thousands chickens into cages so small they cannot turn around (which all three targets profit from) has gone on for too long. Cutting of chickens' sensitive beaks without painkillers (to prevent them from pecking each other due to such tight packing), supported by Kentucky Fried Chicken, is unacceptable. The gross mistreatment of turkeys, cows, and pigs at slaughter--where they are killed by high voltage shocks or by slowly draining the blood out of slits in their necks--then dropped into vats of caustic chemicals while sometimes still conscious, that Ralco Nutrition profits from, must end.
They sell their 'feed' and their 'food', they collect their money, and the world keeps going. Out of sight, the animals they exploit suffer until they are killed, and no one does anything about it. We are doing something about it. By gluing the locks of these companies, we have taken a small action on the behalf of the animals who cannot defend themselves.
Marshall Animal Defense (M.A.D.)"
>>
12 MINK FREED FROM FUR FARM (Sweden)
anonymous report:
"April 22 - Umgransele; 12 mink were freed from their cages at a mink farm that has been raided several times in past years. The activists were interrupted and had to flee the scene. A short time later police arrested four people in a car a few kilometers away. All were released some hours after the arrest."
>>
SLAUGHTERHOUSE, TELMEX TARGETED (Mexico)
received anonymously (translation):
"The night of Thursday the 25th, around 11, we decided to attack in a small village to the southwest of Mexico City where nothing has happened before. We chose to attack a slaughterhouse, murderer of pigs, cattle and poultry. The goal was to place an incendiary device in one of the livestock transport trucks which we found was located inside the slaughterhouse; because of this we decided to change our plans. It was too risky to try to get inside. This slaughterhouse was in operation and it was very likely that employees would see us and prevent the action. Nonetheless, we did not leave with arms crossed. Five red paint bombs were thrown on the facade of the slaughterhouse and on a billboard. The police had not been expecting anything and by the time they arrived we were hundreds of meters from the slaughterhouse, so we had no problem with the police, but impatient and desperate to see fire, gasoline was thrown into a cabinet of phone lines belonging to TELMEX, leaving hundreds of phone lines unusable.
Now in a place to the south of Mexico City, where order and tranquility had prevailed, chaos now reigns in the streets; in the commercial zone they will not sleep peacefully; we will be their worst nightmare. They will not do anything about us because we slip away like water, we pass just beneath their noses and they cannot even imagine that we are their number one enemy. There is no negotiation with authority; we have made a decision: to attack until death, we will give anything, even life, for a natural and wild world!
We will not stop attacking the symbols of capital or sponsors of the destruction of the earth; we are everywhere!
For every murderer we have an incendiary device, for each watchdog a bomb, your friends are our enemies!"
>>
INFAMOUS RESTAURANT TO CLOSE (Sweden)
The owner of Garaget restaurant in Umeå has announced that the restaurant is closing after numerous incidents of vandalism. The attacks began after the restaurant barbecued an entire ox as a publicity stunt in August 2008.
>>
ONE LESS FUR STORE IN GOTHENBURG (Sweden)
received anonymously:
"March 3 - Gothenburg; The penguin and seal pond in Slottsskogen, a public park in the center of town, was sloganized and the park worker's cars were tagged with spray paint.
April 2 - Gothenburg; Two bricks were thrown through the windows of fur store Christins. Slogans were written on the store front. - DBF Gothenburg
April 11 - Gothenburg; The penguin and seal pond in Slottsskogen was sloganized again and the park worker's cars were spray painted and locks were glued. - DBF Gothenburg
April 16 - Gothenburg; The fur store Christins let local activists know that they have stopped selling fur. VICTORY!"
>>
June articles
Global

http://www.indymedia.org.uk/en/2009/06/432964.html
(22nd)

http://www.indymedia.org.uk/en/2009/06/432533.html
(17th)

http://www.indymedia.org.uk/en/2009/06/431849.html
(6th)

http://www.indymedia.org.uk/en/2009/06/431654.html
(3rd)
Netherlands: Animal liberationists imprisoned, new address

http://www.indymedia.org.uk/en/2009/06/432355.html
(15th)
More information

http://www.animalliberationfront.com
Liberationists


Homepage: http://DirectAction.info