Cosmo Dub | 18.06.2009 07:26 | Anti-racism | Repression
After a rolling 24/7 protest at Parliament Square lasting 75 days, Tamils call end to occupation of Parliament Square.
Supporters vow to "fight on until we have a solution, until our people have the rights to live in their land"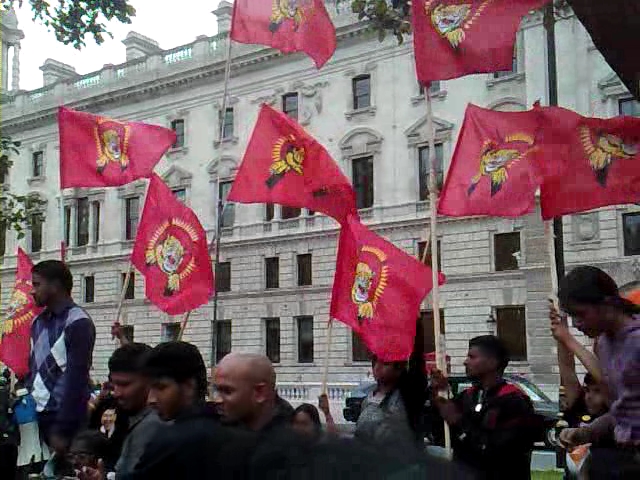 Tamil Eelam nation flags flying proud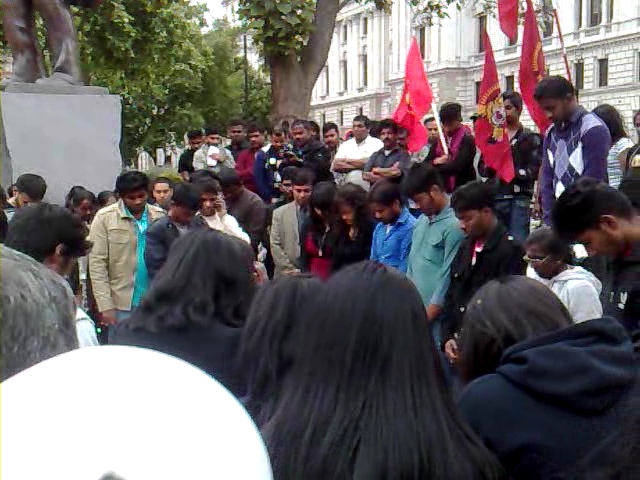 Students lead the final 2 minute silence at Parliament Square

The crowd during 2 minute silence
On Wednesday 17th June, more than two months since a group of Tamil students first occupied Parliament Square in protest against the genocide unfolding in nothern Sri Lanka following mammoth Tamil marches being completely ignored by the media, their 24-hour rolling protest has now officially ended. And it has ended at their own request. Numbers at the protest had been dwindling over the past weeks, as the intensity of the conflict died down, and the fate of those left in the north of the country disappeared from our screens.
But tonight supporters gathered at the square one final time, where students announced to the 500 strong crowd and live to Tamil international radio that, although all that was hoped to be achieved had not been possible, the attention of the British government was captured and the struggle for a free (and safe) Tamil Eelam would continue.
This was the 75th day of constant occupation of the square, an inspiration in itself to the peace movement, and covering a variety of tactics to gain press and parliamentary attention for the killings of their relatives in the former British colony. These included a series of hunger strikes undertaken by both Tamils and non-Tamils, as well as impromptu blockages of traffic, all in the face of severely testing weather conditions, police repression of press as well as Tamils, and at times, a full press blackout of the issue at hand.
Awareness has most definitely been raised and students speaking on behalf of the protestors thanked all those who sustained the spontaneous protests. They stated that this was in no way the end to their struggle, but an end to the first chapter and beginning of the next. This was a chance to regroup and come back more focused, with more direct action as needed to help advance the cause of Tamil Eelam.
The protest was finished with a public vow where all protesters put their hands on their heart and vowed "Our land's freedom is our determination, we will continue to fight on with power until our people's lives are bettered and until all our former fighters who have given their lives have their dreams of Tamil Eelam comes true. We must unite together around the world and fight together for our innocent people's freedom. We will fight on until we have a solution, until our people have the rights to live in their land"
Although the Parliament Square protest has now come to an end, the following week is still full of chances to do something to affect change in Sri Lanka and draw attention to the plight of those still held in the camps and to those that perished in the conflict zone ...
This coming Saturday, 20th June, everyone is encouraged to join the march against war crimes committed by the Sri Lankan government, marching at 1pm from Marble Arch. Last time the march was over 125,000 strong – let's hope we see a few more non-Tamils in solidarity and at last make it up to 200,000. Please see The Times' reports on the scale of deaths in the past few months, with many thousands dying in the so-called 'no fire zone', mostly from shelling by the SL Army in the final days of the conflict.
On Wednesday 24th June, a parliamentary meeting has been organised by the Act Now campaign and chaired by Simon Hughes to present further news from Northern Sri Lanka direct to MPs and press, including news that has had to be leaked out of the camps. MPs looking to help set up task groups regarding this issue are encouraged to attend, as are journalists. Please urge your MPs to attend and arrange to meet them after the meeting, which is from 2 to 4PM, to discuss what they will be doing to help their Tamil constituents get justice for their relatives.
The struggle will and must continue.
Cosmo Dub