IMCista | 17.06.2009 18:01 | Education | Migration
The SOAS occupation ended at 12.30pm today, having achieved most of what such an action could have achieved. After several rounds of intense negotiations, the occupiers and the management reached an agreement in which the management agreed to all five demands put forward by the protesters, albeit in a not-very-committing way.
In the signed document reproduced below, the management promises to "review" the immigration raid and "discuss" the possibility of bringing cleaning services in-house and the "health and safety issues" relating to immigration raids on campus. There were, however, two more concrete commitments: first, to write to the Home Office requesting the return of the deported cleaners and granting exceptional leave to remain to those who are still detained or have been forced into hiding; and second, that no action will be taken against those involved in the protest.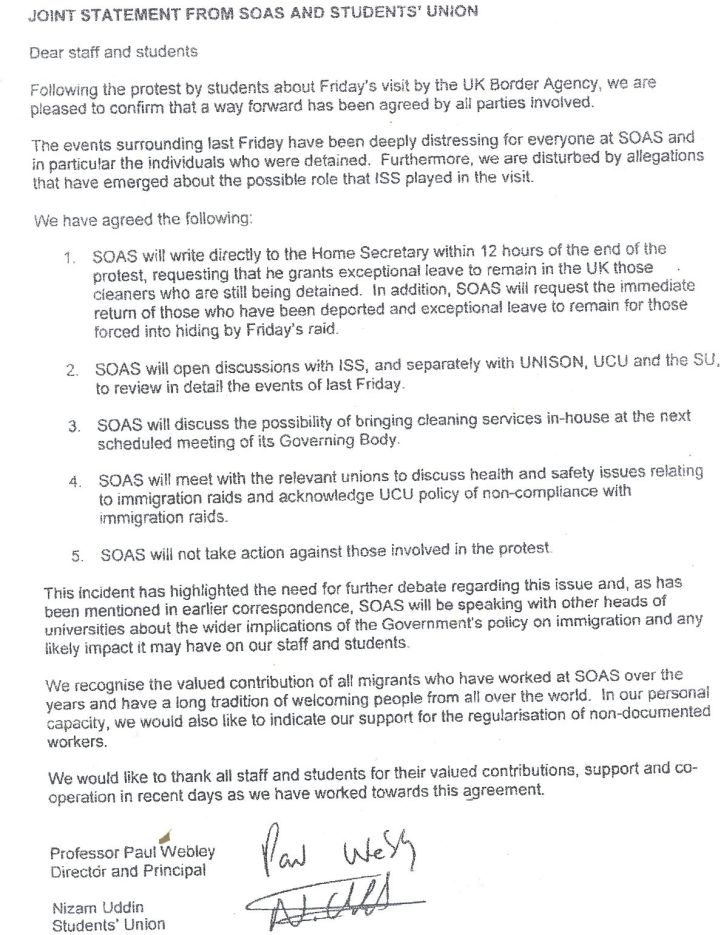 Quite surprisingly, the director, Paul Webley, voluntarily added a paragraph to the agreement stating his support, in a personal capacity, for the regularisation of non-documented workers, and another paragraph promising that SOAS will be speaking with other universities about the wider implications of the government's policy on immigration.
IMCista