Steve Pope | 27.03.2009 04:43 | Culture | Repression | Social Struggles
Elizabeth "Liz" Tolbert of the United States is challenging her 14 year-old murder conviction in connection with the death of her husband, claiming that her lawyer didn't use evidence in her trial that pointed to her innocence.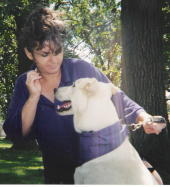 Liz Tolbert with "Leo" a service dog she trained while in prison
Elizabeth "Liz" Tolbert was becoming increasingly concerned as the afternoon of May 24, 1995 dragged on. The then 34 year old attractive mother of two young boys started to worry as she finished preparing dinner in anticipation of her husband's imminent arrival. It was close to 3:00 p.m. and Liz was wondering why Wilson "Junior" Tolbert, her husband of five years hadn't come home for dinner. "Junior was always home for dinner by 3:00 p.m." Liz said. Earlier that day she had called Chris Olvedia, her brother's girlfriend and asked that she go by either the couple's farm or Central Cemetry to see if she could find Junior and then call her. Olvedia never did.
Liz said "Junior left a little after 7:00 that morning and he was going to mow the cemetery and check on the cows, " at their farm located in rural Hardin County, Illinois.
Hardin County is one of Illinois's smallest and least populated counties, it borders Kentucky and is in the middle of the Shawnee National Forrest.
"He didn't kiss me good-by that morning is the one of the things I'll always regret" said Liz one day as she sat across a small wooden table from me dressed in a blue shirt and blue pants, eating hot wings, one of her favorite foods from the vending machine, aside from Heath ice cream bars.
On the morning of May 24, 1995 Junior had come home around 7:00 a.m. from working a 12-hour shift as a boat pilot on the Ohio River. The couple briefly argued as a result of Liz borrowing a four-wheeler the previous evening from their neighbor to go "bottle hunting." Liz explained about bottle hunting "it can be addictive and it's great exercise, going out to dump sites looking for old bottles and other treasures you can dig up, it's part of your past."
"Junior was a proud man, he didn't like to owe anybody anything or borrow anything from anyone" Liz said during her trial and also has told me during our many conversations.
After a brief argument, Liz helped Junior unload the four-wheeler from the couple's S-10 pickup with Liz promising Junior she would return the vehicle to their neighbor Marcy and Jim Belts as soon as Junior got back from checking on his cows and mowing Central Cemetery. Junior then left in the truck on his way to pick up a riding mower from Robinson Tire and Battery, a local repair shop and then to complete his chores.
A few minutes after Junior left, Liz's brother James came over to her house to see if he had left his boots there the night before. Because of the acrimony between Junior and James, Junior had told James he wasn't welcome on the couple's property; property not only occupied by Junior and Liz but James's parents as well. In-fact, during the months leading up to Junior's murder, Junior had threatened to kill James several times.
Liz, in her zeal to try and give Junior as she says "everything he wanted because he grew up poor like me" made a bad decision and with the aid of her brother, James took out some fraudulent loans. Just a few days before that fateful day of May 24th Junior told Liz "honey this is the happiest I have ever been," and according to Liz she wasn't going to take any chances on losing the "best thing that ever happened to me." Liz had decided to tell Junior about the loans and her occasional use of crystal meth.
Liz told James that morning as they were both looking for his boots, that she was tired of the deception and loved Junior and "so I told James I was going to come clean with Junior about everything," Liz said during her trial and has told me. She promised James to tell Junior it was all her idea and also promised him that Junior wouldn't press charges against him.
According to James's testimony at Liz's trial he became very angry, found Junior at his farm, shot him in the back with a .22 caliber pistol he had, and took the .25 caliber pistol from Junior's pocket and left, thinking Junior was dead. James never called Liz and told her that Junior had been shot and Liz didn't tell James where Junior was going that morning, according to both James and Liz's testimony at her trial. "I became worried why Junior wasn't home" Liz told me. Liz testified at her trial that it shouldn't have taken Junior from a little after 7:00 that morning to close to 3:00 that afternoon to check on cows and mow the cemetery. She put her two young children in the back of her Blazer and went to find Junior a little after 3:00 p.m.
Driving past Hardin County's one and only school, she turned right onto Bassett Road and headed out the narrow two-lane road that is dotted by farms and houses towards their farm and the cemetery. "I saw Junior's truck parked near the gate to the farm and thought he was doing something at the farm so I stopped," Liz said. To her horror she saw Junior lying beside the truck. "James and Chrissy set me up, go get the police and ambulance" Junior told Liz, according to what Liz has said many times.
"I couldn't believe what I was seeing, it was like I was dreaming, " Liz said. .She got back in her Blazer-intent on heading to the Hardin County Sheriff's Department a few miles down the road. On the way, she sees Chris Olvedia's Monte Carlo parked on the side of the road and she starts screaming "James, James" when she sees both of them running towards her from the tree-lined field. "Did you shoot Junior" Liz asked James several times, confronting him. She told him that she was going to get the police and he better be gone by the time they came. James left in a car driven by Olvedia and went back and killed Junior with the .25 caliber handgun James had taken from him earlier that morning. Olvedia, according to court documents and her statement hid the murder weapon under a rock in a pond.
As a result of the shooting death of her husband that day Liz Tolbert is serving a 60 year sentence in an Illinois prison. A shooting she denies any knowledge of or participation in, and the evidence in the case, some of which was never presented to a jury supports her claims of innocence.
The case has some physical evidence, including blood and writing on the side of Junior's truck door. The evidence includes ballistic evidence that positively identifies the murder weapon. Eyewitness testimony and a confession. Evidence that points to Liz Tolbert's innocence, not her guilt.
Tests from the blood found in her Blazer excluded Junior as being the possible donor. The writing on the side of the door implicates her brother James in the shooting and clears her. This writing includes "I love Liz." Chris Olvedia led police to the gun used to kill Junior, not Liz, and her brother James confessed to killing Junior and testified that Liz had nothing to do with the crime and furthermore, didn't even know about it.
Now, Liz Tolbert shares a dorm with 30 other women at Lincoln Correctional Facility as a result of a total breakdown in the criminal justice system in her case. She's the victim of one of the most prolific examples of local prejudice, I have ever seen. Convicted solely on hearsay and speculation she has spent the last 14 years of her life in prison for a crime she didn't commit.
Liz Tolbert isn't alone in her dilemma. According to Northwestern University's Center on Wrongful Convictions, since 1900 there have been approximately 113 documented cases of wrongful convictions in Illinois. However, Liz Tolbert is one of the lucky few whose cries of innocence didn't completely fall on deaf ears. She had spent her own money she earned while working in Dwight's prison industries program seeking help from 25-30 lawyers without success.
I was bored one evening and while surfing the Internet came across an ad on a prison site, an ad that struck me as being sincere as compared to some of the others. At the time I was a Corrections Officer and also worked as a free-lance journalist for several newspapers in the Pittsburgh area. In her ad Liz said that she had been involved in Dwight's prison dog program; and said her best friend growing up was her horse.
Thinking how can a girl that loves animals so much be guilty of murder, I read her ad several times. My curiosity got the best of me. I researched the case before deciding to write her. Reading the opinion from the Fifth District Appellate Court I thought "wow there is so much evidence against her, she can't possibly be innocent-in fact she's a very evil person." I read the opinion again and read her ad again. Things didn't add up and so I wrote to her. It was the best decision I ever made.
During the years I have corresponded with Liz Tolbert, talked to her hundreds of times, and during our many visits, I came to know both the real Liz Tolbert as well as the true facts of the case, facts that have been contorted and twisted to fit both the appellate court's affirming her conviction and twisted to convict her in the first place.
Getting to the true facts of this convoluted case filled with speculation and hearsay, wasn't easy. In fact, getting Liz to cooperate was itself a difficult task. Sadly, Liz has had many disappointments in her life. She has been treated badly by most everyone she has encountered. Obviously, not wanting to go into great detail, she has endured a lifetime of substantial hardships. So, it was difficult to get her to release the transcripts in her case.
I was elated when she told me last November during one our phone calls "Steve I'll send you my stuff if you promise to help me." Helping Liz Tolbert has proved to one of the most rewarding projects I have ever undertaken; yet one of the most difficult tasks I ever attempted, much more difficult than I first anticipated. I came home one day to a large box received from Liz. I thought "finally I can see for myself how they convicted her." I went to Kinkos and copied them, not wanting anything to happen to the originals, they fill five large three ring binders.
Laboring over the transcripts daily during late November, through New Year's Day I became deeply disturbed at what I was reading. It appeared that witnesses were able to offer their personal opinions about Liz with complete impunity, testify to what amounted to gross hearsay, speculation and their personal opinions on Liz's involvement in her husband's death. I didn't know it at the time, but I hadn't seen anything yet.
In one of the best decisions I had ever made in this case, I told Liz to write to the attorney who defended her at trial and ask him to cooperate fully with me. Much to my surprise, Paul Christansen did just that. Not only being frank in his discussion with me about the case, but offering me the full file. This consisted of two very large boxes that were overflowing with documents.
Spending my free time and hundreds of dollars of my own money I reviewed the thousands of pages of documents in these two boxes. I made several trips to Hardin County, never alone for fear of being accused of wrongdoing and many trips to see Liz.
What I uncovered was shocking. Witnesses testified for the state often times giving varying accounts of what they allegedly saw that day. More often than not, the statements they gave to police officials differed considerably from their testimony at Liz's trial. In fact, according to what one juror told a reporter, they relied heavily on the testimony of a defense witness in convicting her.
This witness, Alan Humm had previously testified in James's trial that he saw Liz following Olvedia's Monte Carlo heading towards Liz and Junior's farm around 3:30 on the day of the murder. However, Humm according to a police report told William McMaster, the barber who was cutting his hair, that he saw Junior's truck, not Liz's Blazer. This is impossible given that the first shot had partially paralyzed Junior, preventing him from driving.
Un-covered during my investigation was false testimony from Illinois State Police Crime Scene Technician, Gerald Pea who claimed that back in 1995, no law enforcement agency preformed gun shot residue tests any longer. This obviously ridiculous claim, is disputed by a retired homicide detective who himself questions Liz's guilt saying that he didn't believe there was any evidence he had seen that was strong enough to convict her.
By the way, Pea is not totally foreign to wrongful conviction cases. Recently Julie Rae-Harper a former Illinois offender who was originally convicted in the stabbing death of her son in large part as a result of Pea's inaccurate testimony, was exonerated at retrial. She too was tried and convicted in a small southern Illinois county.
During my review, I found scores of examples of evidence favorable to Liz's defense that went ignored by her attorney. Bank documents disproving long-standing claims by the prosecution that the couple was experiencing financial problems were not introduced, state witnesses were not questioned about the favorable comments they made about Liz and her relationship with Junior in their statements to police, as well as comments and statements about their hatred and contempt towards Liz which would have shown their prejudice against her.
Testimony from several state witnesses differed dramatically then the statements they had previously given to police officials. One witness, Harold Carr testified that Liz told him during a discussion the two had, that she and Junior were experiencing financial trouble. However, according to Carr's statement to police he couldn't recall the subject of the conversation, but thought it may have been related to Junior being upset over a dispute involving timber.
Another witness, Thomas Lyle Robinson told jurors Liz had called earlier that day asking if Junior's riding mower was ready to be picked up and she seemed "puzzled." However, according to Robinson's report to a Hardin County Deputy, Liz seemed normal and was joking around when she called to ask if Junior had picked up the mower, not asking if the mower was ready to be picked up as he testified to. In fact, Liz knew the day before that the mower was ready to be picked up, therefore, she would have no reason to ask Robinson if the mower was ready.
Even a report to officials by Junior's own uncle, Robert Stephen Tolbert that Junior's money problems started with the divorce from his first wife and that both Junior and Liz liked to spend money went ignored by Liz's attorney.
Important too was the testimony of Shirley Oxford, Dispatcher for the Hardin County Sheriff's Department who ostensibly kept an accurate, almost verbatim log of events that happened that day. She testified that Liz had claimed she saw blood on Junior, yet absent in the log completed by her is any notation indicating that Liz had told her this. Oh, Oxford kept what appears to be very detailed notes of what officers and callers were reporting to her, even detailed notes of what Liz and others said back at the police station; however, nowhere in the log does Oxford ever note that Liz told her something as critical as seeing blood on Junior. This is because Liz never made such a claim to Oxford.
Liz Tolbert to this day denies ever telling Oxford she saw blood, and the evidence supports her claim. Evidence that was never used to impeach Oxford's testimony.
Also, uncovered during the investigation was shocking and disturbing evidence of local prejudice, which seems to indicate that an entire county, almost all 4,500 of it's residents was prejudiced against Liz Tolbert because she was labeled as "an outsider." The lead state's attorney at the time, Paul Lamar, now the Hardin County circuit court judge, himself agreed with this label when he boasted he would have no difficulty in obtaining convictions against both Liz and her brother because they were outsiders, not from Hardin County, according to court documents.
Perhaps a chilling example of this prejudice is the fact that Chris Olvedia Reed, the only one of the three from Hardin County, the only one of the three who led authorities to the murder weapon, whose parents owned the only grocery stores in the county at the time was allowed to plead guilty to obstructing justice and possession with intent to deliver a controlled substance for which she was sentenced to concurrent three- and eight-year sentences.
Additional evidence of local prejudice include Liz's own attorneys being listed as possible suspects in Junior's death in a Hardin County Sheriff's Department report. Even a defense investigator was threatened and the Mayor of Elizabethtown himself vowed to get an injunction if the investigator kept interviewing residents about their opinion in the case, according to court documents.
Investigating this case wasn't easy. Combing through thousands of pages of documents, that when spread out literally covered my living room floor kept me busy until after midnight most nights.. The arduous task of comparing witness statements to others and the transcript took months to complete. I contacted the Downstate Innocence Project for assistance. At first it appeared they were willing to help. Sadly, as if often the case in wrongful conviction cases, I found out later they are over-burdened with requests for help. I was told that most meritorious cases cannot be given the attention they deserve as a result of scarce resources.
Not wanting to let Liz down and by this time fully believing in her innocence, I gradually took on more of an investigative role in what would turn out to be my first wrongful conviction investigation. I prepared a report of my findings that exceeded 110 pages in length. This became the foundation for Liz's post-conviction petition that with accompanying exhibits is in excess of 350 pages, that was recently filed in Hardin County.
It is possible for a single journalist, law student or the ordinary person to investigate a case involving a claimed wrongful conviction. Be prepared to have many sleepless nights as you constantly question yourself "have I covered everything or have I left something out." Trust me when I say, you will have repeated doubts and struggle with the intense emotion of knowing that you are potentially the only person who has the ability to secure the inmate's release.
In Liz Tolbert's case I had the benefit of previous journalism and investigative experience as well as colleagues who encouraged me and gave me guidance. My biggest supporter was Liz Tolbert herself as well as her close friends in Lincoln, who have now over time come to be my friends as well. Even her brother told me recently "It never hurts to try."
Even with that support, I carried the burden of knowing that I was Liz Tolbert's last chance for freedom. That's a heavy burden to live with. As with most claims of wrongful convictions, this won't be the inmate's first post-conviction petition they will be filing and successive petitions are discouraged by the courts and are rarely successful.
Now Liz Tolbert is patiently waiting, putting up with the noise, the horrible food, and still enduring everyday with no fresh vegetables or fruit like every other of Lincoln's 998 residents; while waiting for the court to rule on her recently filed petition.
"I know that God has touched the heart of the judge that will read my case," said Liz who has become a devout Christian since her imprisonment and who reads the Bible daily.
Steve Pope


e-mail: stevelpope@gmail.com