Liberationists | 14.03.2009 21:17 | Animal Liberation | Ecology | Social Struggles | World
11th-12th March
FROM HELL TO WARM HOMES FOR 20 RABBITS (Netherlands)
WINDOWS BROKEN AT MAXMARA (Spain)
ANIMAL PRODUCTS RUINED AT SUPERMARKETS (Netherlands)
SHOPS GRAFFITIED (Mexico)
GRAFFITI AGAINST DOMESTICATION (Mexico)
TELMEX PHONES SABOTAGED (Mexico)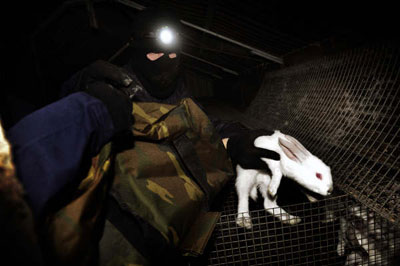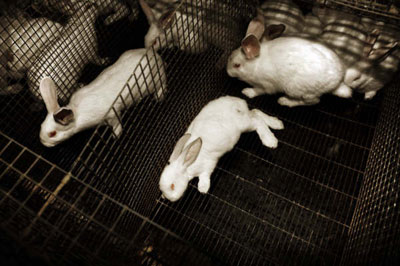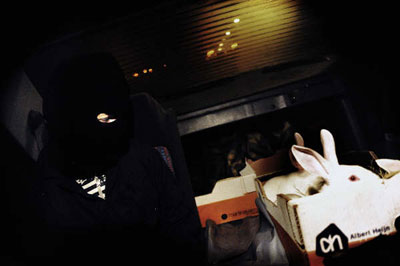 FROM HELL TO WARM HOMES FOR 20 RABBITS (Netherlands)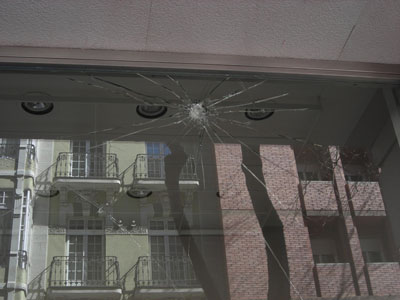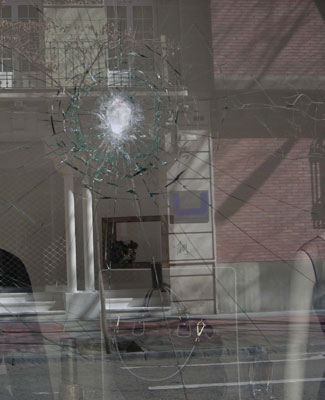 WINDOWS BROKEN AT MAXMARA (Spain)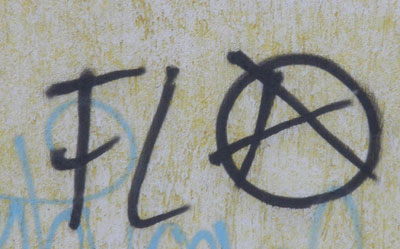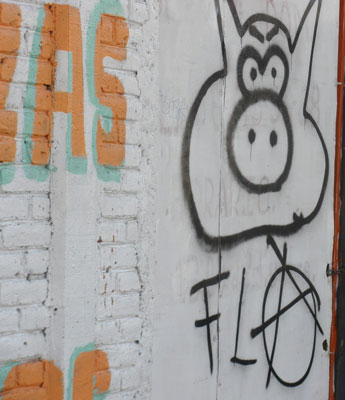 SHOPS GRAFFITIED (Mexico)
FROM HELL TO WARM HOMES FOR 20 RABBITS (Netherlands)
reported on Animal Rights Media (translation):

http://www.animalrights.nl/
"In the night of Saturday 20th-Sunday 21st of February the Dieren Bevrijdings Front (DBF) liberated 20 young rabbits from a company earning money off the backs of defenseless animals. The rabbits have been re-homed with people who will treat them with love and they will live happy lives in freedom just like it should be.
The rabbits were in large numbers in a dark shed without any daylight coming in. The rabbits were kept in small wire cages, with eight rabbits in each. They had no space to stand up or to lay down in a normal way (if that would even be possible on a wire cage floor).
There was an overwhelming smell of urine and some of the rabbits had eaten each others fur due to stress and boredom. We also found a few dead rabbits (see photo) between the other rabbits.
The rabbits who will survive this hell will eventually die a cruel death in a slaughterhouse after 10 weeks.
The DBF will never accept this hidden animal cruelty and will keep on fighting for every animal that suffers for the cruel needs of humans.
A few facts about the suffering of rabbits raised for meat:
-Each year two million rabbits are killed for their meat which is mainly exported to France.
-The Netherlands has about 324,000 "meat" rabbits and 40,000 female rabbits used for breeding!
-The meat rabbits are slaughtered after 10 weeks; the female rabbits are killed after breeding for one year.
-The female rabbits give birth seven times a year, and 1 of 5 rabbits die early.
Dieren Bevrijdings Front
Note: We won't give the location where we went so we will be able to return and continue liberating animals."
>>
WINDOWS BROKEN AT MAXMARA (Spain)
received anonymously (translation):
"During the weekend of March 7, 2009 I was walking on the street and in my clumsiness I stumbled; it was my bad luck that I went headlong into the main window of the MaxMara store; coincidentally I had two stones in my hand and without it being my intention I caused considerable damage to the window.
Later I learned that this company is involved in the cruel and bloody fur industry. A business that tortures, skins and kills millions of animals each year.
Noting only that I am clumsy by nature and this shop is on my usual route, I will try not to stumble again. I do not know if I will be able to do what I intend to in avoiding another collision with your shop window, but it occurs to me that you may want to stop selling fur. I do not know if it will work, but nothing will be lost in trying.
With nothing more to say at the moment I will bid you goodbye.
Attentively yours, anonymous."
>>
ANIMAL PRODUCTS RUINED AT SUPERMARKETS (Netherlands)
received anonymously:
"On March the 10th the A.R.O.M.A (Animal Rights One Man Army)
went out to several local supermarkets in the Netherlands.
A.R.O.M.A punctured the packaging of a few hundred flesh and fish products,
making it unfit for consuming much faster.
The damage it not crearly visible, so flesh and fish eaters will have a disgusting meal and the carcass sellers will have many angry customers.
Like the A.R.O.M.A says:
GO VEGAN!
OR YOU WILL HAVE A DISGUSTING MEAL!"
>>
SHOPS GRAFFITIED (Mexico)
anonymous report:
"Several shops that exploit animals were attacked with graffiti in Mexico State.
F.L.A."
>>
GRAFFITI AGAINST DOMESTICATION (Mexico)
reported anonymously:
"Graffiti in opposition to domestication and in favor of animal, human and earth liberation was painted on many walls in Mexico State, as a way of spreading anti-anthropocentrist ideas.
Luddites Against the Domestication of Wild Nature"
>>
TELMEX PHONES SABOTAGED (Mexico)
anonymous report:
"March 9.
5 more Telmex phones were sabotaged by the Luddites Against Domestication of Wild Nature.
Wild México"
>>
Related articles

http://www.indymedia.org.uk/en/2009/03/423917.html
(11th)

http://www.indymedia.org.uk/en/2009/03/423458.html
(4th)
More info

http://www.animalliberationfront.com
Liberationists


Homepage: http://DirectAction.info