Liberationists | 04.03.2009 19:34 | Animal Liberation | Ecology | Social Struggles | World
27th-4th Feb/Mar
TRAPS DESTROYED, SHOOTING PENS TRASHED, BIRD SET FREE (UK)
GRAFFITI PROTEST AGAINST SLAUGHTER OF DOGS (Mexico)
CIRCUS POSTERS TRASHED (France)
VIVISECTOR, MINING EXEC. VISITED AT HOME (USA)
TELMEX PHONES PAINTED (Mexico)
TELMEX PHONES GLUED (Mexico)
POSTAL ANNOYANCE BRIGADE TARGETS VIVISECTORS (USA)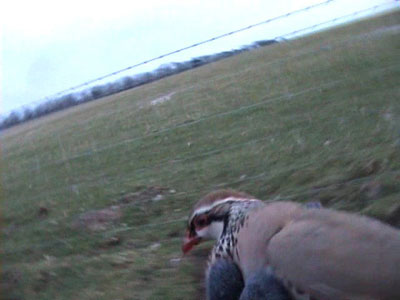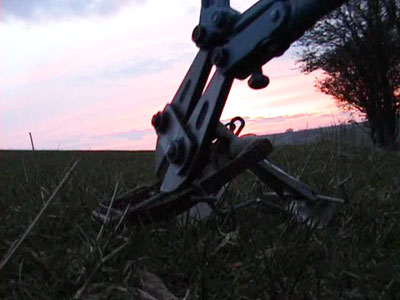 TRAPS DESTROYED, SHOOTING PENS TRASHED, BIRD SET FREE (UK)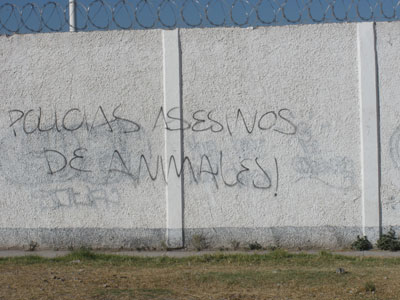 GRAFFITI PROTEST AGAINST SLAUGHTER OF DOGS (Mexico)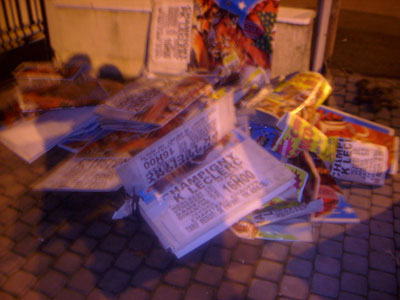 CIRCUS POSTERS TRASHED (France)
TRAPS DESTROYED, SHOOTING PENS TRASHED, BIRD SET FREE (UK)
reported anonymously:
"under the pink skies of a setting sun and across the rolling hills of the countryside activists found a large shooting estate;
two squirrel traps and a fox trap were destroyed.
a lone bird trapped inside a cage was carefully taken from her prison and set free.
4 shooting enclosures were destroyed; netting cut, wires cut, wood snapped, battery supplies cut off, posts torn from the ground.
enclosures used for shooters to hide their cowardly faces and shoot animals were destroyed.
until all are free!"
>>
GRAFFITI PROTEST AGAINST SLAUGHTER OF DOGS (Mexico)
received anonymously (translation):
"In the municipality of Jaltenco in Mexico State, graffiti appeared at dawn on the morning of February 28, as a response to the slaughter of dogs and cats perpetuated by the police of that municipality (see more information at:

http://www.asesinatodeperrosygatosenjaltenco.blogspot.com/
).
Passivity is not helpful in the face of these deeds, the animals demand direct action to avenge and free them!
The government is on the side of the speciesists, lets give them fire!
Frente de Liberación Animal – México Anti-Speciesist FLA-MA"
>>
CIRCUS POSTERS TRASHED (France)
anonymous report:
"Cirque Franco-belge (circus)
180+ boards
80+ cardboard posters"
>>
VIVISECTOR, MINING EXEC. VISITED AT HOME (USA)
reported on Indybay.org:
"Tucson Vivisector Katalin Gothard and Rosemont mining scumbag Kathy Arnold get a special home visit from Tucson H.A.A.N.D! (Hooligans Attack At Night Duh!) agents of change. Solidarity dedication with those four recently arrested
Beneath a security blanket of darkness during the early morning hours of Friday, February 20, Tucson H.A.A.N.D. (Hooligans Attack At Night Duh!) visited the homes of University of Arizona Vivisector Katalin M. Gothard and Rosemont Copper (RC) Director of Environmental & Regulatory Affairs Kathy Arnold.
We chose Kathy Arnold because of all her work she does with RC as their Director of Environmental & Regulatory Affairs. RC is attempting to mine in the beautiful Santa Rita Mountains for copper. We say no mine thank you!
Mining in the Santa Ritas would threaten numerous species, plants and sensitive wild areas. Mining for copper to build solar panels is a false solution and unacceptable. The Santa Ritas are part of the Sky Island Region a Biological Hotspot home to 404 bird species, 117 reptile species, 26 amphibian species, thousands of plant species. A number of these species are endemic to this region. The Santa Ritas should never be home to a mine.
Dear Kathy destroying the land of wild animals and plants for more ingredients of a larger Infrastructure nightmare is no way to live. You should know that our environment is no place for you to hold your twisted affairs! We slashed your tire so that maybe you will think of the Mountain Lions and Black Bears that live where you want to build a mine. We bet the etching cream on the window of your house will leave a lasting impression of our visit. Maybe the cost of replacing it will make you think twice about the lasting irreplaceable costs your companies proposed mine would inflict on the Santa Ritas.
Katalin Gothard is an assistant Professor (Vivisector) within the Department of Physiology, College of Medicine Life Sciences in North Room 327 of the University of Arizona Tucson, her Phone # is (520) 626-1448. Her Email is

kgothard@email.arizona.edu
.
Her home addy is [removed by Indybay]. Her home # is [removed by Indybay].
Katalin makes a living by performing research on rhesus monkeys. Her research procedures involve screwing metal plates into the monkey's skulls and affixing magnetic search coils to their eyes. After these medical procedures are performed she then trains the monkeys to tolerate head immobilization and to fixate on objects presented on a computer monitor.
What the fuck type of demented mind could do such a thing? Apparently, Katalin Gothard and her cohorts.
To the sound of Coyotes howling in the mountains we lifted the utility cover to your water in front of your house, turned the water off and the poured in cement to make sure it stayed off for a damn long time! We bet it's a little harder to wash the blood off your hands and scrub away all those thoughts of torturing monkeys all day long huh Katalin. If you insist on working, get a real job!
Kathy, stay the fuck away from our mountains you sick fuck! Katalin, Leave the monkeys alone (your a sick fuck too)!
We dedicate this action to our four CA comrades in the fight against vivisection that were arrested the same day.
Y'all fools can keep trying to stop us by throwing us in jail. Cause you can't lock up Revolutionary Solidarity for the land and Animals, duh!"
>>
TELMEX PHONES PAINTED (Mexico)
anonymous report:
"8 more telephones from the Telmex company, destroyer of the land and sponsor of bullfights, were sabotaged with spray paint by the Luddites Against Domestication of Wild Nature.
We will not stop!
México"
>>
TELMEX PHONES GLUED (Mexico)
anonymous report:
"More than 20 Telmex phones were sabotaged with super glue during the night of February 25 in Mexico City (D.F.) and a glass advertisement and a luxury car that we found in our path were stained with rotten fruit.
Radicals for total liberation!
Luddites Against the Domestication of Wild Nature-Mexico"
Telmex campaign

http://www.google.co.uk/search?hl=en&q=%22telmex%22+site%3Adirectaction.info&meta=
>>
POSTAL ANNOYANCE BRIGADE TARGETS VIVISECTORS (USA)
received anonymously:
"Greetings from The Postal Annoyance Brigade!
About a year ago the P.A.B. thoughtfully subscribed 3 of our good vivisecting murderous friends to some choice magazines.
Robert H. Lane of [...] in Salt Lake City, Utah; Alessandra Angelucci (& Her Husband Paul Bressloff) of [...] in Salt Lake City, Utah; and Jennifer Ichida of [...] in Salt Lake City, Utah, all received multi-thousands of dollars worth of magazine subscriptions.
We even sent a few hundred dollars worth of subscriptions to our old friend Audie Leventhal, who has since retired from the feild of vivisection yet still puts his name on other vivisectors work.
The P.A.B. is back!
We have sent many friends our gifts, and hope that they will be receiving more gifts time and time again. As subscriptions take time, we are unable to release the names of our other friends we have rewarded with the timeless memories of magazines. Future communiques will be seen. Just a hint: "Fur is a sin, Wear your own skin!"
The P.A.B.
The Postal Annoyance Brigade
Here is how we do it:
While you shop at any store that sells magazines, look around the floor of the magazine section and you will see subscription cards (they look like post cards).
Gather up the ones you see and put them in your pocket.
If you are more daring just open up some magazines and a few should fall out.
Try to gather as many different varieties as you can.
Now take them to your home or a park and seperate them by magazine.
Find your 'friends' details, and start filling out a card from each pile.
Once you are done filling out the info for that 'friend' move onto another friend and continue until all cards are gone. If you only have a few friends, you can try giving them nicknames. Charlie may be Chuck, you wouldn't want your friend to miss a magazine just because you sent it to Charlie and not Chuck.
Having trouble finding friends? look up "the final nail" they have lists and lists of friends for you to choose from.
Now, take the stacks of cards and find idle post boxes. Try and seperate the cards so that there are no more than 5 to a post box. The mail man may get a little suspicious if he sees 100 cards.
That's it. They should start receiving magazines within the next 2-4 weeks.
Why it works? The magazines will start coming in every week to every month. If your friend doesn't stop the subscriptions it will charge them. They will be billed and will have to argue that bill isn't valid. Which takes time and even a little money sometimes. When a friend receives hundreds of magazines they have no more time to sit and sort through false bills. They will either have to just pay the bills or hire a person to sort through them. Often times a magazine company will charge the person for the first issue even if they cancel their subscriptions, some even charge a small cancellation fee. This is both time and cost consuming, this is why it works."
*Personal details removed as per:

http://www.indymedia.org.uk/en/static/privacy.html#Personal_Information
>>
February articles
Global reports

http://www.indymedia.org.uk/en/2009/02/422905.html
(26th)

http://www.indymedia.org.uk/en/2009/02/422601.html
(21st)

http://www.indymedia.org.uk/en/2009/02/422213.html
(16th)

http://www.indymedia.org.uk/en/2009/02/422098.html
(14th)

http://www.indymedia.org.uk/en/2009/02/421806.html
(10th)

http://www.indymedia.org.uk/en/2009/02/421490.html
(7th)

http://www.indymedia.org.uk/en/2009/02/421331.html
(5th)

http://www.indymedia.org.uk/en/2009/02/421008.html
(2nd)
USA

http://www.indymedia.org.uk/en/2009/02/422865.html
(Solidarity with the AETA 4, 26th)

http://www.indymedia.org.uk/en/2009/02/422655.html
(Four Arrested in California, 22nd)

http://www.indymedia.org.uk/en/2009/02/421354.html
(Marie Manson sentenced to 21 years, 5th)
Sweden: Activists remanded over fur/leathershop arson

http://www.indymedia.org.uk/en/2009/02/422644.html
(22nd)
UK: Mel Broughton sentenced to 10 years for 'conspiracy to commit arson'

http://www.indymedia.org.uk/en/2009/02/422080.html#additions
(14th)
Ross Sea, Antarctica: Whaling ship rammed

http://www.indymedia.org.uk/en/2009/02/421507.html
(7th)

http://www.indymedia.org.uk/en/2009/02/421405.html
(6th)
More info

http://www.animalliberationfront.com
Liberationists


Homepage: http://DirectAction.info