Manchester No Borders | 04.03.2009 00:41 | Anti-racism | Migration | Liverpool
On Tuesday evening, activists from Manchester No Borders interrupted a high-profile panel discussion with the leader of Manchester city council, Sir Richard Leese. They dumped 100 jumpers in front of the panellists of the event entitled 'The Right to the City', held in the Town Hall, in a protest against immigration detention.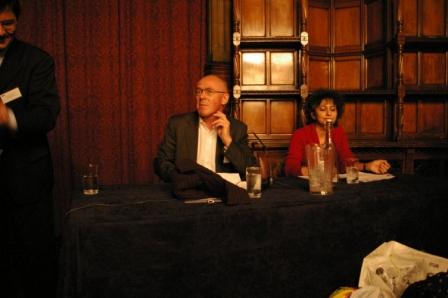 Richard Leese was clearly embarrassed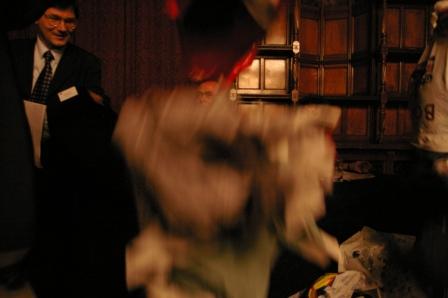 More and more jumpers were dumped in front of him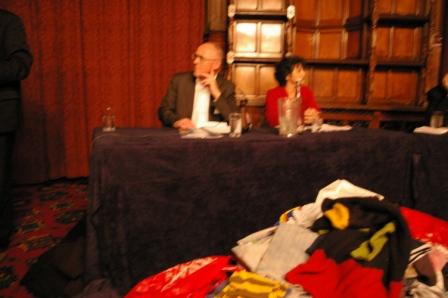 A visual reminder to the audience about our intervention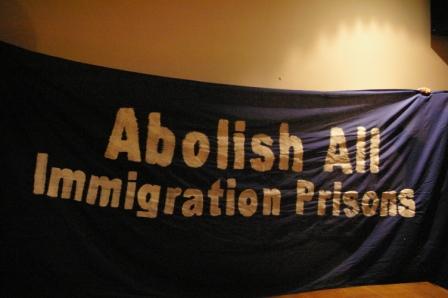 this banner was displayed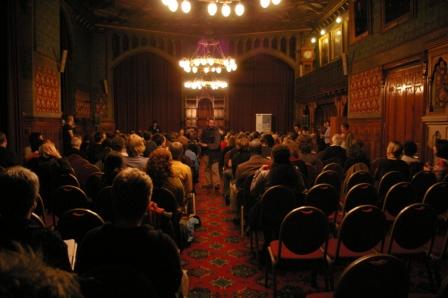 most of the audience applauded our statement
The group intervened at a launch event for the University of Manchester's new 'Research Institute for Cosmopolitan Cultures'. The event aimed to discuss the concepts of 'belonging' and 'exclusion' with Richard Leese and speakers from Amnesty International and the Migrants' Rights network.
Before Richard Leese started his presentation, No Borders took over the stage to read out a short statement instead, calling on the leader of the city council to close Pennine House, the immigration detention centre at Manchester airport. At the same time shopping bags filled with jumpers were emptied in front of him, making a considerable mount. Flyers informing the audience about Pennine House were handed out to the 150 or so people in the audience.
In a statement read out to the audience Manchester No Borders rejected the notion of 'rights' as "a politically and substantively bankrupt discourse". Many people simply are not granted rights to the city, such as the migrants detained and held without charge at Pennine House.
Earlier this year Immigration Minister and Oldham MP Phil Woolas 'unveiled' the detention facility announcing: 'We will detect, detain and remove those who have no right to be here…This new facility will help us increase removals of those who have no right to remain in the UK.'
No Borders also stated that for many who have been granted the formal rights to the city, these rights are empty signifiers, devoid of any substantive content. These include the pensioners, unemployed and homeless for whom having the rights to the city
means very little when they lack the material means for a dignified existence.
The presentation of the 100 jumpers to Richard Leese was a symbolic demand
that Manchester City Council clothe the right-less and provide decent levels of material and social support.
---------------------------
More protests over the issue are planned. Tomorrow/today, we are inviting everyone to come and help plan protests at Pennine House detention centre. 4 March, 7pm, Friends Meeting House, Manchester.
A demonstration has already been announced for the weekend of 20/21 March. Protests against immigration prisons will also take place at Yarlswood detention centre in Bedford, organised by London No Borders.
Manchester No Borders


e-mail: manchesternoborders@riseup.net


Homepage: http://www.manchesternoborders.org.uk