birminghamoccupation | 22.01.2009 21:53 | University Occupations for Gaza | Education | Palestine | Repression | Birmingham
The occupation of Arts LR4, University of Birmingham, which began at 9am on Tuesday 20 January, ended at around 9pm on the same day after 12 hours in. West Midlands Police and university security lay siege to the building from 7pm in a bid to isolate the protesters. The occupiers were denied access to water and food (from outside) and had to blockade the lecture theatre as police and security massed outside it...
The occupation ended at around 9pm on Tuesday night after 12 hours in. At 7pm on Tuesday the university and West Midlands police colluded together, as negotiations with the university continued, to lay siege to the occupation. They closed the building down at 7pm (it usually shuts 9-10pm) and started kicking people out. No exceptions were made for staff or visitors and their actions prevented several teaching and other activities taking place in the building that evening. From this point on they (tried to) prevent us from getting water and did not allow people to bring in food from outside. We were visited by the Registrar and the Head of the College of Arts and Law in this time who offered us a meeting with the Vice-Chancellor to discuss our demands in exchange for leaving the building. Whilst these discussions took place the police and security staff increasingly made their presence felt outside the room and after our spokesperson returned from the lobby from a third round of negotiations a security guard pulled the door open and prevented us from closing it. At this point a stand off began as we blockaded the open door to the room with around 15 security and police hanging around outside. A long discussion ensued about what to do next which concluded in a vote to accept the offer in light of the situation and the apparent determination of the university and police to remove us by force. This was highlighted on our way off campus by the presence of two paddy wagons with around 25 police in tactical gear who continued to harass us for another half hour.
This event raises obvious questions about the stance of the university towards peaceful protest and the lawfulness of the police's involvement, who were always on hand during the day to offer their unwanted (and inappropriate?) political opinions and 'mediation', an issue which will be addressed in an article in the coming weeks. Issues relating to political policing on Birmingham campus have been raised before (see

http://www.indymedia.org.uk/en/regions/birmingham/2008/09/409474.html
) and also involved the same university assigned police officer. See the website for pics and videos, as well as further reports on what is going on on campus following the occupation.
So we left, to chants of 'free free palestine', to return to fight another day. It was certainly an amazing 12 hours and we had an enormous amount of support (thanks especially to all the Zionists who turned up - you were a non-stop source of entertainment). I think it has really started something at Birmingham (which certainly carried on today with the 'official' protest on campus) . This isn't over.
In solidarity,
The students who occupied Arts LR4
Website:

http://birminghamoccupation.wordpress.com
birminghamoccupation


e-mail: birminghamoccupation@riseup.net


Homepage: http://birminghamoccupation.wordpress.com
25.01.2009 15:35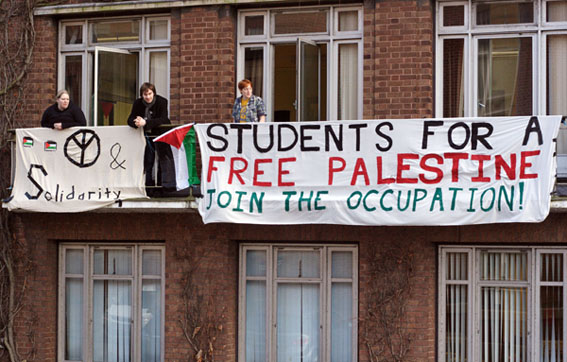 Banners on the balcony of the occupied lecture room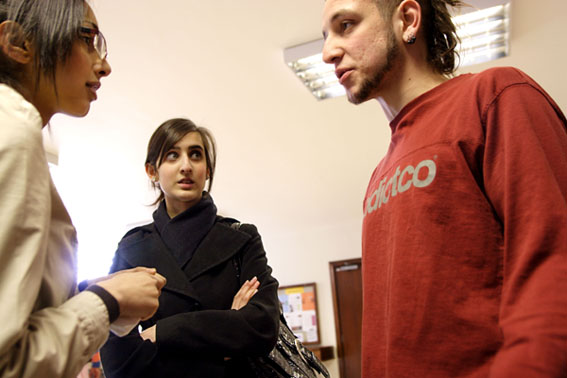 Explaining the occupation and its demands to other students (1)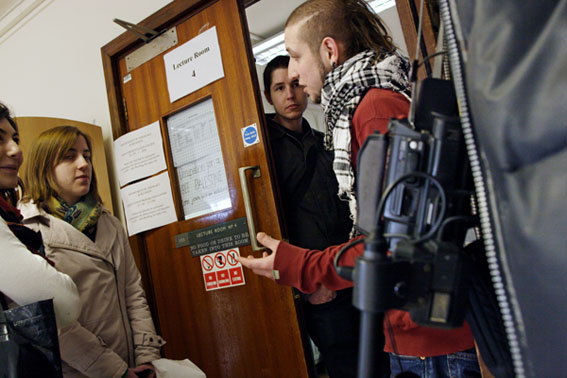 Explaining the occupation and its demands to other students (2)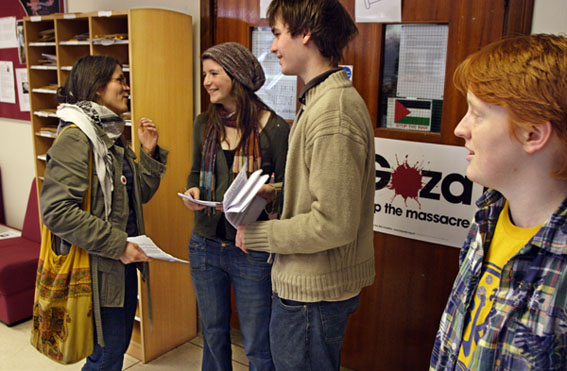 Handing out flyers explaining the occupation and its demands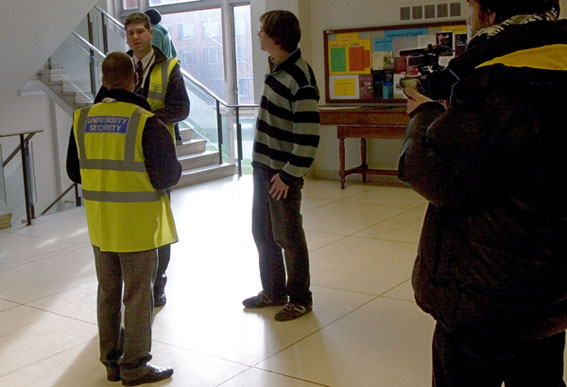 Security arrive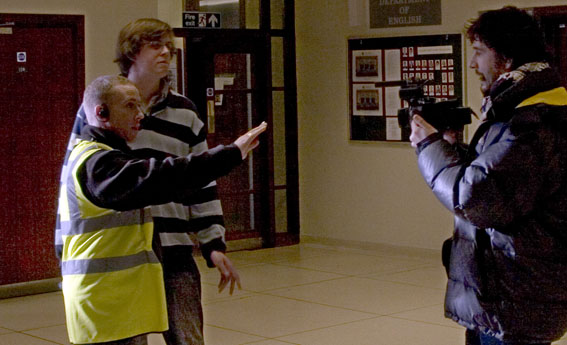 What's all this videoing, we'll have no trouble here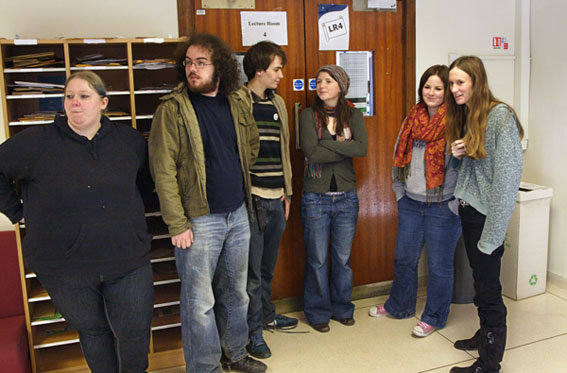 Blocking the lecture room entrance door

Photo call of a number of the occupiers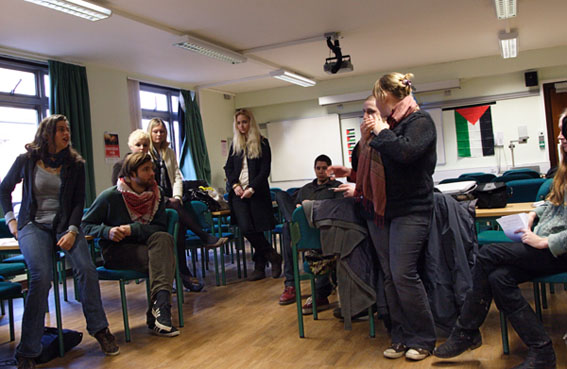 Deciding on strategy: occupation continuance and dissemination of information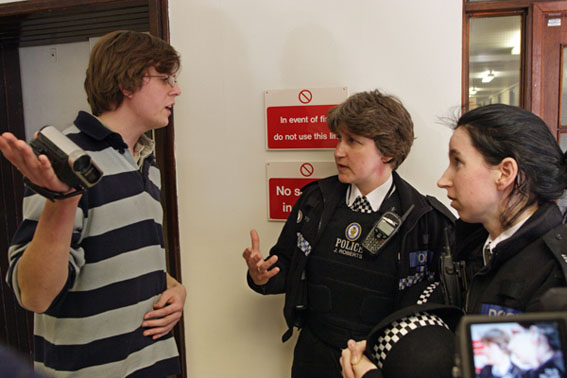 Campus Police Arrive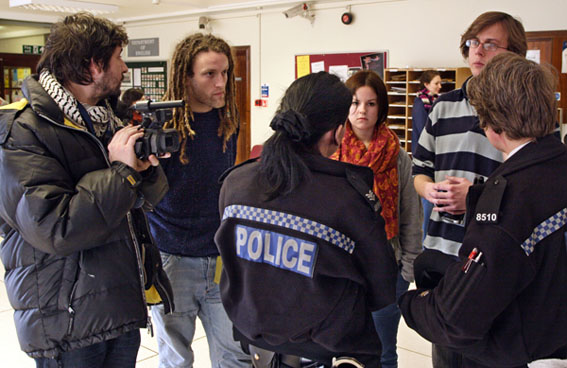 Clearly having no luck with the early removal of the occupiers! (calls for plan
Photo time line of the Occupation from 9.30 to 12.30
copyright Stalingrad O'Neill - permission is required for third party usage
Stalingrad O'Neill
e-mail:

robograd@tiscali.co.uk
Stalingrad O'Neill


e-mail: robograd@tiscali.co.uk

---