Larry Duncan | 20.10.2008 12:58 | Anti-militarism | Iraq
Both McCain and Obama are pro-war candidates. Google Video link to this new Labor Beat (Chicago) video. 18 minutes.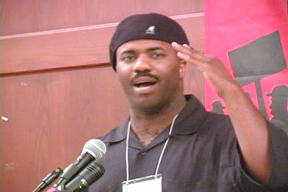 Jonathan Hutto, Sr., author "Anti-War Soldier"
Old Wars, New Wars & Election '08
Click here to watch on Google Video:

http://video.google.com/videoplay?docid=5847501032580511445&hl=en
Both McCain and Obama are pro-war candidates. "Some people tell us don't protest - go register voters. And we tell them, to vote for who?" says Jorge Mujica, immigrant rights leader. "I firmly believe that Obama...is the greatest threat to the movement for progressive change since JFK," notes Jonathan Hutto, Sr., author of Anti-War Soldier. "Barack Obama if he wins is going to bring more business to these [war industry] companies...he's gong to keep in place the major outposts of the occupation to bring money to the contractors," warns Jeremy Scahill, investigative journalist. Includes scenes from No War on Iran protest in Chicago.
Produced by Labor Beat, the Chicago-based labor tv series. Labor Beat is a CAN TV Community Partner. Labor Beat is affiliated with IBEW 1220. Views expressed are those of the producer, not necessarily of IBEW. For info:

mail@laborbeat.org
, www.laborbeat.org. 312-226-3330.
Larry Duncan


e-mail: lduncan@igc.org


Homepage: http://video.google.com/videoplay?docid=5847501032580511445&hl=en