See You In The Streets | 02.08.2008 16:01 | Animal Liberation | Health | World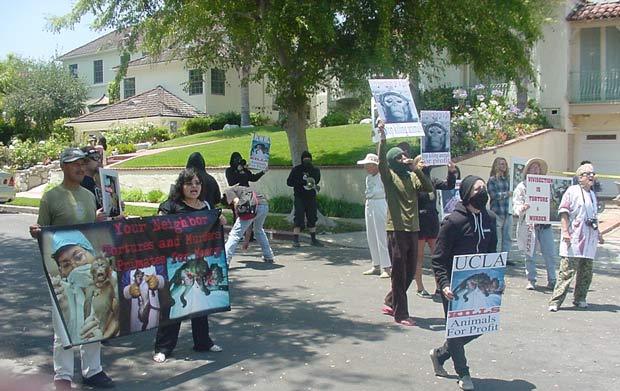 Primate vivisector Edythe London's neighborhood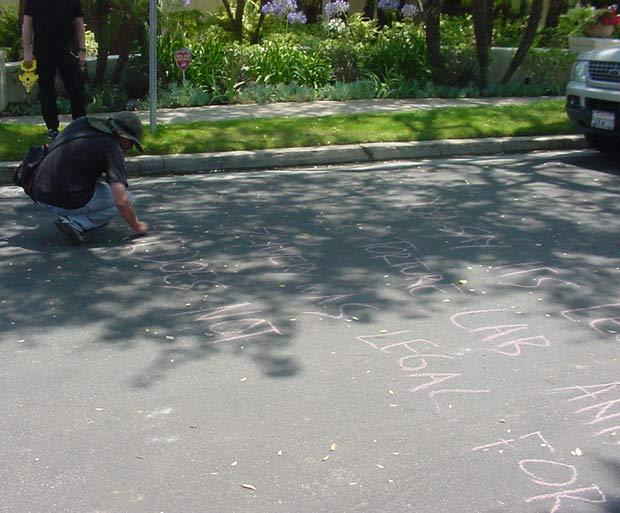 Chalking is a legal form of free expression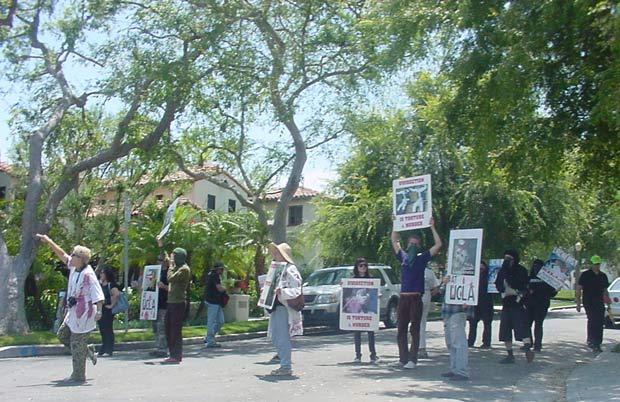 Edythe London is EVIL SCUM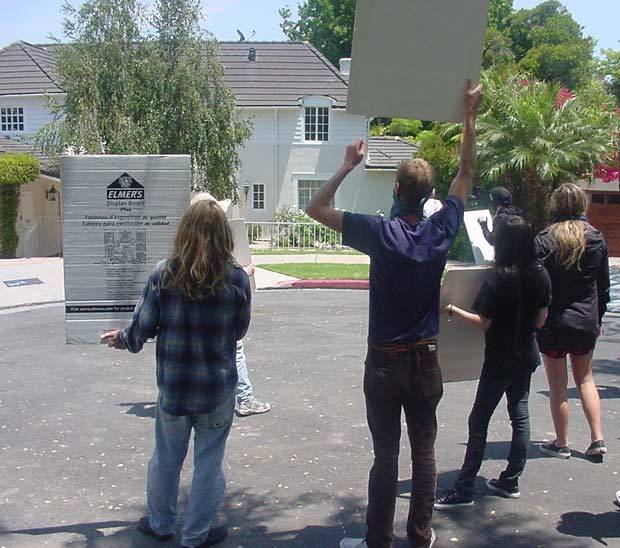 London's newest residence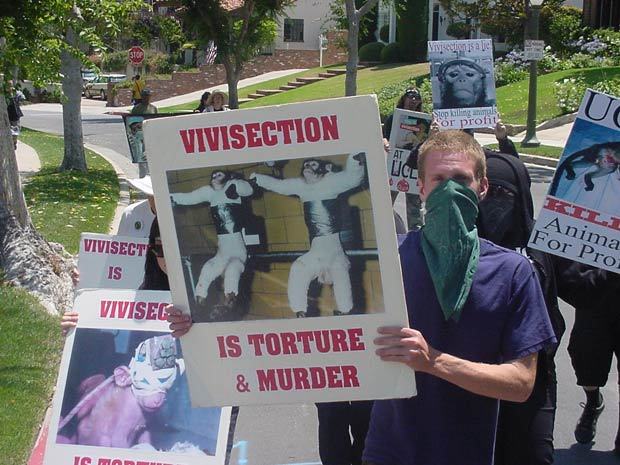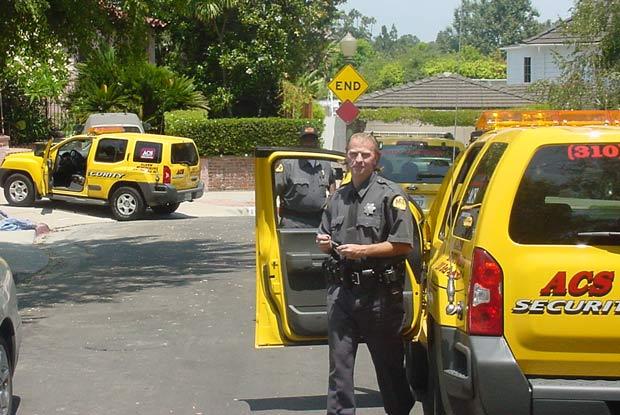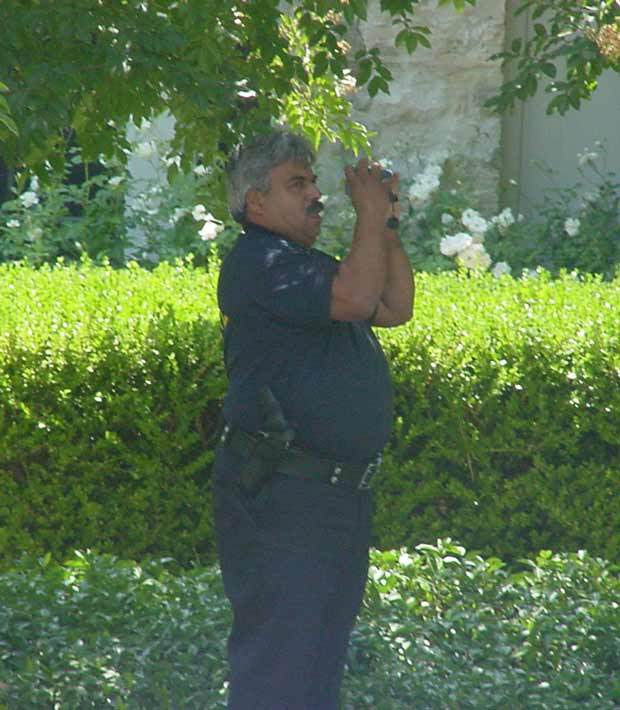 2nd Demo: Arthur Rosenbaum's security detail!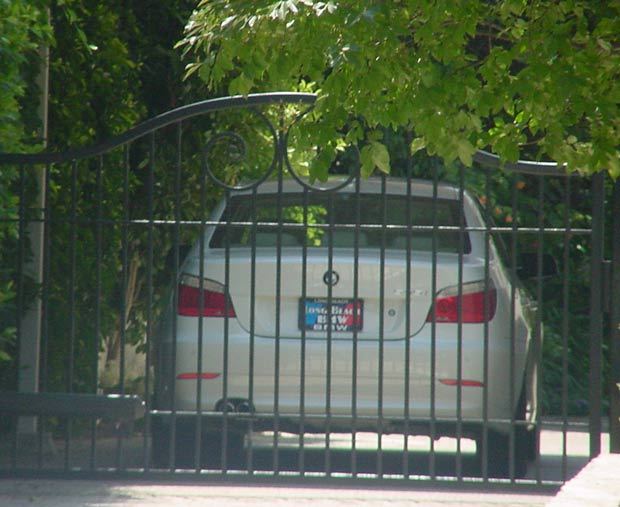 Rosenbaum's new BMW parked in driveway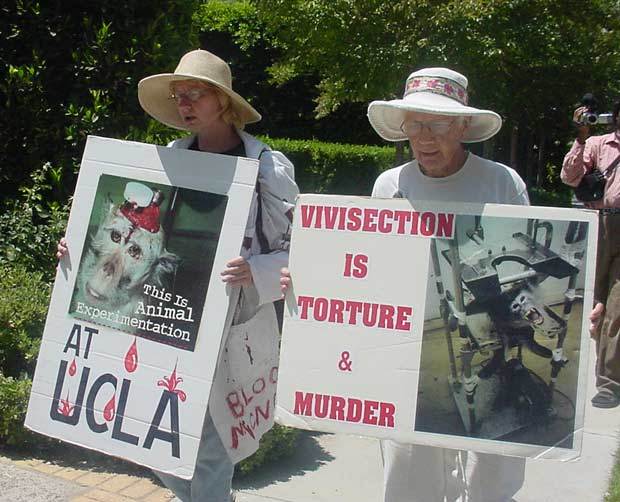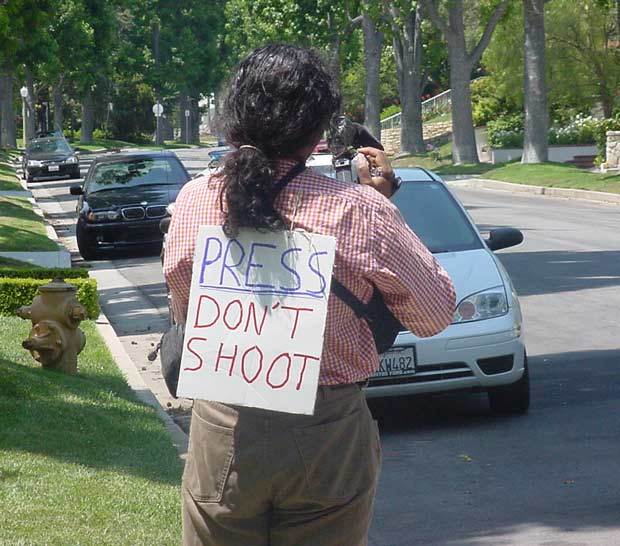 Member of the press

Law enforcement measuring the 50 foot mark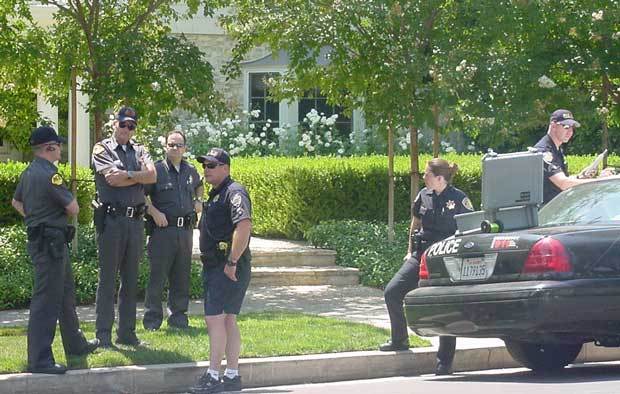 Police gathered outside Rosenbaum's home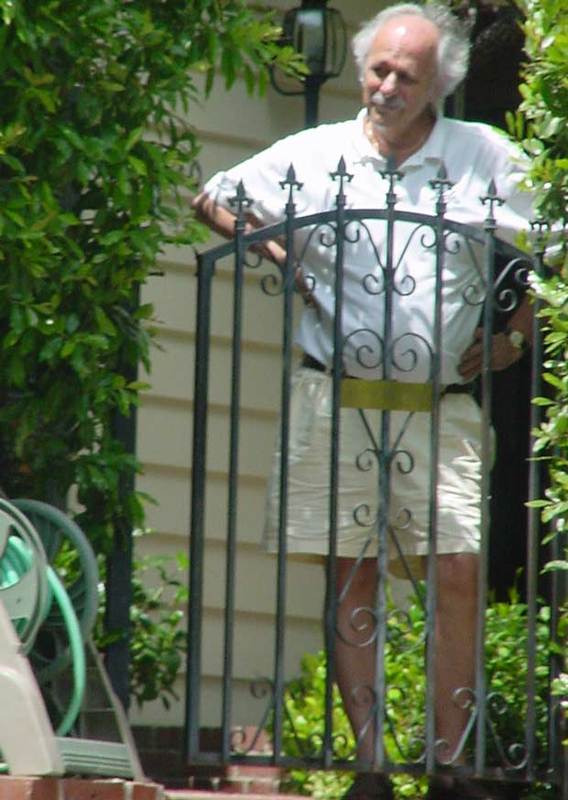 3rd Demo: Roberto Peccie, Vice chancellor of research at UCLA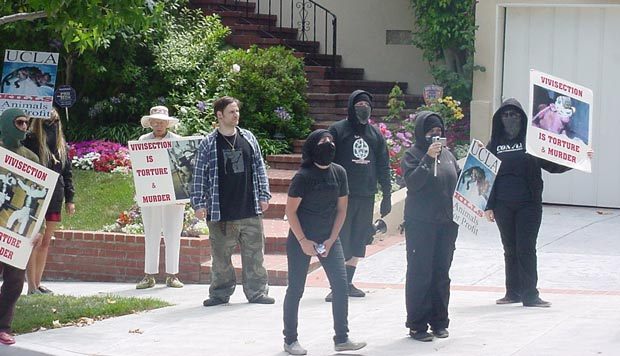 Activists across street from Peccie's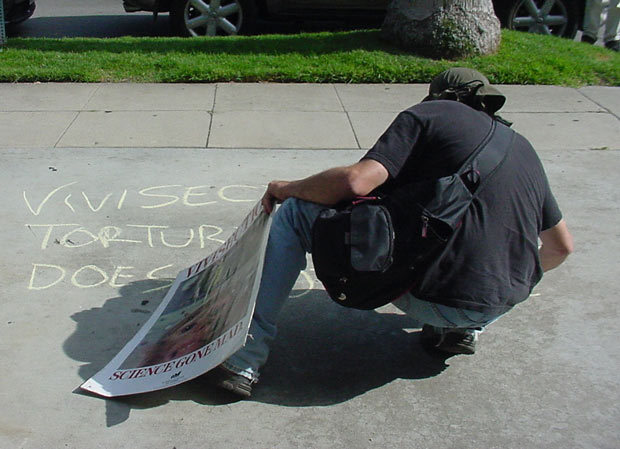 Free Speech at it's finest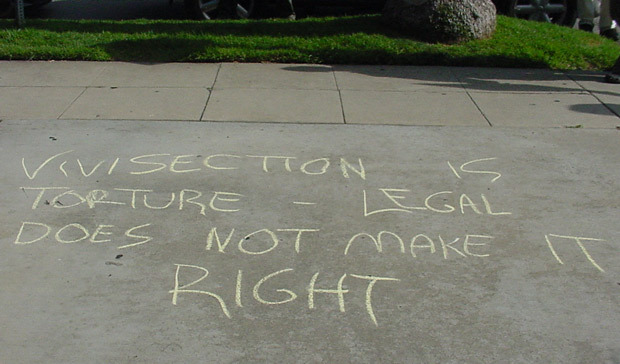 Chalking is legal on public streets!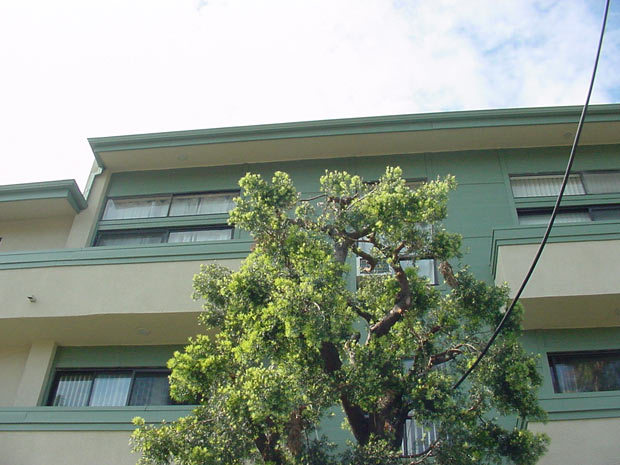 Peter Anton's apartment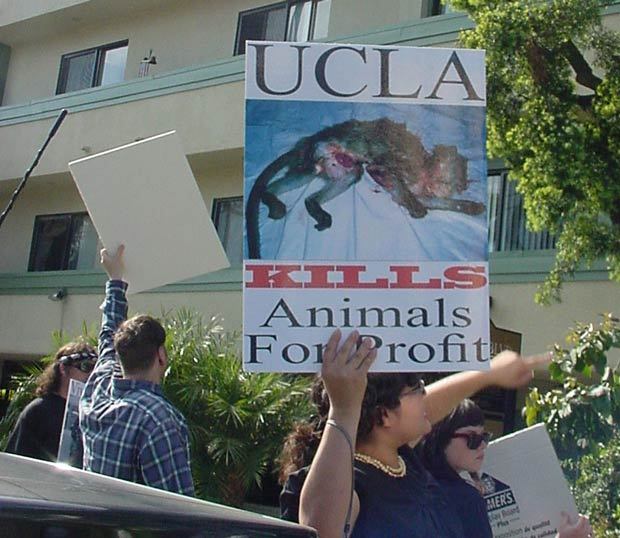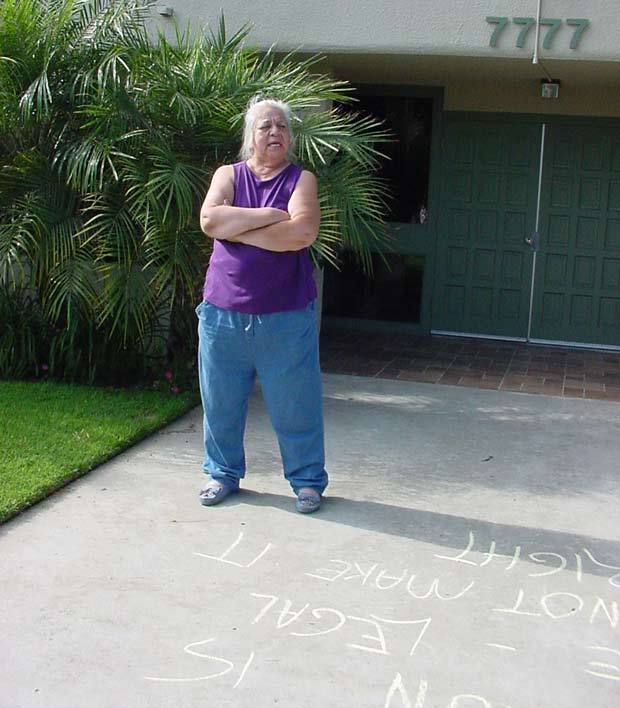 Peter Anton's crazy neighbor
Activists gathered for a meeting, some delicious vegan food and four mobile demos on behalf of the primates imprisoned in agony and terror inside the labs at UCLA. An exciting DVD of a dramatic protest which included civil disobedience which took place years ago at Yerkes Primate Research Center in Atlanta, was shown at the meeting . After the DVD was shown, activists headed out to the first stop on the mobile demo agenda!
The first demo of the day was at the current home of Edythe London, an evil primate vivisector who addicts primates to crystal methamphetamine and nicotine and then kills them to study their brains. In the past year, Edythe London has been the recipient of two underground actions; one was the flooding of her home, the other an incendiary device which caused fire damage to the entrance of her home. One of two anonymous communiqué's written after the actions stated in part that :
"We found your million dollar house in Beverly Hills on the windy night of Saturday October 20, we discovered you weren't home so we snuck around to your backyard. First we effectively clogged the intake drain of your pool pump. It probably ran dry for a couple of hours and burned itself out. If it didn't happen, wait for it. It will. Next we smashed a window and inserted your garden hose, turned on to full blast of course. Bet you were surprized when you came home. Edythe do you have flood insurance?"
The next one stated in part that "Edyth London, you and your work are deplorable. You are given paychecks in exchange for addicting primates, the closest kin that the human species knows, to numerous sickeningly addicting drugs like crystal meth. For forcing these innocent and sensitive beings to suffer through a type of hell that they would never encounter if it wasn't for your deranged science you deserve to know true justice. This is why on February 3rd 2008 we left an incendiary device at your house at 1246 Shadybrook in Beverly Hills. Edyth, the fire that night was exactly ther size we wanted it to be. It was just a little outreach because we want to see you make the sound ethical choice to stop vivisecting primates. We know what we are doing and fires can be much larger. "
Above ground picketers had been picketing her neighborhood legally and peacefully for several months, but activists were told at the last picket by a sympathetic neighbor that she had moved from the home on Shadybrook several months earlier and her home in Beverly Hills was up for sale. Activists had no idea where she moved, but within the last two weeks, students at UCLA apparently received anonymous information as to her current address and passed this information on to some picketers! Finally after several months of picketing a neighborhood where she no longer lived, activists were able to engage in a picket in the neighborhood where she currently resides in a new multi-million dollar home.
As soon as activists walked down the street towards her home at 10256 Edgeley Place, someone inside her residence turned on the alarm system and activists could hear the alarm going off! But activists continued their legal and constitutionally protected demonstration which allows those with grievances to try and get them addressed and to exercise their free speech that our forefathers fought and died to protect. Of course with the corruption of law enforcement, the state and those with lots of money like UCLA, these wanna-be dictators have continuously attempted to silence the voices of those who dissent, which is one reason why a federal lawsuit was filed against UCLA and their nazi police force by activists nine months ago and is working it's way through the courts. After picketing the neighborhood for about fifteen minutes, three bright yellow security vehicles sped up to the home, most likely thinking that someone broke in, only to find activists simply educating the neighbors!
Activists departed to continue the mobile demos in the neighborhood of another perverted primate vivisector, Arthur Rosenbaum who happens to live within a three minute drive of London's residence!
Rosenbaum has a chance this August to not renew his horrific primate experiment grant and activists are hoping that he realizes how fraudulent and immoral these experiments are and therefore will not renew his grant. Hopefully Rosenbaum will let activists know in a written statement that he is no longer going to vivisect primates so that activist don't waste their time continuing to picket his neighborhood. But until this is confirmed, activists will continue to educate his neighbors as to what this vivisecting scum-bag does for a living.
The next stop on the "hit parade" was the vice-Chancellor of research at UCLA, Roberto Peccie. When activists arrived in his neighborhood, Peccie came out to his gate, furious that activists had the nerve to attempt to get redress of their grievances by peacefully marching on a public sidewalk near his expensive home! Well Peccie, get used to the fact that we're not living in a total police state (at least not yet!) and that activists have the constitutional right to engage in picketing. It appears that all these wealthy vivisectors seem to think that because they are wealthy and are protected by the powers at UCLA, that they are above the law; but they put on their pants one leg at a time just like everyone else. In fact, it is not only important to picket those who are engaging in evil and immoral acts against innocent sentient beings, but a duty that we all should entertain.
Last stop was primate vivisector Peter Anton, who oversees primate experiments in which microbicides are forced into the rectums of primates, purportedly as AIDS research. We have to wonder how Anton would feel if microbicides were force up his rectum while imprisoned in a small steel cage. Activists can only hope that this is what eventually happens to Anton and the others as punishment for the agony and suffering they have caused the monkeys they torture and then kill in their laboratories.
A mixture of reactions came from neighbors who came out of their homes to see what was going on; some just didn't want to be bothered and were upset that activists dared come into their expensive neighborhood filled with mansions, but then others were completely aghast at the vivisectors atrocities and were very thankful that they knew about the perverts they lived near; some told activists that they would do everything they could to help the cause and the poor primates being tortured. In fact, one neighbor even asked how he could join in the next demo since he was an animal lover!
All in all it was a great day that was not only effective for the primates imprisoned inside the labs at UCLA, but also a great way to educate the public as to what is being done with their tax dollars to innocent primates behind the cement walls and locked doors at UCLA.
See You In The Streets List Serve is not an official "organization," but rather a posting group forwarding announcements of animal rights events, articles, news, and upcoming demonstrations and their " wrap up's" in or around Los Angeles. SYITS does not advocate or encourage illegal activity and assumes no responsibility for written content it receives and forwards or occurrences at demonstrations it announces.
For all the pictures, click on the link below! If you want to read the titles, click on "slow" and then put your mouse over the title to read in full.

http://s137.photobucket.com/albums/q229/YOUR_protest_pictures/2008-07-13%20UCLA%20Demos/?albumview=slideshow
See You In The Streets


Homepage: http://la.indymedia.org/news/2008/07/219137.php
02.08.2008 16:31
The site

http://www.uclaprimatefreedom.com
has been closed due to a court order but the campaign link below is still working for anyone who wants to learn more!
UCLA Primate Freedom Project


Homepage: http://uclaprimatefreedom.com/campaign.html
---