GRASS Watcher | 28.07.2008 16:48 | Education | Free Spaces | Social Struggles | London
The New Wembley Park Sports Ground Campaigners have made a call out for more assistance. Barricades are going up, already halting today's work on the privatised Ark Academy school. Meanwhile, the council have appeared and hit the five businesses, including the sports ground itself, with immediate eviction.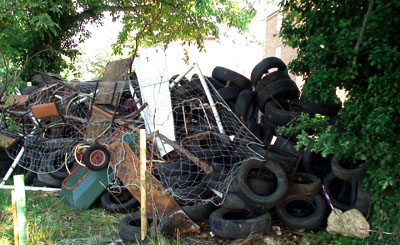 Barricade - Ain't Nothing Coimng In
The new campaigners - Grass Roots Alliance for Social Spaces (GRASS) - on the Wembley Park Sports Ground have again called on people to join them, help save the sports ground and green spaces and fight UK school privatisation.
The barricades have gone up, blocking the only entrance available for construction vehicles to enter the site and begin work. The workers arrived this morning and, with just a few hard-working people struggling through the night to erect the barricade - halted today's work.
After the workers reported in, in an unbelievable turn of events, Brent Council representatives, after months of false promises, arrived on site, turned round to sports ground caretaker Peter Morning and said: "WE DO WHAT WE WANT TO DO, HOW WE WANT TO DO AND WHEN WE WANT TO DO!"
This morning the council issued all businesses on the site with eviction orders. Everyone must leave on Wednesday 30 July 2008. This comes after all businesses were promised relocation. That never happened. The council put all businesses on a "tenancy at will" lease during the month of July - giving the council the opportunity to evict the businesses at a minute's notice. That expired last week. The council then threatened the businesses into signing a new "tenancy at will" or face immediate eviction. Businesses refused and talks started to extend their time till the end of August.
Today's blatant axe-wielding of power is nothing short of fascism. A total abuse of power and, yet again, highlights what respect the elected representatives of Brent Council have for their people.
The anger across the community is building now, from the teachers to business owners, to school kids.
Come and join, visit or just help out. Stop This Here.
A short video of one GRASS campaigner can be seen here.

http://jasonnparkinson.blogspot.com/2008/07/wembley-sports-ground.html
All video and still are (c) Jason N. Parkinson 200 All Rights Reserved.
Stills are used with the kind permission of Freelance Video and Print Journalist Jason N. Parkinson, who has been documenting the campaign for a year.
GRASS Watcher