Lux | 20.06.2008 13:50 | Culture | London
To celebrate the launch of Archivos OVNI, an artists' film and video archive from the Centre for Contemporary Art Barcelona at LUX 28 Toni Serra *Abu Ali, the founder of the project presents a special screening of selected works followed by a discussion with filmmaker Xavier Hurtado.
ADMISSION FREE, to book a place email

salon@lux.org.uk
LUX 28, 28 Shacklewell Lane, London E8 2EZ www.lux28.org.uk (train: Dalston Kingsland overground,?bus: 236, 242, 243, 149, 76, 67)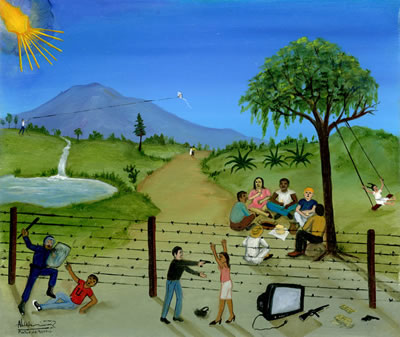 Archivos OVNI
The works in this programme offer a journey through different experiences of critique and exodus. The critical vision they offer isn?t only aimed at the specific social and political realities, but also at the concept of the ?real? itself, the perceptions that make this reality it possible, and the grammatical structure that sustains and consolidates it, in order to propose and evoke different experiences of exodus and resistance.
En D?cimas las Propiedades del Lim?n
Xavier Hurtado
USA / Colombia / Spain, 2000, 8'
A map of healing territories, Brooklyn (New York) - Bogota (Colombia). Conversations with Hector Malab?, a homeless Puerto Rican from Greenpoint, and the Spanish/ritual/spiritual properties of the lemon, sung by an anonymous Afroamerican from Colombia's caribbean coast
?
El R?o de las Estrellas?
Xavier Hurtado
Colombia / Spain, 2002, 25'
?
A succession of mysteries are repeatedly ordered and observed. A ritual for creating meaning. Dreaming, a daily exercise in the free interpretation of reality.
?
Nawpa [0.1]
Xavier Hurtado
Ecuador / Spain 2004-2007, 13'14''
In Ecuador, the indigenous movement has one of the longest and most intense traditions of resistance in the history of modern Latin America. Cesar Pilataxi, a Kichwa man from the Andean region, explains the reasons behind the confrontation between his community and Western interests
?
Abajo el COLONialismo
Venezuela, 2005, 30'
Calle y Media Cooperativa
A thirty minute documentary that captures the actions of the Caracas peoples? movements that pulled down the detested statue of Christopher Columbus (Cristobal COL?N in Spanish) in Plaza Venezuela on the 12th of October 2005. Through its simplicity, this small but historic event opened up new paths in the anti-COLONial subjectivity of the people by provoking a controversy that led to complex debate. Their action opened up thousands of discussions, not just about the depth of the COLONial aculturalisation that we have been subject to as peoples, but also about the danger that the Bolivarian Revolution be used as an alibi by the bureaucratic processes that deny the people their collective and sovereign power to act. This documentary gives voice to the people?s struggle for autonomy and continental rebellion that has been gestating for centuries in the belly of Pachamerika.
--
June 26 - July 26, Wednesday to Saturday 12-6
Archivos OVNI
LUX 28, 28 Shacklewell Lane, London, E8 2EZ
Founded in 1993 Archivos OVNI (Observatorio de Video No Identificado) is an independent artists? video archive project based at the Centre for Contemporary Art in Barcelona. The aim of the archive is to collect and disseminate works that challenge prevailing western mass media representations of the world and give a voice to unrepresented people and cultures. The archives are unique in that they cut across moving image disciplines: from video art to independent documentary and mass media archaeology, they draw together extraordinarily diverse works which share a commitment to personal expression.
The Archives are the core of the OVNI project, but rather than being a static resource they are conceived of as part of a dialogue which aims to encourage an ongoing critique of contemporary culture and society. This dialogue is realised through the collection and dissemination of works; through the screenings and debates which OVNI hosts; through the collaboration with other agencies and the staging of aspects of the project across the world in places as disparate as New York, Amman, Casablanca, Istanbul, Amsterdam, Bogot?, Buenos Aires, Mexico, Tijuana, Marseille, Paris, Stuttgart, Graz, Brescia, Lecce, Madrid, Lugano, Valencia and Seoul.
Archivos OVNI presents the project for the first time in London with a specially curated selection of works presented at LUX 28 in the form of a video library and weekly screening programme. The selection particularly focuses on questions of exodus and resistance, two principal themes within the archive, and the tensions that draw a line from subjective experience to specific social and political realities.
Over 100 works will be presented, including Xavi Hurtado?s Nawpa [0.1] which explores indigenous resistance to western interests in Ecuador, Calle y Media Cooperativa?s Abajo el COLONialismo, a documentary about anti-colonialism in Venezuela, Nahed Awwad?s Lions, an eye witness testimony of the invasion of Ramallah, Dallia Ennadre?s El Batalett which follows a group of Moroccan women in Casablanca?s old Medina and Electronic Lebanon?s From Beirut to? those who love us, a series of broadcasts from Beirut during the 2006 bombings.
a full list of works available to view at LUX 28 is available on? www.lux28.org.uk
Lux


e-mail: salon@lux.org.uk


Homepage: http://www.lux28.org.uk