Friends | 26.05.2008 17:39 | Migration | Repression | Terror War
Hicham Yezza, a popular and active member of the academic community at the University of Nottingham, was recently arrested along with another student. After six days of detention, both were released without charge [1]. Hicham was re-arrested on immigration grounds. He now faces imminent deportation to Algeria wihtout due process [2]. There is widespread concern at the proposed, imminent deportation.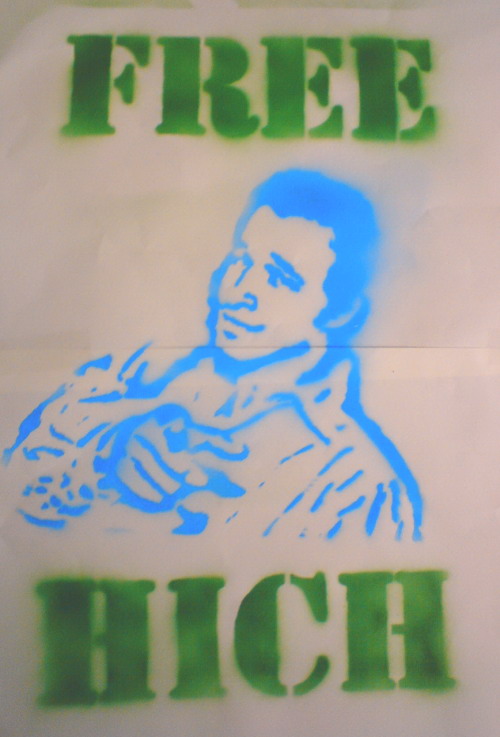 Hicham Yezza, know to his many friends as 'Hich', has lived, worked and studied in Nottingham for the past 13 years. He won a scholarship to study for undergraduate and postgraduate degrees, and was later employed by the University of Nottingham [3]. During this time, Hicham has built up a broad social network and developed strong links within the University and the local community.
Hicham is the long-time editor of Ceasefire magazine, the political journal of Nottingham Student Peace Movement [4]. Hich's vision for Ceasefire is a forum for the free exchange of many views, ideas and perspectives; to work for peace, understanding and progress through dialogue and discussion. In the Editorial of the latest edition of Ceasefire, Hicham wrote, "We believe in the power of ideas and we would like you, dear readers, to join us in our quest for a more sustainable, better-run world."
Musab Younis, a student and member of the Ceasefire Editorial team said, "Hich is a wealth of knowledge and understanding. His perspectives and humanity shine through in his work and all that he does. His vision and resolve have been integral to the functioning and success of Ceasefire."
During his time at Nottingham, Hicham has served as a member of the Student's Union Executive Committee, and on the University Senate [5]. He was President of the Arabic Society, and was the Editor of the influential Voice magazine for international students.
He was a prominent member of the music and dance group 'Al-Zaytouna', and weeks before his arrest performed the leading role in a music and dance performance at Nottingham Arts Theatre. Ahmed Masoud and Aliaa Naja, directors of Al-Zaytouna said, "Hicham's tremendous contribution to Al Zaytouna group is in his continuous encouragement to the team to promote dancing as a way of cross cultural awareness."
Hicham is respected and liked by many at Nottingham and across the UK. Ben White, professional journalist, writer and member of the Ceasefire editorial committee, said, "Hicham has always struck me as a man of profound humanity, humility and gentleness. Hicham is a man committed to discussion and dialogue. To deport him would make a mockery of the kinds of principles of fairness and justice the British government is meant to represent." [6]
Hicham was originally arrested for alleged possession of 'radical material'. This was in fact a research document, widely accessible on the Internet, which Hicham had agreed to print for Rizwaan Sabir, as the MA student did not have enough printer credit to print the 1,500 page document himself. Chloe Cheeseman, Environmental and Social Justice Officer of the Students Union Executive said, "I am outraged that Hicham was arrested and detained, after doing a favour for a friend. That he now faces such a hurried and unfair deportation is ridiculous."
Hicham was prepared to contest immigration charges in a court of law, and had a hearing date set for 16th July. The immigration services have since announced that they have dropped charges and intend to deport him on Sunday 1st June. Consequently he has been denied the right to a hearing.
Hich's MP, Alan Simpson, has written to Liam Byrne Minister of State for Borders and Immigration to express his concerns at what he decribed as an "arbitrary deportation with no right to a proper hearing." Nick Palmer, MP for Broxtowe said, "I hope that Mr Yezza will have his case fully and fairly considered without any rush to deport him before all the facts are clear."
The growing campaign to halt Hicham's deportation, and ensure that he gets the fair hearing to which he is entitled, is testament to his good nature and character, and indicates the high level of respect that his held for him at Nottingham and further a-field.
Supporters have been able to speak with Hicham and he expressed his gratitude for all that had been done for him: "I thank everyone for their support - it's been extremely heartening and humbling. I'm grateful to everyone who has come to my aid and stood with me in solidarity, from students to Members of Parliament. I think this really reflects the spirit of the generous, inclusive Britain we know - and not the faceless, brutal, draconian tactics of the Home Office."
Contact the campaign:
Phone: 07948590262
Email:

staffandstudents@googlemail.com
Website:

http://freehichamyezza.wordpress.com/
[ENDS]
Notes for Editors:
[1] Hicham's arrest took place on Wednesday 14th May. Rizwaan Sabir, an MA Politics research student was also arrested. Both were released without charge six days later. It has subsequently become clear that these arrests, which related to so-called "radical materials" involved an Al Qaeda manual downloaded by Sabir from an official US Government website, as part of his dissertation research into political Islam, and emailed to Yezza for printing.
[2] Hicham was re-arrested under immigration legislation and, due to confusion over his visa documentation, charged with offences relating to his immigration status. He sought legal advice and representation regarding these matters whilst in custody. On Friday 23rd May, the Home Office informed his solicitor that he was being removed on Sunday 1st June and Hicham was moved to an immigration detention centre.
[3] Hicham is employed as PA to the Head of the School of Modern Languages and Cultures, Professor Lesley Milne.
[4] Link to Ceasefire website:

http://ceasefiremagazine.co.uk/
[5] University Senate position held 2004 to 2005.
[6] Ben White's work appears in publications such as the Guardian's 'Comment is free', the New Statesman, and many others.
Friends


e-mail: staffandstudents@googlemail.com


Homepage: http://freehichamyezza.wordpress.com/