Ed | 20.03.2008 19:18 | Social Struggles | Workers' Movements
Thousands of Job Centre and benefit office staff carried out a 48-hour strike this week against a new three-year pay deal.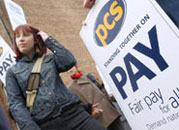 It was the second 48-hour stoppage in protest of the imposed three-year pay deal, which works out as an average 1% a year for some staff.
Pickets had been outside Department for Work and Pension (DWP) offices across the country and the strike has been "solidly" supported though the DWP claimed that all of their offices were open for business as usual. The Public and Commercial Services (PCS) union claimed jobcentres and benefit offices were closed, and those that remained open offered little or no service to the public.
A striking worker on a picket line outside a DWP office in central London said: "We perform a vital job in helping the unemployed back into work and paying pensions and benefits to millions - we should be valued for this work". More than half of DWP staff earn less than £17,700 and some as little as £12,500 a year.
The union has called on the department to scrap plans to spend millions of pounds on bonuses and use the money to ensure that all staff receive a pay in line with inflation.
Ed


Homepage: http://libcom.org/news