Hands Off Venezuela | 17.07.2007 11:58 | Free Spaces | Social Struggles | Workers' Movements | London
Hands Off Venezuela is very proud to present the premiere of "No Volverán - The Venezuelan Revolution Now," produced by two members of our campaign, on Wednesday July 18th from 7pm, Bolívar Hall, 54 Grafton Way, London W1T 5DL, nearest tube Warren Street, free entry. Copies of the film will be available and the filmakers are happy to speak at any screenings that you might want to organise.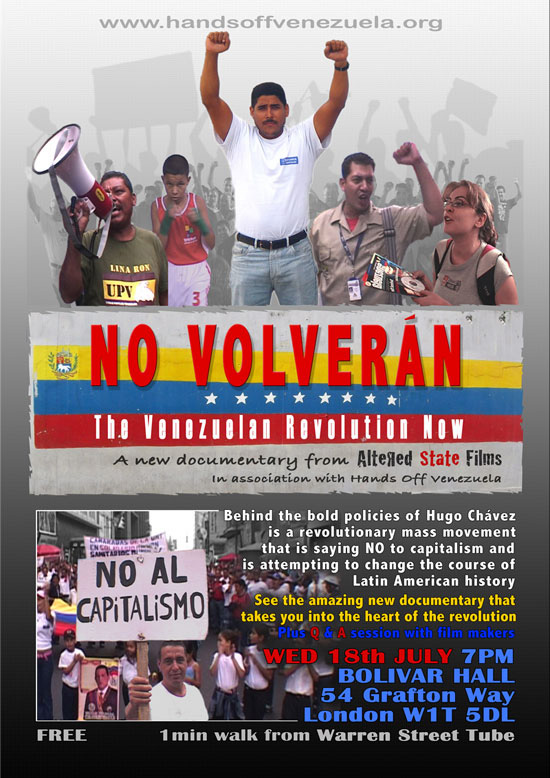 flyer
From the makers of "Solidarity" and the Sanitarios Maracay short film series comes "No Volverán - The Venezuelan Revolution Now," an exciting feature length documentary about the Venezuelan Revolution.
In this in-depth investigation the film makers take us on a journey through the fervor of the Presidential Elections in December 2006, traveling deep into the shanty towns (barrios), and to several factories under workers' control, to find out why there is a movement to overthrow Capitalism, what Socialism of the 21st Century is, and how it is changing people's lives.
Community activists show us around their neighborhoods in the barrios to see first hand how difficult life is for the urban poor. Residents tell us how they used to struggle daily against poverty, crime and police brutality. They felt abandoned by previous governments, and when they tried to organise they were often oppressed.
But life here has clearly changed. We meet Guadalupe, a member of staff at a new community centre, which was formally a police station and a place of repression. She tells us the amazing story of how the surrounding residents joined together, evicted the police force and occupied the building. After a long struggle, with the help of a revolutionary city mayor, they took it over and converted it into their own radio station with education and training facilities.
Oscar Negrin, along with other activists, explains to us how much of this is now possible due to a new revolutionary form of participatory democracy; that of the Communal Councils. Come along to the screening and find out more about how the Venezuelan people are taking control of their own lives, despite sabotage and violence from the right-wing elite, and are insisting that "there's no going back!"
Hands Off Venezuela


e-mail: london@handsoffvenezuela.org


Homepage: http://www.handsoffvenezuela.org/world_premier_of_no_volveran_-_the_venezuelan_revolution_today.htm