nes | 05.01.2007 18:12 | Climate Chaos | Ecology | Health
Manchester Bicycle Exhibition will be taking place from Friday 30th March to Friday 20th April at The Basement, 24 Lever Street Manchester M1.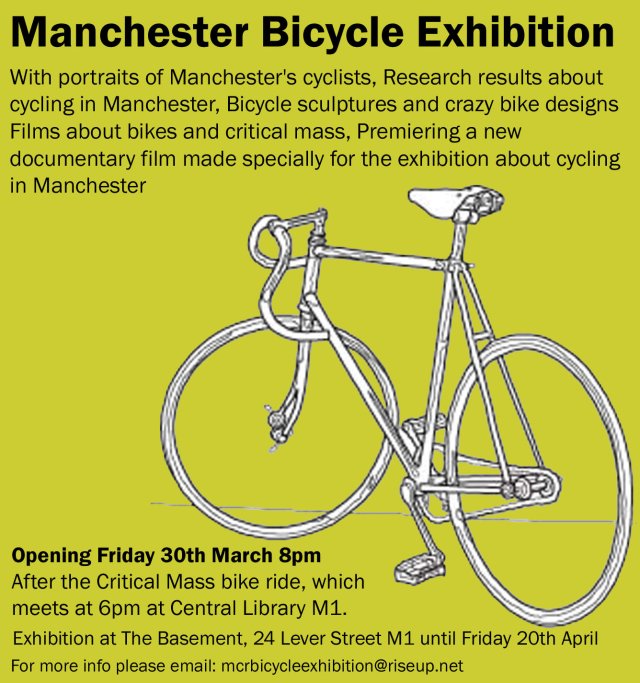 With portraits of Manchester's cyclists, Research results about cycling in Manchester, Bicycle sculptures and crazy bike designs, Films about bikes and critical mass, Premiering a new documentary film made especially for the exhibition about cycling in Manchester.
Opening Friday 30th March 8pm
After the Critical Mass bike ride, which meets at 6pm at Central Library M1.
Exhibition at The Basement, 24 Lever Street M1 until Friday 20th April
If you'd like to play music at the opening night event or if you'd like to put on a bicycle related workshop or event whilst the exhibition is on, get in touch!
The kinds of events/ workshops we hope to add to the timetable include bicycle polo class, bicycle mechanics, how to build a pedal powered television/blender etc, countryside bike ride etc etc.
Email:

mcrbicycleexhibition@riseup.net
We will post a full list of al the cycle related events that will be taking place during the exhibition soon. Please email to be kept updated.
nes


e-mail: mcrbicycleexhibition@riseup.net


Homepage: http://velorution.x21.org.uk