Rebel W | 02.12.2006 20:31 | Faslane | Anti-militarism
A small group of protesters at Faslane Naval base were arrested at around 18:30 for holding a nativity-themed blockade at the North Gate to the base. The group of radical Christians are currently being taken to Clydebank Police Office to be held, presumably until Sunday afternoon or Monday morning.
Yet another day of the Faslane 365 blockade ended as the police broke another weird and wonderful lock-on device. And tomorrow being advent Sunday, and thus, the beginning of advent, it seemed only appropriate that Mary, Joseph and the (lock-on-device-aka-) Donkey should arrive at the gate, only to be sent away again. Better put, it would be appropriate if you're part of Prayer-i58, the radical Christian-based anti-authoritarian network.
Not getting what they wanted, they sat down and police moved in to arrest them, discovering over £50 worth of locks and chains holding the pair in place. After some time spent cutting them out, the police took them to the holding area just beyond the base, before beginning their journey to cells for the night.
Having phoned around, legal support can confirm that the pair are en route to Clydebank Police Office, where many other 365'ers have been held over the recent weeks. The total arrests number currently stands at 327 arrests (as shown on the F365 website). As today is a Saturday, it is possible those arrested might be inside until as late as Monday afternoon.
Rebel W

03.12.2006 04:37
They've been taken to Clydebank, they'll get released on Monday, albeing well?


Rebel W

---
03.12.2006 23:19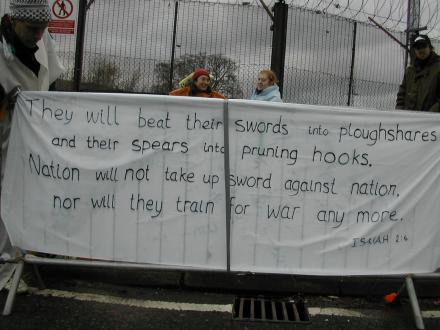 Banner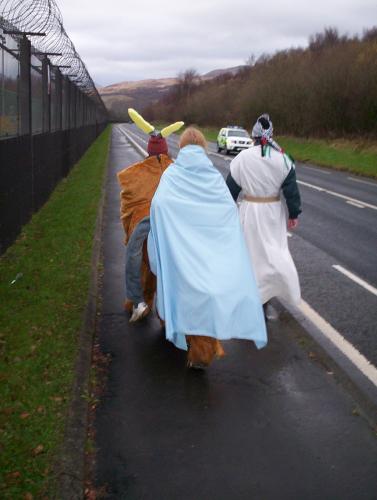 Mary, Joseph and the donkey
Here's a couple of photos from the blockade
Steven


Homepage: http://www.faslane365.org/en/prayer_i58/prayer_i58_photo_gallery
---
05.12.2006 16:41
We were let out on Sunday morning, much to our surprise (I didn't get to read most of the books I had brought) and treated very well by the police in the meantime (my first arrest - I was surprised at how decent Stratclyde Police were to us). We'll be posted the usual Grumpy Letters but that's all.

Info for subsequent blockaders - our tactic of using lots of skinny cables between & around us, all tangled up together and hidden in amongst squishy foam & fur fabric, worked very well - it took the police a lot longer to cut them all than it probably would have to cut a few D-locks. Geeky fellow-blockaders talked a lot about 'massively parallell' here.

Thanks to those who helped, supported, & prayed.
'Donkey's Bottom'
donkey's bottom

---