rikki | 31.03.2006 22:20 | SOCPA | Repression
judge anthony evans adjourned until next week after hearing the evidence against socpa activist mark barrett at bow street magistrate's court today. he will give a written verdict on wednesday morning after considering human rights arguments in the interpretation of the law.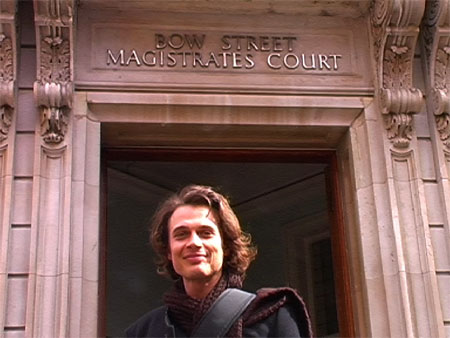 mark barrett outside bow street court
mark has been involved in the regular sunday afternoon picnics at parliament square where people meet to campaign against the serious organised crime and police act (socpa) 2005 section 132 which outlaws spontaneous protest around parliament. the picnics have been held on a weekly basis since the draconian law came into effect last august.
mark was arrested on the 28th august while participating in one of those regular picnics, when police decided that it was not a picnic, but a demonstration.
before entering the court, in an unorthodox arrangement, mark could be seen in intense conversation and some bartering with the prosecution barrister who was trying to get mark to sign statements which appeared prejudicial to his case. as mark was defending himself, he cautiously refused these invitations.
judge evans entered the court wearing a granite grey three-piece suit, white shirt and dark tie with subdued motifs. he had a bald pate, with tufts of white hair above his ears, which together with his modern rimless large-lensed spectacles gave him an owl-like visage, his beak substituted by a down-turned mouth that signified a slightly bored, sour demeanour.
police witness pc tanya sherwood described how she received a call at 3.15 and attended parliament square where she saw a group of no more than 15 people sitting on the grass. she saw mark wearing a small (a4 size) placard round his neck with the slogan 'right to protest'. she asked what the group was doing and they replied "having a picnic". she asked whether they were demonstrating and despite being told they weren't she also queried whether they had any written authorisation. she noticed that as well as picnicking, people appeared to be preparing protest placards, and there were bundles of leaflets advertising the regular picnics.
she had called inspector hart from charing cross police station, the duty officer that afternoon, and he attended fifteen minutes later. he also took the view that this picnic was in fact a protest, and suggested that as they didn't have police authorisation, as required under the socpa, they could move up to trafalgar square outside the zone, or come back another day after getting authorisation, or pack up and leave. otherwise they would be facing arrest. inspector hart expressed that he was very upset that one member of the group made some sarcastic remarks comparing the police to nazis.
under cross-examination from mark barrett, who was not represented by a solicitor or barrister, inspector david nigel hart admitted that he had been offered food by one lady at the picnic, that people had been eating and drinking, that the group posed no danger to public safety, and that they didn't look like terrorists. another police witness, pc gardner also admitted under cross-examination that the "protest" was not normal because of the picnic items, but that the placards had led him to believe it was a demo. asked whether the group posed any threat to public safety he replied "none at all".
mark barrett took the stand with an impassioned outline of his objections to the new legislation, calling it an unconstitutional, undemocratic abuse of power, designed by the powerful to deny the powerless their voice. he pointed out that it was not only people's right to protest, but that it was also their duty. he described how he had been part of the campaign against the law and had attended the weekly sunday afternoon picnics at parliament square for the past eight months since the law's inception. the campaign sought to challenge the law creatively and imaginatively in order to show it as unworkable and untenable, and on that day they had planned to hold a banner-making workshop in order to prepare placards for future protests, but that there had not been any plan to use the placards to demonstrate at that time. mark's own decision to wear the small placard in the square was a spontaneous one, and under the law, that would have been illegal under any circumstances as the police required a minimum of 24 hours application, and normally six days. this was an important point in terms of the human rights issues involved, especially as politics and protest are often a matter of spontaneous passion.
the prosecution questioned mark and showed that he had been a part of a concerted campaign against this law, that he had been wearing the 'right to protest' placard, that he could have applied for authorisation for the weekly meetings and had chosen not to, and that by wearing the placard he had been externally manifesting his political views, which according to dictionary definitions could be regarded as a demonstration.
mark was at pains to point out that he was certainly not trying to 'wriggle out' of the charge on technicalities, but it was important to have a clear legal definition of what a 'demonstration' is, as the law is very vague on this point. he asked the judge that if he were found guilty on the facts of the case, that the judge give some clear definition for future reference. it became clear that on the facts alone, the judge seemed satisfied that mark had indeed been demonstrating, so really the case hinged once again on human rights legislation.
a magistrate's court does not have the power to declare a law incompatible with human rights law. only a high court or above can do that. however, under current legislation a magistrate's court can consider whether the particular application of a law can be reconciled in a way which accords with the underlying thrust of human rights legislation.
mark's case defence focussed on the fact that his own demonstration that day was a spontaneous one, and that within the legislation it was impossible for him to comply with the law as it required him to give 24 hours notice, thus denying him the freedom of expression guaranteed (with provisos) by human rights legislation.
the prosecution suggested that human rights provisos allow the state to impose certain conditions on demonstrations in order to ensure that the remain peaceful and so on, and that in order to do so, it is proportionate to suggest that some prior notification be made, and if this process of authorisation itself is reasonable, then that there must be some sanction available to the state in order to enforce this need for process. as that sanction (in the case of participants) is a low (level 3) fine, then it too could be regarded as a proportionate penalty for those that disobey the law. he pointed out that mark had had the option to apply for prior authorisation for the picnics, that he had had the option to move that day to trafalgar square, that he had been abundantly warned of the likelihood of arrest if he chose to continue, and that therefore the response had been completely proportionate.
judge evans decided that he needed time to reach a decision on the human rights arguments in this case, and adjourned the court until next wednesday 5th april when at ten o'clock he will hand down a written verdict.
if, as is likely, mark is found guilty, then he will be appealing to the high court.
for more information on the continuing sunday picnics, see www.peopleincommon.org
rikki


Homepage: http://www.peopleincommon.org