zapatista esperanza | 03.01.2006 15:46 | Social Struggles | Zapatista | World
On january the 1th 2006 the zapatistas started the "Other Campaign" with a 20.000 people demonstration in San Cristobal de las Casas, Chiapas, Mexico.
The "Other Campaign" means trying to establish a political counterweight to the ruling class in Mexico - and the world by forming an anarchist network of groups and individuals from below, worldwide...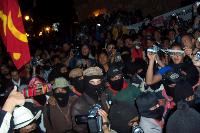 the arrival of "Delegado Zero" - which is Subcommandante Insurgente Marcos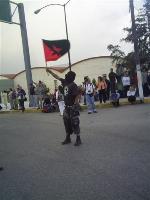 zapatist in San Cristobal de las Casas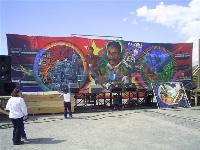 the stage before the 20.000 people arrived...
- "CREATING A WORLD IN WHICH MANY WORLDS FIT" -
"La otra campana", the "Other campaign" is also the counterpart to Mexicos election campaign this year - "candidate" of the "Other Campaign" will be Sucommandante Insurgente Marcos - "delegado zero", wich means "nobody": the zapatistas don´t want to take control, to have power - they want an anticapitalistic, anarchist society. They want to create "a world in wich many worlds fit". "Delegado Zero", Marcos, will travel around all over Mexico and talk to groups and individuals. The city where he first arrived, and where the "Other Campaign" started, was San Cristobal de las Casas - one of the cities that once was occupied by the Zapatistas, when they started their rebellion in 1994.
At about 1 p.m. Zapatistas and supporters from all over the world met in San Cristobal. At 5 p.m. more then 20.000 Zapatistas with masks over their faces stood there without talking. It was a very strange moment. Then "Delegado Zero" arrived: People began to cheer and moved into the city centre, shouting slogans like. "Zapata vive. La lucha sigue" "Zapata (a revolutionary farmer) lives. The struggle goes on."
A few hours later the City centre was full with Zapatistas. Fom a stage, 5 people, 3 men, and 2 women talked to them. The speeches were held against capitalism, "the culture of death", and aimed towards equality of men and women and towards and anarchist society.
The last who spoke was "Delegado Zero", Sub. Marcos, who stressed that the "Other Campaign" is not political mainstream, is not on the side of the institutionalised left, but is anticapitalist, anarchist and free.
He shouted: "Viva la otra campaña!"
At the moment the whole city of San Cristobal is full with Zapatistas wearing masks, talking, eating, sleeping. A truely surreal scenery.
------------------------------------------------------------
pics on:

http://chiapas.indymedia.org/display.php3?article_id=116904

http://chiapas.indymedia.org/display.php3?article_id=116858

http://chiapas.indymedia.org/display.php3?article_id=116869

http://chiapas.indymedia.org/display.php3?article_id=116862
------------------------------------------------------------
zapatista esperanza