Loesje | 21.10.2005 13:45 | Culture | Education | Free Spaces
Loesje an international NGO is searching for creative activist from the UK for an exchange next month in berlin. 19th-26th of November.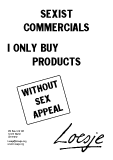 poster
Hello,
You might be interested in coming to Berlin for an Arts & Media exchange 19th-26th of November. We are currently looking for five people from the UK who are interested in for instance film making, photography, video editing and street theater. I send you here some info on Loesje and the exchange:
In Loesje we write texts that we spread on posters on the streets, to make people think and react and take the power over their own lives.
With the posters we want to reach the people that walk the streets, anyone and everyone. The texts we write are positive and often you can read them in more than one way. We have existed for nearly 22 years and are now spread all over Europe and in a lesser extent all over the world. From our web site anyone can print out posters to hang up on the wall or stick on the streets. You are also welcome to join us when we arrange text writings or other activities.
In the 19-26 of November we are organizing an Arts and Media exchange in Berlin, where our international office is residing since this summer. We have got a grant so 40 people from 8 countries can join us, so 5 people from each country. But we don't have any people from Great Britain so far... Therefore we are looking for people that would like to join such an exchange.
The deal is like this: there is a participation fee of 50 Euro, and then food and accommodation for the whole time is covered. You pay 80% of your own traveling costs, if your return ticket costs up to 150 Euro. If it costs more, you have to cover what is over 150 Euros yourself too. The exchange is for people up to 30 years of age (the age limit is because of the grant we got for it).
The program for the week is partly made up of the participants themselves, so if you would like to lead a workshop in something concerning arts and media, you are very welcome. On the program so far are workshops in photo & video documentary, theatre, creative text writing, lay outing, internet publishing and more. In groups we will explore Berlin with cameras on different themes, like media and opinion making; xenophobia, racism and tolerance; gender equality and more. All equipment will be here, so you don't have to bring a camera or so yourself, but if you have one you can of course also bring it.
The other participants come from the Netherlands, Sweden, Serbia and Montenegro, Croatia, Greece, Romania and Germany. Some of them are members of Loesje but not all.
If you are interested, send a mail to

loesje@loesje.org
and then we will send you more information. If you know someone else who might be interested, I would be very grateful if you would forward this mail to him or her.
All the best,
Loesje and Doeko
Loesje


e-mail: loesje@loesje.org


Homepage: http://www.loesje.org