Propaganda Monster | 17.09.2005 14:29 | Anti-militarism | Free Spaces | Repression | World
Embellishments of all kinds -- detention, deportation, fines -- were evident on the dogwalks this week, as were masculine details such as ASIO, security risk, threats and new anti-liberty laws. Even those signs came off more like criminogenic intellectual slavery and less harsh than the nasty, over-the -top feelings of many suspected terrorists detained last season. That's a joke son!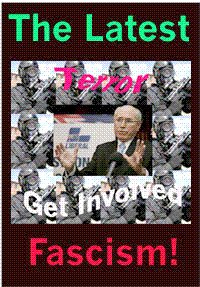 Scott Parkin fined for illegal and degrading detention
AUSTRALIA (Rooters) - While Attorney General Phillip Duddock helped wrap up a US protester for Prime Meanster, John HoWARd during Australia's Fascism Week after a 5 day detention debut and the removal of Mr Scott Parkin a peace activist who was deported back to Houston, Texas. The h.o.W.A.R.d fascism line, adding a dash of despotism to a week of largely draconian styles.
Australian authorities this week largely brought out muted laws, simple silhouettes and flawed ideology, reflecting a neo-liberal mood marked by war crimes against humanity over the war in Iraq, soaring gasoline prices and the privatisation of the Australian telecommunications giant Telstra, a big lemon.
"There were not the elements of overt concealment either. Authorities felt it was time to get away from that," fascist dictator, Philip Duddock said. While the turn in fascism tastes cannot be entirely nailed to the social climate, "when you detain, confine or deport opposition and then charge them for a laugh as your accent powers, with no opposition the mood is utterly optimistic," he said.
While the illegal detention sightings were still prevalent, a few in the fascist crowd acknowledged the devastation in the Gulf Coast region, where Hurricane Katrina left hundreds dead and thousands homeless.
The Australian government sponsored Fascism Week, and the Un-Australian Newspaper tried to sell the story. Reporter Greg Sheridan, said: "Ignore the ABC and John Pilger; the Government's anti-terror measures are modest and practical. With proceeds no doubt to be donated to Murdock Press. Foxy!
Meanwhile Prime Meanster John HoWARd slipped out of the country to attend the United Nations peace summit in New York City to stage a foolhardy "Fascism For Relief" submission.
No opposition at all by Labor leader Kim Sleazley, known for making political statements on the run, appeared at the end of the show in a RED Nazi T-shirt with a 666 number on the back and urged attendees to make donations.
INTELLECTUAL SLAVERY
Embellishments of all kinds -- detention, deportation, fines -- were evident on the dogwalks this week, as were masculine details such as ASIO, security risk, threats and new anti-liberty laws. Even those signs came off more like criminogenic intellectual slavery and less harsh than the nasty, over-the-top feelings of many suspected terrorists detained last season. That's a joke son!
Nazi colors were back in vogue, contrasting with the bold, bright hues of 1938. Adolf Hitler, Max Amnan and Reinhold Renz all stuck largely to red, grey and khaki. Fascisms staple red showed up in force in collections by Alois Schicklgruber, Gottfried Feder and Erich Ludendorff.
Big belts, machine guns, helmets, high waists large batons and buttoned-up looks were in, replacing the low-slung, belly-baring fashions seen in recent years.
The R.E.I.C.H (" Radical. Empire. Ignorant. Crimes. and Hate.") show marked the latest attempt by the dictators to cross over into the world of hate culture. The new summer, Anti-Terrorist laws if passed will make the neo-liberals runaway debut with their "track and chase" tracking devices to mixed reviews.
The fascism elite are somewhat certain of corporate brands, Halliburton's 2-year-old line has already won over some fascionistas and has been selling well at government stores like AFP, ADF, ASIO, FBI and CIA.
"I'm not doing it for the fascist world," David Slesar told Rooters before the show. "I'm doing it for me." Still, he admits to being a neocon in the world of greed culture. "I know that I'm a mongrel at it, and I've been doing this shit for a while, and I want to be in this for long haul, so don't be too tough on me yet," he said.
The show was not short on drama, with guards emerging from tricked-out cars next to the runway that bounced at various times during the show. The armory, which ran the gamut from military style weapons to handcuffs and manuals seemed to hit the right note with the fascist crowd.
"It was everything that we were hoping for," Duddock said. "Everything dealt with beautifully, and it's a collection that spanned a lot of different age groups."
Meanwhile HoWARd hoping no one thought he had anything to do with the deportation of US peace activist Scott Parkin, dressed in a business suit he simply described his latest endeavor as, "Terrorists can take advantage of poverty and therefore the elimination or reduction in poverty is of enormous value in fighting terrorism," he said.
That was after his government fined Scott Parkin almost $A11, 700 for his illegal and degrading detention and removal from Australia - the un-lucky country.
HoWARd: "Something I've always done is mix and match, but it's about making it all work together."
But how does detaining peace activists in their opposition to war make it all work together? When you want to wage an illegal and degrading war!
© Rooters 2005. All Rights Reserved.
Related:
New Yorkers Protest Australia's Deportation of American Peace Activist
Immediately following Australian Prime Minister John Howard's address at the United Nations on Friday, a delegation of concerned New Yorkers demonstrated at the Australian Consulate and delivered a letter addressed to Prime Minister Howard expressing outrage at the deportation of American peace activist Scott Parkin.
More:

http://melbourne.indymedia.org/news/2005/09/95484.php
ASIO and Anti-terror Laws attack Democratic Freedoms
The Federation of Community Legal Centres says changes to counter-terrorism legislation are an attack on Australian democratic freedoms. In Canberra former intelligence analyst, Andrew Wilkie, said that the government's national security agenda is out of control. "I think what we're seeing with Scott [Parkin] is an accelerating preparedness by the Howard government to deal ruthlessly with anyone who dares to speak out against its policy position," said Wilkie in Canberra.
More:

http://melbourne.indymedia.org/
The new terrorism: working for Peace!
Do activists pose a threat to Australia's national security?
Scott Parkin, a Texas-based history teacher and peace activist, was detained by Australian Federal police and DIMIA in Melbourne on Saturday 10Sep. Mr Parkin, who has written extensively on Halliburton [major profiteers in the Iraq war], is currently in solitary confinement without explanation. He is involved with the The Houston Global Awareness Collective. But, according to ASIO and the Attorney General, Mr Parkin poses "a threat to national security." Mr Parkin's visa has now been revoked and he has agreed to deportation.
More:

http://perth.indymedia.org/
US Peace Activist to be Deported
Scott Parkin, a Texas based peace activist was detained by Federal police at approximately midday Saturday. He was en route to give a workshop about the progress and success of the peace movement in the US and companies profiting from the Iraq war.
More:

http://sydney.indymedia.org/
Scott Parkin
The rapid and widespread response to the detention of US peace and global justice activist, Scott Parkin, has been heartening and effective on many levels. Actions have taken place in Melbourne, Sydney, Brisbane, Cairns and outside several Australian Consulates in the United States.
More:

http://www.geocities.com/publik16/feature
No to Howard's police state!
PM John Howard announced on September 8 an "unusual but necessary" increase in the state's repressive armament, supposedly to fight the "war on terror". Taking his cue from British PM Tony Blair following the terrorist bombings in London, Howard is seizing the opportunity to introduce draconian new "anti-terror" laws, adding to a plethora of existing "anti-terror" legislation. The new laws will, according to many commentators, move Australia decisively towards becoming a police state.
More:

http://www.greenleft.org.au/
'BAFFLED' PEACE ACTIVIST GETS $11,700 BILL
American peace activist Scott Parkin arrived back in the US today under guard after Australian authorities detained him in a Melbourne jail for five days for being a "national security risk".
The 36-year-old Texan history teacher says he was made to feel like a terrorist and a criminal and remains baffled as to why six police officers "s…
More:

http://www.stopwarcoalition.org/
Propaganda Monster


e-mail: gkable@hotmail.com


Homepage: http://www.geocities.com/publik16/news2