Indy Scotland | 02.02.2005 21:06 | Culture | Globalisation | Indymedia | Zapatista | World
"The art world belongs to everybody. It is not just for the illuminated that have access to the so-called temples of art. It's like the history made by the people and now it is up to us to make worlds where many worlds fit, to paint them, to sing them, to write poems to the free men and women and to sing and sing. Let the words and the music and the poems and the colours announce that art belongs to everybody and is for everybody, like this world, like these dreams, like freedom!". Gustavo C. P.


[Edinburgh Chiapas Solidarity Group | Glasgow Zapatista Solidarity Group | Indy UK Zapatista section | IMC Chiapas | Indy Scotland ]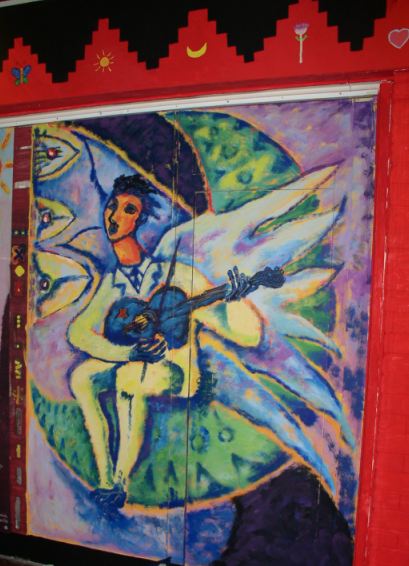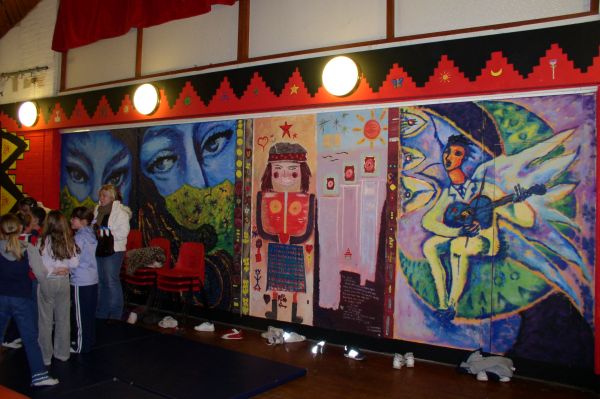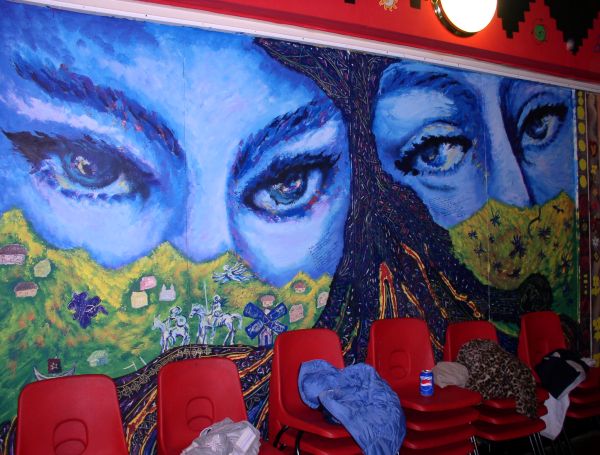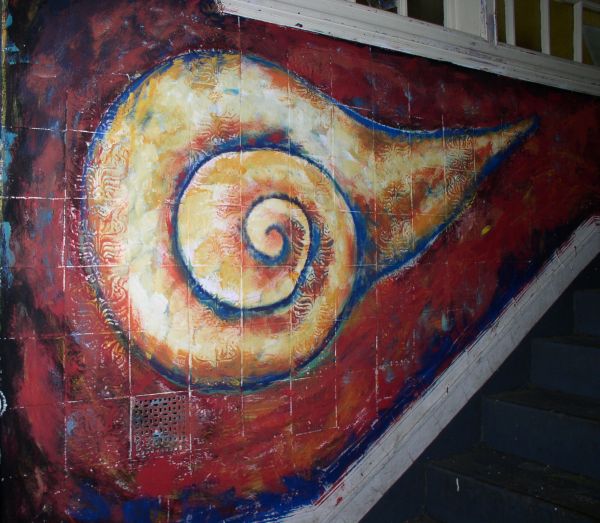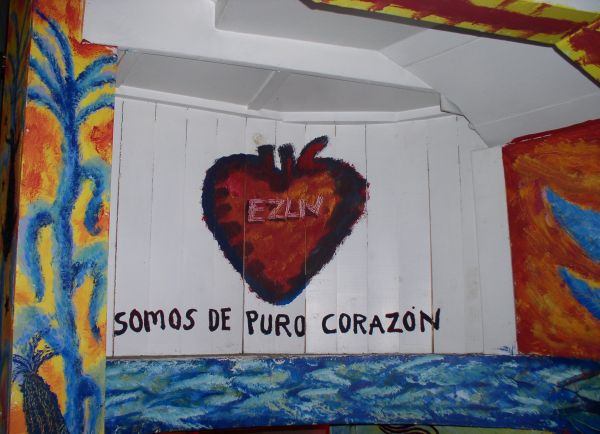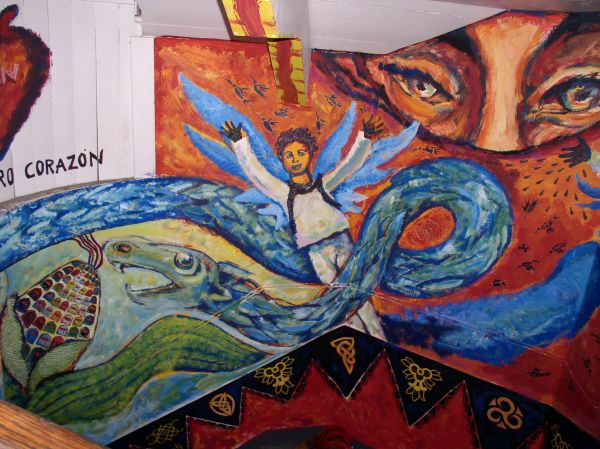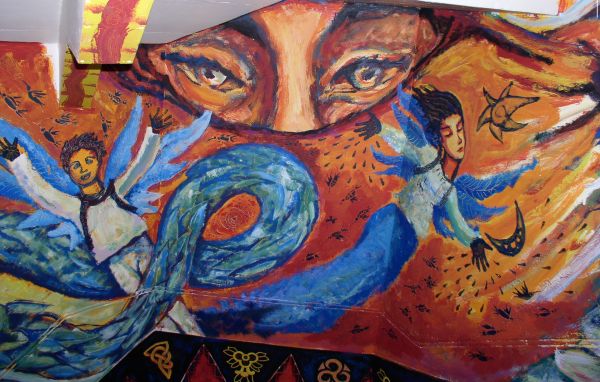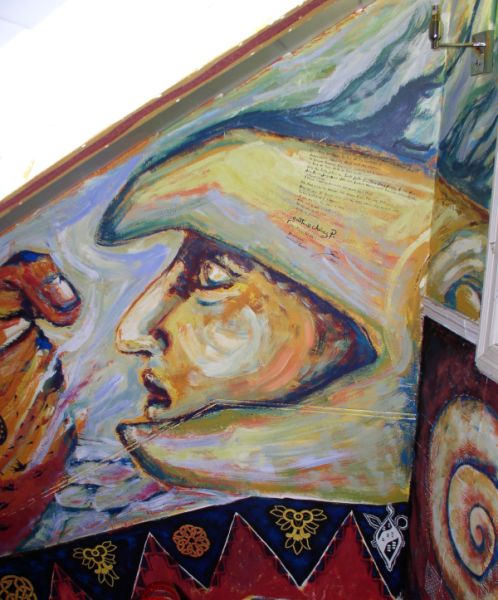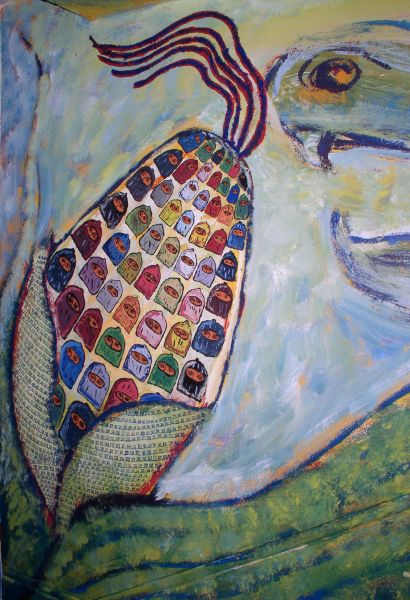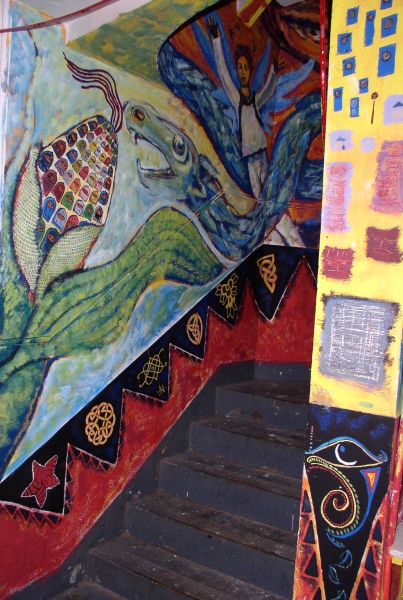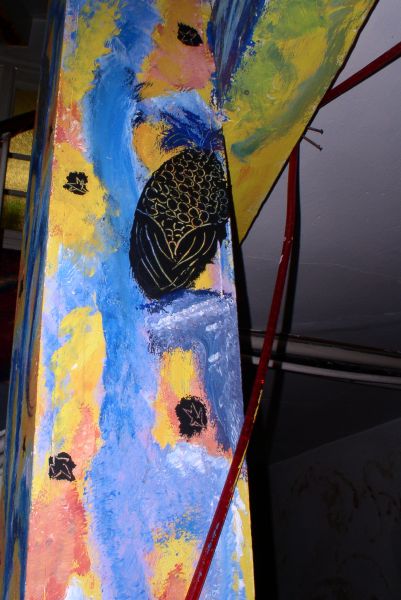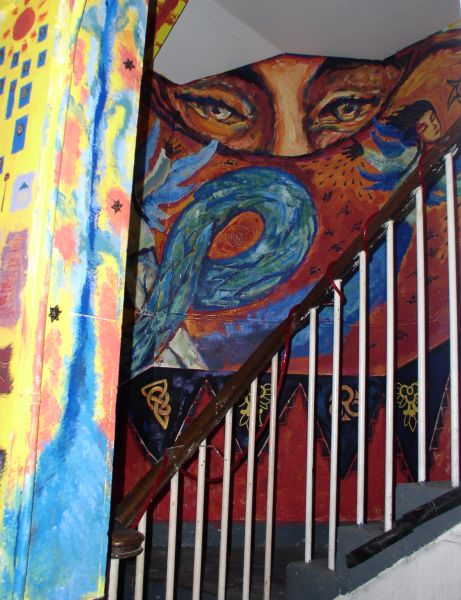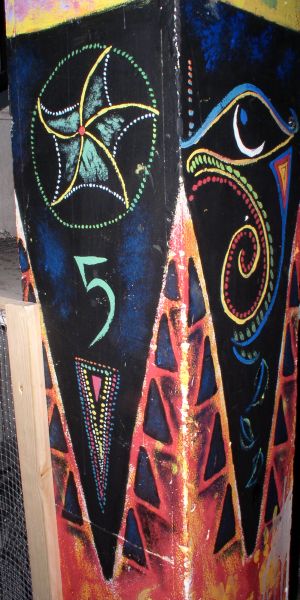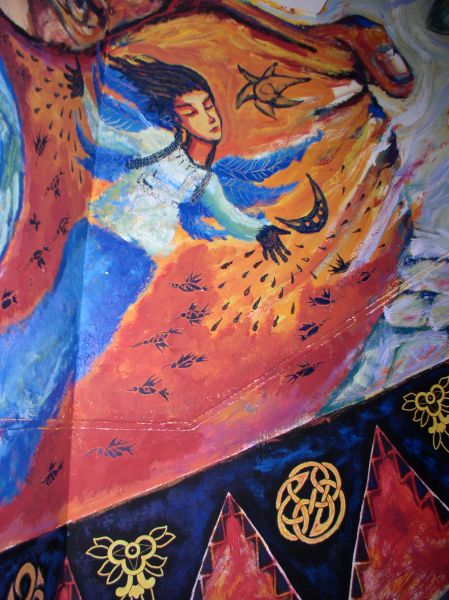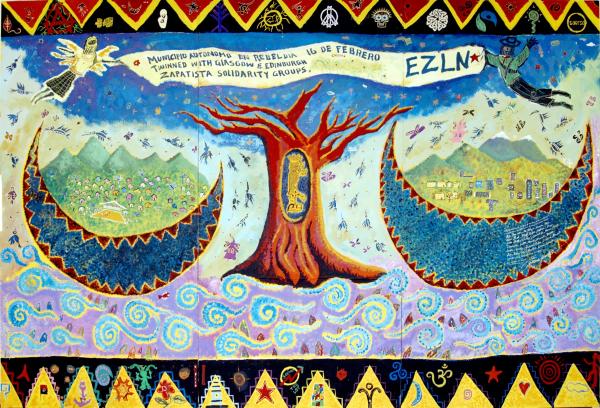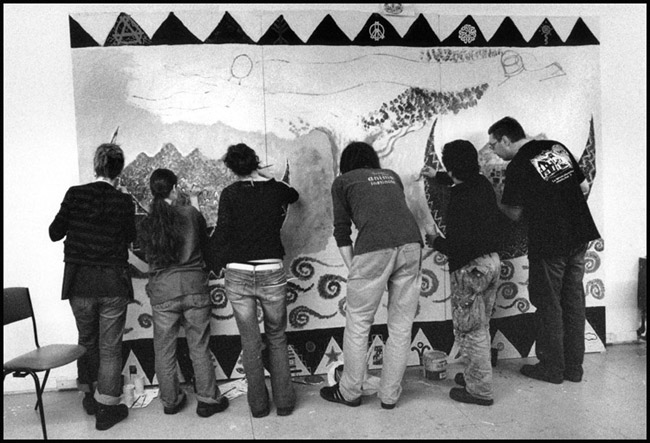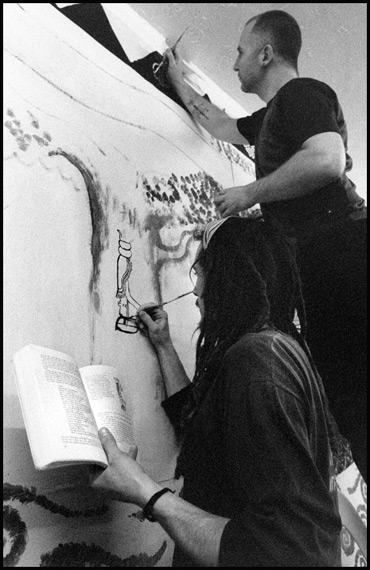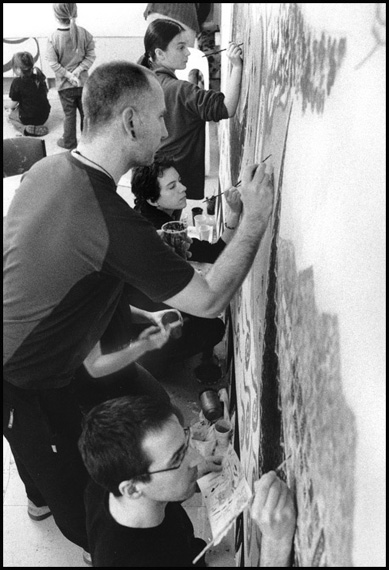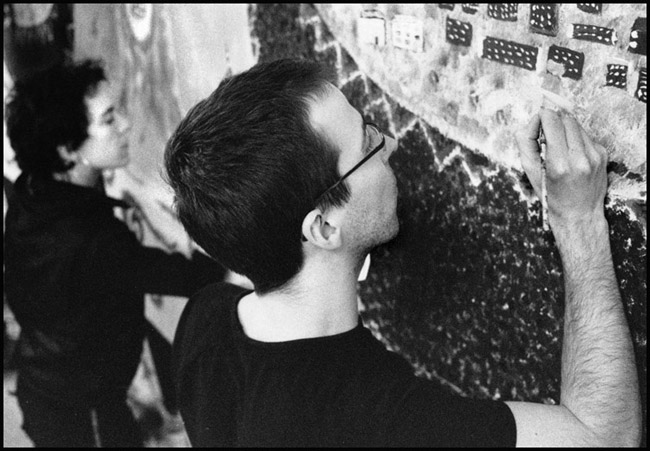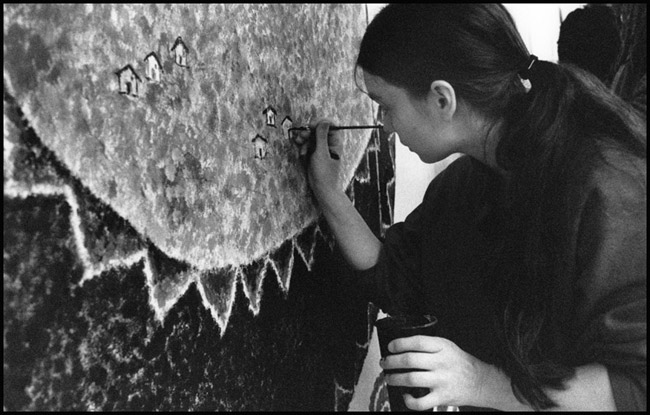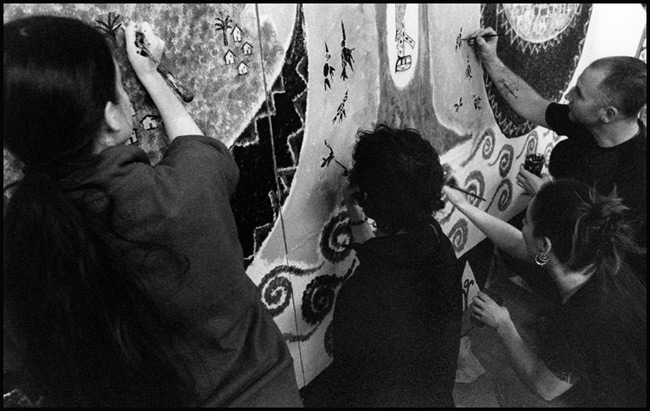 There is now a wee bit of Mexico in Royston Wardieburn, but also in Glasgow and in Edinburgh's Forest Cafe.
A huge colourful mural lights up the hall in Royston Wardieburn Community Education Centre, jointly painted by Mexican muralist Gustavo and co-worker Diana, members of Edinburgh-Chiapas Solidarity Group and local people who use the Centre.

Created just before Christmas, the mural includes symbols and scenes from Scotland and from Chiapas, the most southerly state of Mexico. Here the long-oppressed indigenous people are creating independent "communities in resistance" - where Gustavo and Diana have painted many murals alongside the zapatista villagers.


A local woman who participated in the mural writes:
"Other than being informed that a mexican artist was coming to do a mural at the centre i had no idea what it was about. I attended the introductory meeting an ah was very touched to learn what the idea, incentive behind the mural/s was all about.
What a wonderful canny way to fight a great cause. For me the whole experience was brilliant. I really enjoyed workin collectively with other people an encouragin other local people to add their touches to the mural.
now we have a wall in oor community hall that sings oot wi colours vibrant, bringin voices tae light, taegether tae stand for whats good an right, a people right tae be free talkin, tellin it through colour. Tae me thats a wonderful thing."

How did a Mexican painter come to North Edinburgh?
Mike of the Edinburgh-Chiapas group explains: "Our group is twinned with the zapatista autonomous municipality "16th February", we are helping them build their own health clinic.

We met Gustavo in Chiapas, and invited him to Scotland. It was great painting a mural in Royston Wardieburn, we want to bring together struggles for justice in Scotland and Chiapas. In over 1,000 zapatista villages and towns the people have taken over the land which used to belong to the rich, and are building their own schools and clinics, they decide things in open village meetings, it's really inspiring."


Community Education worker Allan commented:
"When the Edinburgh Chiapas Solidarity Group contacted me, about the possibility of a joint piece of artwork between oppressed communities, I was delighted that our Management Committee responded positively.

This project has once again shown that oppressed communities have more in common with each other than they do with their oppressors. That working peacefully and co-operatively is a more natural human response than global competition and aggression.

Hopefully this project will encourage more political awareness of the plight of the indigenous population of Chiapas. That,in my personal opinion, is a positive and educational way to finish 2004."


Muralist Gustavo was equally pleased:
"Working with different communitites from different parts of the world is fascinating, as this give me the oportunity to understand their struggles much better. In this way I can represent through my paintings the real stuff that goes on in those places."

"This experience in this community centre has allowed me to meet other people interested in grassroots struggle, the struggle of everyday life, a struggle that has no borders. We all experience difficult situations wherever we live and getting together with people that put their hearts into making this world better is always a rewarding experience."
THE MURAL.


These murals has been created by volunteers, members of the Edinburgh Chiapas solidarity group, and Gustavo C. P., a muralist from the Zapatista controlled territories of south-east Mexico. Gustavo has travelled extensively around Europe working on mural projects, with the intention of increasing participation in the arts for all, and leaving artwork in public places so that local communities can take pleasure in them. Gustavo encourages participants to take an active part in the planning and execution of each mural, trying to encourage groupwork, and raise awareness about the Zapatistas work in Mexico. What you see here is the result of a collaboration between Gustavo and volunteer painters which took place between Xmas and New Year in 2004.

"As in all acts in our lives, the ways of relating to each other, and the ways we make our dreams and put them together, are part of creating our cultural values. And to put them up in the walls, like with these murals is not an easy job. It is not a one person job either, or a job for just a specific group of people. It is a job for a whole society that by nature impacts on certain people, who, in return want to contribute to community. In this way a dynamic and enriching relationship of collective creation takes place, which can lead to many other dreams and possibilities". Gustavo C. P.



EDINBURGH-CHIAPAS SOLIDARITY GROUP ARE TWINNED WITH THE ZAPATISTA AUTONOMOUS MUNICIPALITY "16th FEBRUARY, AND ARE ASSISTING THE LOCAL INDIGENOUS PEOPLE TO BUILD THEIR OWN SELF-MANAGED HEALTH CLINIC.
To find out more about the mural, Gustavo, the Zapatistas, and the work of The Edinburgh Chiapas Solidarity Group please contact:

Edinburgh-Chiapas Solidarity Group
C/o ACE, 17 West Montgomery Place, Edinburgh EH7 5HA, Scotland.
Tel: (0131) 557 6242
http://www.edinchiapas.org.uk

Indy Scotland


e-mail: edinchiapas@yahoo.co.uk


Homepage: http://www.edinchiapas.org.uk