Guido | 30.12.2004 17:21 | Globalisation | World
Beaten up, intimidated, imprisoned. The repression experienced by CIPO-RFM activists in Oaxaca town centre is relentless. However their determination is inspirational and their permanent protest camp remains a physical symbol of their defiance and a useful point of contact for visitors to the area.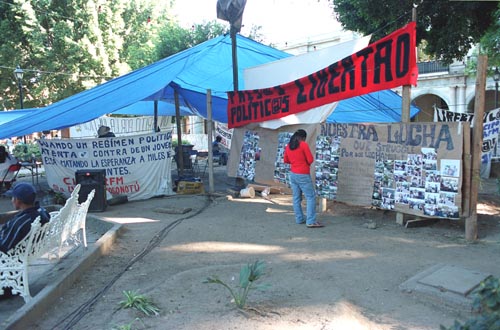 The CIPO-RFM protest camp in Oaxaca town centre.......

........is staffed by a rotation of volunteers....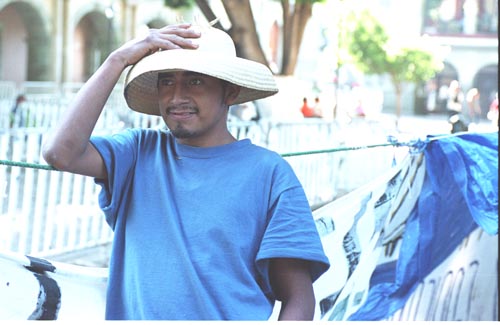 .....from local indiginous communities......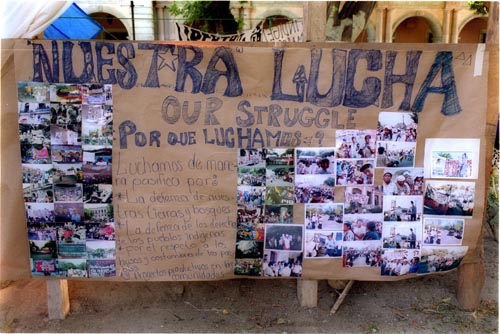 ....to raise awareness about their organisation and its struggle.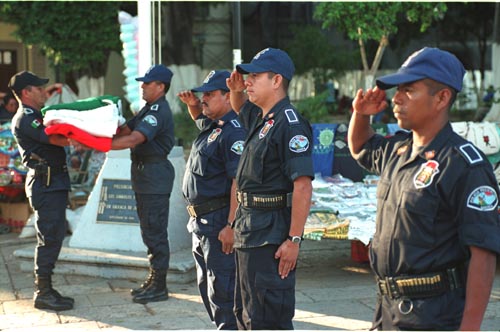 The Oaxaca Police. Not well known for their progressive stance.
On April 20th 2004 activists from CIPO-RFM set up a permanent protest camp outside the governor's palace in Oaxaca town centre. The protest was in response to the murder of their colleagues by paramilitaries the seizure of their lands and unresolved aspects of the agricultural conflict.
One of the main purposes of the camp was to educate the local towns people about their struggle and the ongoing death threats and intimidation they were suffering.
The response from local people was generally positive and many expressed interest in the campaign and sympathy for the plight of the indigenous communities. There was also a flood of negative coverage and editorials in local newspapers which demanded that the governor of Oaxaca take action against the camp as it was blighting the image of the town. This came from the local rich and privately owned businesses. The Police were hostile but at first did not intervene, the threats being only verbal.
Then at 6am on September 14th, the day before Mexican Independence Day around 200 cops and Special Forces raided the camp in a military style operation. The 14 activists sleeping inside were badly beaten and arrested. They were taken to a holding centre and then transferred to a maximum security prison. Some of those taken remain there to this day. The camp itself was destroyed and packed onto waiting vehicles along with the activist's possessions.
The response from CIPO-RFM was immediate. Within hours of the raid dozens of activists had gathered at the sight of the camp to rebuild it. Scuffles broke out with waiting riot Police which led to the very surreal sight of The Oaxaca governor making his annual Mexican Independence Day speech while 50 yards away his riot police beat and abused indigenous Mexicans.
The activists stood their ground and after a number of high profile protests from all around the world the camp remains a permanent feature
of Oaxaca town centre.
(the words and pictures above are subject to copy write but available for free to progressive non profit organisations/publications/websites etc. To use contact:

guidoreports@riseup.net
)
Guido


e-mail: guidoreports@riseup.net


Homepage: http://www.nodo50.org/cipo/