pescao | 20.10.2004 14:20 | Venezuela
Over 200 in Venezuela say: "Free the O12 prisoners or arrest us all!"
October 12th
is traditionally celebrated as the day Christopher Columbus "discovered" America. In reality, this is nothing to celebrate, as it unleashed a wave of terror across the continent which continues today. The colonial mentality there is still very much alive with a tiny white elite
holding power
over a mixed afro-indigenous majority.
Three years ago, Venezuela's self-proclaimed "revolutionary" president, Hugo Chávez, decreed that October 12th should henceforth be known as
"Day of Indigenous Resistance"
. The icon of Columbus has become offensive to the majority of the population and Chávez himself has described him as "worse than Hitler". For the neo-colonialists, however, Columbus stands symbolically as a role-model of conquest.
On "O12" this year,
actions in solidarity
with Venezuela's "
Bolivarian Revolution
" and against neo-imperialism and corporate-colonialism happened
worldwide
. In
London
we held a picket outside the
Mexican
and US Embassies, and in
Amsterdam
a caravan of cyclists denounced multi-national corporations outside their various headquarters. Solidarity actions also happened in
Athens
,
Puerto Rico
and Zimbabwe.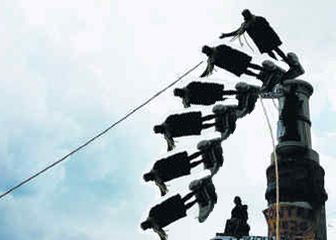 columbus: going, going, gone!
In Caracas hundreds of protesters gathered around the Columbus statue in Plaza Venezuela to hold a
public trial
, at the end of which he was unanimously declared
"guilty"
. The activists together then pulled down the statue, painted it red and dropped it from a tree, breaking it into pieces. Police tear-gassed the crowd and fired rubber bullets. Three demonstrators, William Escalona, Freddy Tabarquino and Jorge Freites, were arrested and have been subsequently
refused bail
(
interview
with Marcelo Andrade).
After dispersing, the group congregated at the local mayor's office to demand the release of the three prisoners, with thirty of them claiming
collective responsibility
for the action and demanding to stand trial along with the three. This number has now (updated Thursday 21st) grown to over 200. A
petition
launched for the three's release, and an international day of action in solidarity with the "O12 prisoners" has been called for Thursday 21st October (
O21 report from Caracas
).
On that day in London the Hands Off Venezuela campaign shall be holding a picket of the Venezuelan consulate, 56 Grafton Way, W1 (off Tottenham Court Rd, nearest tube Warren St) from 3pm to 5pm, to
demand the release
of the three prisoners on bail until trial (
report
). They shall also be highlighting the courageous position of the 200+ activists who have claimed joint-responsibility for toppling the statue and who
demand to stand trial
alongside the prisoners.
Charley Allan from HOV explained: "We aim to send a message to the Bolivarian government of Venezuela that our support as a solidarity campaign extends to the whole Bolivarian Movement, not just its leaders and officials, or to the 'party line'. We denounce the unfair and unjust policy of trying to isolate these grassroots activists by imprisoning them without bail, and refusing to negotiate a collective-responsibility agreement with the organisers of the O12 demonstration. In Venezuela, you can topple the government and just be put under house-arrest, but topple a statue and you appear to lose your human rights.
"Regardless of our position on the way this statue was taken down, we appeal to President Chávez to extend tolerance to his allies as well as his enemies, by releasing on bail the three 'O12' prisoners until trial. We also ask him to recognise that this action, against a provocative symbol of past cruelties, has received much popular support both within and outside of Venezuela, and we call on him to consider removing all remaining statues of this ignoble, if not plain wicked, conquistador."
pescao


e-mail: solidarityweek@yahoo.com


Homepage: http://www.handsoffvenezuela.org