eileen | 28.07.2004 09:27 | Health | Oxford
Results of survey of local views on proposed extension and refurbishment of the community kitchen at EOCC. The survey was done on behalf of East Oxford Healthy Living Initiative (HLI).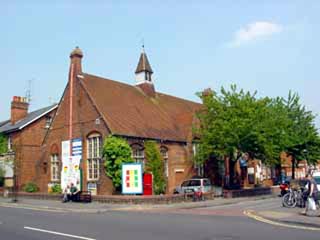 EOCC bulding, Princes Street
Future of East Oxford Community Centre (EOCC) – results of survey
(the main report, 59 pages long but with lots of clear diagrams and tables, will be posted up or linked to as soon as the technical problems have been sorted out. Try here and see what happens..)

http://jackpot.uk.net/consultation_cover_sheet.doc

http://jackpot.uk.net/NOF_meeting_Full_write_up.doc

http://jackpot.uk.net/NOF_meeting_Option_Appraisal.doc

http://jackpot.uk.net/NOF_meeting_Option_Appraisal_2.doc

http://jackpot.uk.net/NOF_meeting_Option_Appraisal_3.doc
Those of you living in East Oxford or belonging to one of the many groups using the Community Centre may be aware that in recent months there has been quite a lot of controversy surrounding its future. In particular there has been disagreement between those who would like to see an extension to the kitchen and those who feel this would reduce the existing space for exercise classes or spoil the appearance of an old building.
On the basis of this survey, carried out on behalf of East Oxford Healthy Living Initiative, it would seem that a majority of the groups and individuals questioned were in favour of the kitchen extension plans. To quote from Page 4:
76% of all 344 individuals consulted are in favour of the scheme (258 people) or 3 in 4 of the sample. 17% (58 people) were against. A much smaller group of 7% (24 people) was "not sure".
Background
Following a consultation period from 1998 to 2000, East Oxford Healthy Living Initiative (HLI) was allocated funding to build a new kitchen at the Centre. The work is to be managed by Oxford City Council, and anyone can ask to see the detailed drawings which are kept in the East Oxford Community Association office, Princes Street. HLI are a partnership project involved in a wide variety of initiatives aimed at improving health in East Oxford, including complementary therapies, action on drugs, 'walking where you live' health walks, and healthy eating. Their healthy eating initiatives include organising workshops and courses on nutrition and food hygiene, cooking and lunch clubs, often in partnership with other local groups such as Asylum Welcome, the Chinese Community Centre, Acorn, Shapla Curry group, Asian Women's Lunch Club.
The new community kitchen at EOCC would, according to HLI, be complementary to those already in operation at Blackbird Leys and the Asian Cultural Centre. To quote from their June issue of 'healthmatters', 'The kitchen would provide somewhere for community groups to meet and eat together or host healthy eating demonstrations. It would also provide somewhere for local organisations to provide affordable and healthy food in a pleasant environment.' [punctuation etc edited by eileen].
For further information on the activities of HLI, or to get involved with their work, telephone Oxford 715577 or email:

info@eastoxford-healthyliving.org.uk
.
eileen


e-mail: eileenck2003@yahoo.co.uk