Global Women's STrike | 07.11.2003 16:18
Women seeking asylum who have been made destitute and homeless under the government's asylum laws joined the Global Women's Strike Community Anti-War picket outside Parliament yesterday. The Picket supported the "Sleep Out in Solidarity" being held today by the Liverpool Committee Against Destitution to protest against Section 55 and other measures which are making people destitute.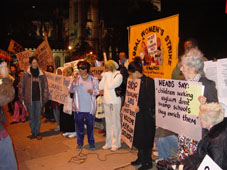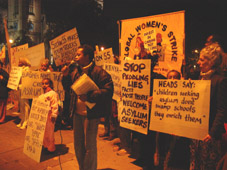 Destitute Women Asylum Seekers join Global Women's Strike Anti-War Picket, Thurs 6 Nov, 2003
Over 20 women fleeing rape and other torture joined regular picket-goers to highlight how women pay the highest price for war, occupation, sanctions, and the arms trade. Women from Eritrea and Ethiopia spoke movingly and passionately about the consequences of war between the two countries: gang rape and other torture in detention, often because of their political activities; witnessing the torture and disappearance of loved ones; persecution for refusing compulsory military service; as Jehovah's Witnesses; and being driven out of their homes because they come from mixed race families.
Often close to tears, they described their desperation and terror at becoming homeless and destitute after arriving in the UK. One young woman described sleeping rough, becoming pregnant after being raped by a man who "befriended" her, having a miscarriage and ending up in a psychiatric hospital for a month. Another who had been sleeping on night buses accused the government of lying when it said it was not putting children on the streets – she had seen them. Several women described very serious ill-health; many had been turned away with nothing by agencies they thought would help, such as the Refugee Council. The Eritrean Women's Group challenged Tony Blair: "You say you are Christian, so why don't you show Christian compassion to traumatized and vulnerable women, children and men". A Refugee Adviser said: "I am horrified by what I've heard: I am ashamed, not of the British people, but of the government." She described how many schools and local communities have defended families facing deportation but now immigration "snatch squads" are going to schools to take children away.
The Crossroads Coalition for Justice for Asylum Seekers reported on the Liverpool Sleep-Out planned for today, and condemned asylum NGOs which are supposed to defend asylum seekers but have been sabotaging the good work being done by many people trying to keep asylum seekers off the streets. Instead they have taken contracts to be part of a privatised apartheid industry – to the tune of £70m a year in the case of the Refugee Council (RC) – to implement government measures. Who needs "snatch squads" when these contracts oblige them to "co-operate" with deportations!
This unprecedented public speak-out, including by survivors of rape and other torture, reflects the growing determination of asylum seekers and other grassroots activists to expose the brutality and inhumanity of the asylum laws. The Picket called on feminists, trade unions, churches, anti-racist, community organizations and others in prominent positions for support: "When billions of pounds are invested in the ongoing military occupation of Iraq, for example, who will join us insisting that resources must go to protecting and defending human life, rather than destroying it?"
The COMMUNITY PICKET & OPEN MIC is outside Parliament every Wednesday & Thursday, 5.30-7pm; it is ORGANISED BY THE GLOBAL WOMEN'S STRIKE Information: Tel: 020 7482 2496;
Email:

womenstrike8m@server101.com
Liverpool Committee Against Destitution is holding a "Sleep Out in Solidarity" on Friday 7 November to highlight the situation of destitute asylum seekers. More details: Dee Coombes: Email:

deecoombes@onetel.net.uk
The Crossroads Coalition for Justice for Asylum Seekers (Tel: 0207-482 2496, Fax: 020-7209 4761) includes:
The African Liberation Support Campaign:

nexplo@yahoo.com
The Eritrean Women's Group:

centre@crossroadswomen.net
Legal Action for Women:

law@crossroadswomen.net
Payday a network of men:

payday@paydaynet.org
Women of Colour in the Global Women's Strike:

womenofcolour@allwomencount.net
and others
Global Women's STrike


e-mail: womenstrike8m@server101.com


Homepage: http://womenstrike8m.server101.com